Sooo Smart
Join Date: Mar 2008
Location: Georgia
Posts: 3,551
Submit Photo: 9
Photo Submissions 22 Times in 12 Posts
Who is clingy????
---
Who has a furbaby that is really really clingy???
DH was gone for a week on a hunting trip. The first night he called home Cicero was jumping up at my knees and barking and DH wanted to know what he was barking at. I told him I didn't know...guess he was wanting me to hold him.
The next time DH called Cicero started doing the same thing. DH said, "What is wrong with my sweetie pie...he never barks." It dawned on me...I think he knows it's you...do you think he can hear your voice with me standing up?" I held the phone down and they carried on a conversation....it was so cute. Cicero would listen...the bark once..listen..bark...and his little eyes just lit up.
He never barked or noticed me talking on the phone unless it was DH all week....and when DH called he went nuts every time.
He was Sooooo excited when his Daddy got home. Jumped into his arms and was wiggling and licking so that DH almost dropped him!!!
Now talk about clingy....Cicero is like glue. He will not leave his side. The minute DH sits down, Cicero jumps in his lap and he is there till DH gets up. Follows him everywhere - looking up at his face - then jumps in his lap when he sits. It's really really clingy since the trip.
I know they are velcro dog....but this is CLINGY...
1.jpg
2.jpg
3.jpg
4.jpg
---
Cicero trained Dale & Ronnie
Sissygirl's Mom (Marie)
Join Date: Aug 2007
Location: Oklahoma
Posts: 2,738
Submit Photo: 5
Photo Submissions 4 Times in 3 Posts
Awe! That is sweet. He loves his daddy.

Sissy loves DH and kisses and kisses when he comes home. She sits
in his lap when he is on the computer.
---
Santa, Sissygirl
& Marie
Katrina
Join Date: Aug 2007
Location: East Tennessee
Posts: 1,414
Submit Photo: 15
Photo Submissions 0 Times in 0 Posts
He just loves his daddy soooooo much.
He is adorable (Cicero that is).
I do not know about your DH.
---
Katrina
and Princess Furface ---Lilly
www.youravon.com/kpresnell
Karen
Join Date: Sep 2007
Location: Colorado
Posts: 645
Submit Photo: 0
Photo Nominations 2 Times in 1 Post
That's so sweet!! I love the picture of Cicero in his lap. He loves him and missed him!!!

Gracie is extremely clingy with me, too. It has gotten worse these past few weeks. Even affecting my sex life!!! DH is not too happy about that!!! Thinking of having her sleep in another room. LOL!!!!!
---
Karen
Kubrick & Hitchcock's Mom
Join Date: Apr 2007
Location: New York, NY
Posts: 7,774
Submit Photo: 1
Photo Submissions 33 Times in 24 Posts
Aww that is so sweet! Loving the Cicero pics.
Kubrick is also a clinger but with me... he's not as clingy with DH though he does love him, just not as much as me.
---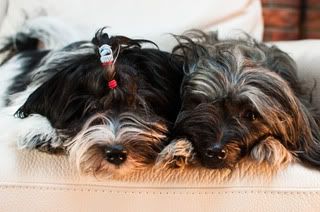 Visit
my blog

-----
Check out my
photos
-----
Photography (pets, people, weddings) -
TripleC Photography
Senior Member
Join Date: May 2007
Location: West Bloomfield, MI
Posts: 963
Submit Photo: 0
Photo Nominations 1 Time in 1 Post
That is so adorable. I love the pictures on the couch. Could Cicero look more content? I don't think so.
and Murphy & Gracie too!
Join Date: May 2008
Location: Cumming, GA
Posts: 6,989
Submit Photo: 5
Photo Submissions 22 Times in 21 Posts
Same here, Scooter sits at the bottom of the stairs and whines if he knows I'm up there. Sometimes I'll be calling him and then turn around and he's sitting right behind me! When I'm not here during the day and he "goes to work" with DH, he has an office here at home, he tries to sit in his lap but he'll rest his head on his keyboard. Needless to say, that doesn't last long. He has a bed in the office too.

Love the barking at the phone though! That's hysterical!!!
---
Ann-Scooter, Murphy, & Gracie's Mom
Junior Member
Join Date: Mar 2008
Location: Michigan
Posts: 871
Submit Photo: 5
Photo Submissions 7 Times in 4 Posts
What sweet photos! I've noticed that when I'm gone longer than normal, like for the day instead of just a couple of hours, Roxie will be even more attached to me than normal. But I haven't seen her doing that with dh or the kids... but she is most attached to me anyway.
---
~Ann and Roxie
Henry 2006-2018/ Kordelia
Join Date: Jun 2007
Location: NJ/NYC metro.
Posts: 4,165
Submit Photo: 11
Photo Submissions 27 Times in 27 Posts
Izzy, Doc, and Kai's mom
Join Date: Jan 2007
Location: Monmouth, IL
Posts: 2,349
Submit Photo: 4
Photo Submissions 30 Times in 13 Posts
That is just to adorable!!!! I'll have to send DH away for awhile and test it out!! LOL!
---
Doc
Posting Rules

You may not post new threads

You may not post replies

You may not post attachments

You may not edit your posts

---

HTML code is Off

---