Senior Member
Join Date: Mar 2007
Location: Queens,NY
Posts: 598
Submit Photo: 0
Photo Submissions 0 Times in 0 Posts
Can you please settle a difference of opinion between me and hubby please??
---
Hubby seems to think that Duncan does not need a coat/sweater in the winter.
He says that Duncan has a"fur coat" and is probably warmer than we are.
I beg to differ...I am curious what all of you have to say..
Thanks for looking.I will be sure hubby checks this thread for your knowledgable answers.
---
Dot & Duncan
Senior Member
Join Date: Jun 2008
Location: Olympia, Wa.
Posts: 1,477
Submit Photo: 0
Photo Submissions 6 Times in 6 Posts
Hav's are warm weather dogs. They don't tolerate cold well.
I vote for the jacket if your guy seems like he needs one.
My DH rolled his eyes and made fun of me when I bought Todd a coat but I'd rather deal with the teasing than watch him shiver and look miserable.
---
Eva, Mom to Todd....2 year old short hair Havanese
Kubrick & Hitchcock's Mom
Join Date: Apr 2007
Location: New York, NY
Posts: 7,774
Submit Photo: 1
Photo Submissions 33 Times in 24 Posts
Dot, Duncan actually does not have "fur" he has hair. This means that, yes, he DOES get cold in the winter and needs a coat. Think about how cold your head gets. Your hair really does not do much at all for keeping you warm. Now of course each dog is different and has a different tolerance for cold but my rule is if it's freezing or below (low 30's), he gets a sweater or coat put on him. I've noticed that he will shiver sometimes when he's cold, so they do actually feel cold.
---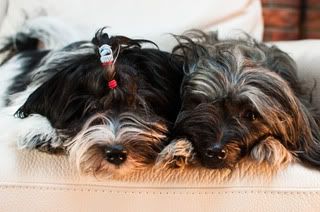 Visit
my blog

-----
Check out my
photos
-----
Photography (pets, people, weddings) -
TripleC Photography
Senior Member
Join Date: Mar 2007
Location: Queens,NY
Posts: 598
Submit Photo: 0
Photo Submissions 0 Times in 0 Posts
Yup,that's what I thought.Yup I know he has hair like us,but hubby uses the term furt coat all the time.
He thinks Duncan is fine,but I keep telling him nope,he'll get cold without a jacket/sweater,LOL!!
I just bought him 2 sweatshirts since it's starting to get a bit nippy here and when we go upstate,it's freezing there.
Thanks for the responses so far!!
---
Dot & Duncan
Senior Member
Join Date: Apr 2007
Location: Long Island, New York
Posts: 8,941
Submit Photo: 3
Photo Submissions 41 Times in 25 Posts
I'm a big believer in sweaters for the boys. They also have snowsuits and a raincoat. If the weather is affecting me and I'm freezing with a coat, sometimes hat and gloves on, I want to give them some comfort too. Cold is cold.
---
<b>Just Milo and me, and . . . </b>Bailey makes three . . . until Ruby said, "hey, what about me?"
Geri, Milo, Bailey and HRH Princess Ruby Tuesday
If you're thinking of getting a puppy, click here
http://www.photoshow.com/watch/YK8AH4rw
Kimberly
Join Date: Aug 2006
Location: San Francisco Bay Area
Posts: 10,275
Submit Photo: 5
Photo Submissions 19 Times in 13 Posts
I don't live where it snows or freezes, but when we are traveling I only take coats for situations when the dogs are going to be outside for long periods of time. For a potty trip, no. For a romp in the snow, no. If they were going to play outside for a while, yes.

Nathan (Talemaker Havanese) had some interesting comments on his site on this last year. I don't know if it is still there though. He definitely lives in a snowing/freezing area.
Katrina
Join Date: Aug 2007
Location: East Tennessee
Posts: 1,414
Submit Photo: 15
Photo Submissions 0 Times in 0 Posts
My DH just rolls his eyes also but I just bought Lilly a coat last years was too large so she never wore it just thick sweaters. (matt heaven).
---
Katrina
and Princess Furface ---Lilly
www.youravon.com/kpresnell
-diane
Join Date: Apr 2008
Location: Oregon
Posts: 1,504
Submit Photo: 11
Photo Submissions 0 Times in 0 Posts
Dot..
I live in Oregon and am all for coats, sweaters and rain gear...It not only keeps my Havs more protected from the elements, but saves on grooming time. It also allows them to freely play out doors without all of the snow sticking to them, or the rain soaking them..
809757bf0rwcljoj[2].jpg
---
-diane, Sophie and Gabriel's personal servant
The 3 Amigos
Join Date: Nov 2007
Location: Toronto, Ontario
Posts: 2,108
Submit Photo: 10
Photo Submissions 7 Times in 5 Posts
I have 2 coats for both my guys. One is for 0degree and below to about -5 and a warmer full wrap coat for anything colder.

Bogart can tolerate the cold far more than Brando can. At 0 Bogart doesn't really need a coat but I put it on anyhow.
---
Chances are if your parents never had kids...you won't either...
Quincy's Mom-Vinnie too!
Join Date: Feb 2007
Location: Ia.
Posts: 9,923
Submit Photo: 35
Photo Submissions 17 Times in 16 Posts
This probably isn't going to be a popular post,but Quincy does not wear a coat or sweater.If he does it is for fun,not because he needs it.We have alot of snow and cold,but he is only outside to go potty and maybe a quick romp in the snow.I would think if Duncan is out for an hour or more,you might want a coat or sweater-but otherwise no.It actually is a hassle to put on and off,mats the hair and even though cute and fun maybe-but more for people's wishes,then a dogs. Ask yourself if he really is going to be outside for extended periods of time in below freezing conditions....and the answer is probably no....because you wouldn't let him be out like that.
Sorry
---
Vincent-Quincy's playmate
"Behind every unstable dog is a lesson for the owner"-Cesar Millan
Posting Rules

You may not post new threads

You may not post replies

You may not post attachments

You may not edit your posts

---

HTML code is Off

---