Amanda
Join Date: Nov 2006
Location: South Carolina
Posts: 9,576
Submit Photo: 2
Photo Submissions 31 Times in 22 Posts
Dog Friendly Furniture
---
Okay, we are officially on the lookout for new family room furniture. I wanted opinions on what is your favorite dog friendly couches/material- all of them get on the furniture and that isn't going to change. While we have a non shedding breed, I find my Ikea couch attracts every piece of hair that comes off the dogs, leaves, etc. I was thinking possibly leather and started to look but would love to hear everyone's advice on what they love but especially what to stay away from. This will be for the room we spend a lot of time in watching tv, reading, etc.

TIA!
Amanda
Senior Member
Join Date: Nov 2006
Location: California
Posts: 2,082
Submit Photo: 3
Photo Submissions 3 Times in 3 Posts
Yep, leather is the best! It is washable and very dog friendly. It's warm in the winter and cooler in the summer, only true leather is though. I love mine!!!
---
Kathy
www.bellahavanese.com
Senior Member
Join Date: Oct 2008
Location: Twin Falls, Idaho
Posts: 6,247
Submit Photo: 11
Photo Submissions 53 Times in 50 Posts
Doesn't leather slide all over the place, though? Or, rather, the DOGS slide all over the place.

Sheri
Senior Member
Join Date: Aug 2008
Posts: 155
Submit Photo: 5
Photo Submissions 4 Times in 3 Posts
After having our poodles eat through the back and front of our rather expensive couch I researched to see what would stand up to our animals. We settled on a full hide leather couch from Italy. We have now had it for four years and it looks as good as the day it was delivered. The dogs, a toy poodle and our new havanese try digging holes in it, throw up on it and we spill things on it. I wash it down with saddle soap once a month and then use a polish that came with it. It has a very long warranty and it looks better once it is used and abused. Looks like an old family piece, passed down for generations.
Kubrick & Hitchcock's Mom
Join Date: Apr 2007
Location: New York, NY
Posts: 7,774
Submit Photo: 1
Photo Submissions 33 Times in 24 Posts
Leather is the best, though you should polish regularly in case there are any marks on it to preserve the look.
Also, steer away from white!
---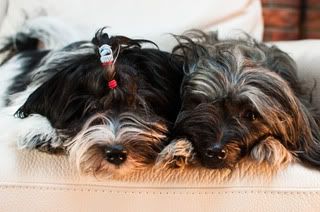 Visit
my blog

-----
Check out my
photos
-----
Photography (pets, people, weddings) -
TripleC Photography
Amanda
Join Date: Nov 2006
Location: South Carolina
Posts: 9,576
Submit Photo: 2
Photo Submissions 31 Times in 22 Posts
Okay, any alternative to leather? DH isn't a big leather fan but I think that is what I want.

Lina- I know better than white with my kids and the red dirt in my backyard... yikes!
Katie
Join Date: Sep 2006
Location: Rocklin, CA
Posts: 2,217
Submit Photo: 1
Photo Submissions 18 Times in 14 Posts
We have a microfiber couch, and I would NEVER recommend it!! Ugh!
It shows every little lick that the dogs do (and for whatever reason they love to lick it..ewwww!) and it shows alot of drips and dribbles. I don't like it at all!
I can't wait for the day when these wear out and we can get something new!
---
Katie
www.MopTopHavanese.com
Paws.....and reflect on what life has given you~
Senior Member
Join Date: Nov 2006
Location: Long Island, NY
Posts: 8,619
Submit Photo: 3
Photo Submissions 19 Times in 19 Posts
I have a chenille fabric sofa and so far it has held up well. If it needs to be spot cleaned, I just use a fabric cleaner I got at the market. The only part that takes a little abuse are the loose back pillows. Kodi and Shelby love to sleep on them, so we are always plumping up the pillows.
---
Michele
Kodi & Shelby's Mom and Julian's Grandma
Chico and Cali
Join Date: Jul 2007
Posts: 1,373
Submit Photo: 8
Photo Submissions 2 Times in 2 Posts
We have a red corduroy sofa with loose pillow backs, made by MitchellGold and Bob Williams.
It has stood up very well for the 2 years that we have had it. The dogs are all over it, and we don't care.

It is very sturdy fabric and easy to clean.
Have fun shopping.
---
Nan
Chico, Cali, and Finnegan
Mom to Ricky and Sammy
Join Date: Jan 2007
Posts: 10,319
Submit Photo: 30
Photo Submissions 21 Times in 17 Posts
Leather, leather, leather!! We got our first leather couch when our oldest (now 18) was a wee baby and have continued to buy leather couches since for different rooms. When we shopped for our last one, I would sit in it and discreetly scratch up a small area on the inside, near the cushions. If the scratches left a mark, we moved on. I know, it's probably NOT recommended, but there was no way we were going to get leather unless I knew for sure it would withstand puppy claws - I was still working on hubby to get a dog! lol
So, choose a tough, thick leather and you'll be happy you did. Tell DH to sit on a throw if he doesn't like it!!!
We do have a denim sectional couch in the family room, from Ikea, that looks better and better as it ages, just like an old pair of your fave jeans. The slip covers are washable and it does remain quite clean-looking. Again, it's denim, so not every little mark shows up. We love that couch too!!
---
Hello. My name is marj and I have MHS.
"The greatness of a nation and its moral progress can be judged by the way its animals are treated." Mahatma Gandhi
"Come to the edge, he said. They said: We are afraid. Come to the edge, he said. They came. He pushed them and they flew." -Guillaume Apollinaire"
Posting Rules

You may not post new threads

You may not post replies

You may not post attachments

You may not edit your posts

---

HTML code is Off

---