Member
Join Date: Oct 2007
Location: Seattle
Posts: 58
Submit Photo: 1
Photo Submissions 0 Times in 0 Posts
Dreamer's Brother -Introducing Jonah
---
Hello Everyone!
I'm so happy to announce that Bellatak Saving the Best For Last AKA Jonah has made his way to his forever home. I had the pleasure of meeting Kathy on Friday to pick up our sweet, goofy, wiggly, fluffy new little guy. Jonah and his new brother Murphy are adjusting well to each other, and our home is full of joy. Thank you Kathy, for our beautiful boy, and for all of the great advice so far.
Becki
Wish me luck on posting pictures....here goes....
Senior Member
Join Date: Aug 2007
Location: N. Nevada
Posts: 1,665
Submit Photo: 25
Photo Submissions 18 Times in 13 Posts
Congratulations! He is a very cute boy, and Kathy is awesome. Enjoy your new bundle of joy
---
Heather
Caché Havanese
"What Lies Behind Us And What Lies Before Us
Are Tiny Matters Compared To What Lies Within Us."
Here are some links to help educate yourself in how to fight for your rights to continue to own and love your animals. Please do not be mislead by PETA or HSUS who is PETA in suits.
Senior Member
Join Date: Jan 2008
Location: Cajun Country
Posts: 2,876
Submit Photo: 23
Photo Submissions 6 Times in 5 Posts
What a cutie! Love the black belt he's got on.
---
Kim, Santos & Brew
Senior Member
Join Date: Apr 2007
Location: SF area
Posts: 6,425
Submit Photo: 63
Photo Submissions 62 Times in 48 Posts
Congratulations! Jonah is adorable.
---
Sally,((Oliver)) Comet and Pennie too!
The best things in life are not things!
Joyce
Join Date: Aug 2008
Location: Connecticut
Posts: 769
Submit Photo: 6
Photo Submissions 3 Times in 3 Posts
Amanda
Join Date: Nov 2006
Location: South Carolina
Posts: 9,576
Submit Photo: 2
Photo Submissions 31 Times in 22 Posts
Oh Jonah has gotten even cuter and I like his name! When you get settled in I would love to see him and Murphy together
Zeus and Riley's Mom
Join Date: Mar 2008
Location: Prescott, Az
Posts: 1,105
Submit Photo: 0
Photo Submissions 6 Times in 6 Posts
Oh what a cutie pie!!!!
---
Jean, Riley and Zeus!
Kubrick & Hitchcock's Mom
Join Date: Apr 2007
Location: New York, NY
Posts: 7,774
Submit Photo: 1
Photo Submissions 33 Times in 24 Posts
Congratulations! Jonah is adorable!
---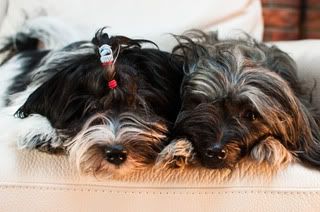 Visit
my blog

-----
Check out my
photos
-----
Photography (pets, people, weddings) -
TripleC Photography
Mom to Ricky and Sammy
Join Date: Jan 2007
Posts: 10,319
Submit Photo: 30
Photo Submissions 21 Times in 17 Posts
Becki, Jonah is adorable! Congratulations. I can't wait to hear more about how he and Murphy are getting along. Oh, and pictures. We love pictures!
---
Hello. My name is marj and I have MHS.
"The greatness of a nation and its moral progress can be judged by the way its animals are treated." Mahatma Gandhi
"Come to the edge, he said. They said: We are afraid. Come to the edge, he said. They came. He pushed them and they flew." -Guillaume Apollinaire"
Quincy's Mom-Vinnie too!
Join Date: Feb 2007
Location: Ia.
Posts: 9,923
Submit Photo: 35
Photo Submissions 17 Times in 16 Posts
Oh how cute is that little fur bundle?!!! He's a doll! Congrats on your new puppy!
---
Vincent-Quincy's playmate
"Behind every unstable dog is a lesson for the owner"-Cesar Millan
Posting Rules

You may not post new threads

You may not post replies

You may not post attachments

You may not edit your posts

---

HTML code is Off

---