Bailey and Faith!!
---
We have been out of touch with the forum, we have been busy with our business and traveling... Just an update on us, Bailey turned 5 years old on October 3 and he got a RED JEEP SUV stroller which is an upgrade from his original JEEP. Recently, his daughter Faith moved in with us, so we now have a 5 months old puppy that we absolutely adore and love. YES, I got a little girl!! OHH and Bailey got invited to Eukanuba this year with very limited showings and mostly he has been handled by myself. Just want to touch base with everyone and I hope all is going well with all the forum members!

Love, Karen and Bailey
Senior Member
Join Date: Apr 2007
Location: SF area
Posts: 6,425
Submit Photo: 63
Photo Submissions 62 Times in 48 Posts
Congratulations! Faith is adorable!!!! Happy Birthday Bailey!!!!!
---
Sally,((Oliver)) Comet and Pennie too!
The best things in life are not things!
Thank you Sally!
Off to Sunday duties with the furkids!! Love, Karen
Total Havanese Groupie
Join Date: Dec 2007
Posts: 2,639
Submit Photo: 7
Photo Submissions 37 Times in 16 Posts
Faith is adorable!!!! And, Birthday Boy Bailey is stunning!!! Yay Team California Star!
Izzy, Doc, and Kai's mom
Join Date: Jan 2007
Location: Monmouth, IL
Posts: 2,349
Submit Photo: 4
Photo Submissions 30 Times in 13 Posts
Wow, they both look great! How do you keep Bailey's mustache so nice and long? I think Izzy keeps Doc's trimmed!
---
Doc
Quincy's Mom-Vinnie too!
Join Date: Feb 2007
Location: Ia.
Posts: 9,923
Submit Photo: 35
Photo Submissions 17 Times in 16 Posts
What a beautiful puppy! I love Fath's markings.....
Bailey is as beautiful as they come!
Great photos!
---
Vincent-Quincy's playmate
"Behind every unstable dog is a lesson for the owner"-Cesar Millan
Senior Member
Join Date: Nov 2006
Location: New Jersey
Posts: 9,794
Submit Photo: 2
Photo Submissions 28 Times in 20 Posts
That Bailey is my favorite "high five" boy!! He always looks so handsome!
And Faith!!!!!! Wow - she is a beauty! How does it feel to finally have a girl??
---
Lily, Lexi ,Logan, Laila & Lizzie's Mom
www.HillsboroughHavanese.com
(Gigi, Lucas, Dugan, Madeline,Reo,Alvin, Lucky, Lukey, Punch, Colby & Ben-(we will always Love you!!)
Senior Member
Join Date: Apr 2007
Location: Long Island, New York
Posts: 8,941
Submit Photo: 3
Photo Submissions 41 Times in 25 Posts
I love Bailey as he sits there in all his magnificence, and Faith is a beauty in her own right. Love her markings.
---
<b>Just Milo and me, and . . . </b>Bailey makes three . . . until Ruby said, "hey, what about me?"
Geri, Milo, Bailey and HRH Princess Ruby Tuesday
If you're thinking of getting a puppy, click here
http://www.photoshow.com/watch/YK8AH4rw
Kubrick & Hitchcock's Mom
Join Date: Apr 2007
Location: New York, NY
Posts: 7,774
Submit Photo: 1
Photo Submissions 33 Times in 24 Posts
Faith is just as stunning as her daddy!
---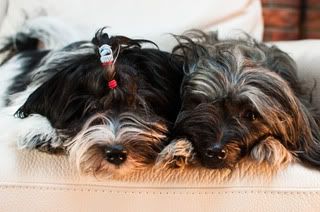 Visit
my blog

-----
Check out my
photos
-----
Photography (pets, people, weddings) -
TripleC Photography
Join Date: Nov 2008
Posts: 857
Submit Photo: 0
Photo Submissions 4 Times in 4 Posts
Posting Rules

You may not post new threads

You may not post replies

You may not post attachments

You may not edit your posts

---

HTML code is Off

---