Auction Grand Total!
---
With all the excitement, it occurred to me that I forgot to share how much we've raised for Havanese Rescue Inc. The number will change a little when we deduct Paypal fees, and add in the extra dollars that some people will include in their checks (which is a good thing
) , but the grand total is:
$6,660

Thank you to everyone - to the donors who came thru with so many fabulous and fun donations, and to the generous bidders who kept the bidding going during the week and who went 'all out' during the final bidding showdown!LOL
We all agree that these beautiful little dogs are worth the effort - thank you so much on their behalf. See you next year?!
Laura
Mom to Shadow & Kidget
Kubrick & Hitchcock's Mom
Join Date: Apr 2007
Location: New York, NY
Posts: 7,774
Submit Photo: 1
Photo Submissions 33 Times in 24 Posts
That's awesome! So glad you were able to raise so much, Laura!
---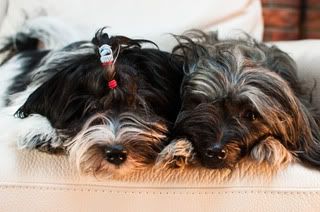 Visit
my blog

-----
Check out my
photos
-----
Photography (pets, people, weddings) -
TripleC Photography
Kimberly
Join Date: Aug 2006
Location: San Francisco Bay Area
Posts: 10,275
Submit Photo: 5
Photo Submissions 19 Times in 13 Posts
Wonderful! So glad to read about the total. Yea!
Senior Member
Join Date: Oct 2008
Location: Twin Falls, Idaho
Posts: 6,253
Submit Photo: 11
Photo Submissions 53 Times in 50 Posts
Senior Member
Join Date: Apr 2008
Location: St Louis MO
Posts: 898
Submit Photo: 14
Photo Submissions 5 Times in 5 Posts
Laura:

Job more than Well Done-You DID IT AGAIN and your "kids" are wonderful to give mom up for those days while you dedicate so much time and effort to the auction.

Pat (humom to )

Miss Paige
Mr Roman
Ms Frannie
Who sure did their share of bidding on things-they say you can never have enough toys.
Senior Member
Join Date: Nov 2006
Location: New Jersey
Posts: 9,794
Submit Photo: 2
Photo Submissions 28 Times in 20 Posts
Great News Laura!!! You did a fabulous job
---
Lily, Lexi ,Logan, Laila & Lizzie's Mom
www.HillsboroughHavanese.com
(Gigi, Lucas, Dugan, Madeline,Reo,Alvin, Lucky, Lukey, Punch, Colby & Ben-(we will always Love you!!)
Quincy's Mom-Vinnie too!
Join Date: Feb 2007
Location: Ia.
Posts: 9,923
Submit Photo: 35
Photo Submissions 17 Times in 16 Posts
That is wonderful news Laura!
Congrats on a job well done!
---
Vincent-Quincy's playmate
"Behind every unstable dog is a lesson for the owner"-Cesar Millan
Senior Member
Join Date: Apr 2007
Location: Long Island, New York
Posts: 8,941
Submit Photo: 3
Photo Submissions 41 Times in 25 Posts
Wow, impressive numbers and what a gift for the havs in need. Good job!!!
---
<b>Just Milo and me, and . . . </b>Bailey makes three . . . until Ruby said, "hey, what about me?"
Geri, Milo, Bailey and HRH Princess Ruby Tuesday
If you're thinking of getting a puppy, click here
http://www.photoshow.com/watch/YK8AH4rw
MacGyver's Mom
Join Date: Dec 2006
Location: Pennsylvania
Posts: 503
Submit Photo: 0
Photo Nominations 1 Time in 1 Post
Great job Laura. The auction is one of my favorite events! Thanks for all your hard work.
---
Boo
MacGyver's Mom
Posting Rules

You may not post new threads

You may not post replies

You may not post attachments

You may not edit your posts

---

HTML code is Off

---