Join Date: Nov 2008
Posts: 857
Submit Photo: 0
Photo Submissions 4 Times in 4 Posts
All my dogs
---
I thought I would share all of my dogs with you all...
A couple of Gracie first...I have been using the blueberry face wash for 2 days and the stains are getting lighter.
Next one is my first GSD Maggie, she will be 5 in April.
Last one is my male GSD Jonah, he will be 4 next month.
Kubrick & Hitchcock's Mom
Join Date: Apr 2007
Location: New York, NY
Posts: 7,774
Submit Photo: 1
Photo Submissions 33 Times in 24 Posts
Love your GSDs! How do they get along with Gracie?
---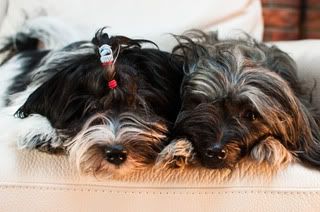 Visit
my blog

-----
Check out my
photos
-----
Photography (pets, people, weddings) -
TripleC Photography
Join Date: Nov 2008
Posts: 857
Submit Photo: 0
Photo Submissions 4 Times in 4 Posts
Thanks...my female is very gentle, but she had litters of puppies and knows Gracie is a puppy. My male is so strong and big, so far he has only got to sniff her. I haven't put them down together...he used to trample the puppies. It was funny, the puppies would roll under his feet, but then again they were about 10 pounds...Gracie is only 6.
He will be fine, I just don't want him to scare her. So for them, they will play eventually. He loves other dogs and loves to play though.
Kimberly
Join Date: Aug 2006
Location: San Francisco Bay Area
Posts: 10,275
Submit Photo: 5
Photo Submissions 18 Times in 12 Posts
Beautiful dogs! I've never looked carefully at two different GSD faces like that. Your two are very different from each other in their faces! Interesting!

We have the nicest GSD across the street from us. She was adopted as an adult obedience dog and is so sweet!
Senior Member
Join Date: Mar 2008
Location: Central Nebraska
Posts: 719
Submit Photo: 0
Photo Nominations 1 Time in 1 Post
Cute pics!
Where did you get the blueberry face wash...and what is it called??
---
Renee, Miley, & Copper too!
"Until one has loved an animal, part of their soul remains unawakened."
Izzy, Doc, and Kai's mom
Join Date: Jan 2007
Location: Monmouth, IL
Posts: 2,349
Submit Photo: 4
Photo Submissions 30 Times in 13 Posts
I'm such a dork.....I was reading your first post..couldn't for the life of me figure out what a GSD was...then finally gave up and scrolled down....LOL! Anyway, your GSD are very nice looking and Gracie is a cutie pie. Thanks for sharing!
---
Doc
Join Date: Nov 2008
Posts: 857
Submit Photo: 0
Photo Submissions 4 Times in 4 Posts
Join Date: Nov 2008
Posts: 857
Submit Photo: 0
Photo Submissions 4 Times in 4 Posts
Yeah, Maggie and Jonah are very different looking.
Funny...you can really see it in those pictures.
Bugsy's Mom
Join Date: Nov 2006
Location: San Francisco, CA
Posts: 4,341
Submit Photo: 3
Photo Submissions 6 Times in 5 Posts
Aww, I love GSD and your male is just stunning.
---
-Julia
Join Date: Nov 2008
Posts: 857
Submit Photo: 0
Photo Submissions 4 Times in 4 Posts
Thanks, he is a big goof ball...he was getting pretty full of himself and trying to be the alpha...so we neutered him...everyone said it would be too late (he was 3 1/2)...but they were wrong. His behavior improved drastically! Now he doesn't care and is back to being submissive.
Our female however, is the most loyal and loving of all. She is very into her people and doesn't know she is a dog. She is my husbands baby. lol
Posting Rules

You may not post new threads

You may not post replies

You may not post attachments

You may not edit your posts

---

HTML code is Off

---