Total Havanese Groupie
Join Date: Dec 2007
Posts: 2,639
Submit Photo: 7
Photo Submissions 37 Times in 16 Posts
Dingleberry Shame?
---
Anyone else have a havanese who hides (or goes in their kennel) when they have poop stuck in their fur?
Posh literally walks into the house with her head hung low, and will not come out of her crate or her "hiding" spot if she's got **** hanging. When I finally am able to coax her out, and inspect "voila" there it is!
Today was one of those days, and it also happened to be "bath day." So, it all was remedied in the end.
Seriously. She wouldn't even come out to eat or play!!! Then again I guess I wouldn't either! Now that she's clean it's like she is a new dog! She's eaten, she's running around, she just looks happy. And, don't tell me the shame is because she thinks she's getting a bath...she doesn't seem to mind those.
Kubrick & Hitchcock's Mom
Join Date: Apr 2007
Location: New York, NY
Posts: 7,774
Submit Photo: 1
Photo Submissions 33 Times in 24 Posts
Kubrick looks ashamed too! I'm not sure that he actually IS, but he FREEZES in place, won't move and hangs his head low while looking at me with such a pathetic face. That's when I know he has a dingleberry, LOL.
---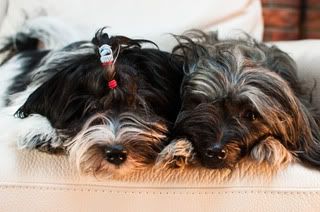 Visit
my blog

-----
Check out my
photos
-----
Photography (pets, people, weddings) -
TripleC Photography
Senior Member
Join Date: Feb 2008
Posts: 2,365
Submit Photo: 0
Photo Submissions 16 Times in 12 Posts
Tess is just horrified. And worse than dingleberries (you started this Amy!) is when she's eaten too much grass and its....how do I say this?.....half in and half out. What a look of shame. She won't move and doesn't know what to do with herself except lstare at me with a look of pathetic desperation. (Of course she doesn't get the whole cause & effect thing since she just eats more grass as soon as she gets home.) I knew I had reached a new low when I was reaching down to pull the poop out. Talk about a look - mine of disgust and Tess' of surprise!
---
Jill - Tess & Cody's mom
Senior Member
Join Date: Nov 2006
Location: Massachusetts
Posts: 11,746
Submit Photo: 27
Photo Submissions 48 Times in 35 Posts
Ha ha ha, Jasper does the Freeze in place thing too.

Amy, the name of this thread made me GFETE!




---
Missy, Jasper & Cash
Casper and Missy
Join Date: Jan 2007
Location: Washington state
Posts: 2,194
Submit Photo: 38
Photo Submissions 5 Times in 5 Posts
Casper gets seriously upset and he will do the RLH to see if he can get it off.
Missy will come to me slowly and I think she is saying "help me", I have given that girl more butt washes.
Both of them would be very upset if they had to spend much time with a dirty bottom. I can't think of it happening....maybe they just poo when I am around, just in case
Junior Member
Join Date: Mar 2008
Location: Michigan
Posts: 871
Submit Photo: 5
Photo Submissions 7 Times in 4 Posts
Roxie gets little dingleberries quite often and will come in and walk around the room stopping every few feet to turn and sniff her backside till you get the wipes and comb out and clean her up!
(I'm ashamed to say how long it took me to figure out what she was doing.)
(... and if my friends and family knew how often I read and/or talk about my dog's *habits*, they'd think I was nuts!)
---
~Ann and Roxie
Senior Member
Join Date: Oct 2008
Location: Twin Falls, Idaho
Posts: 6,255
Submit Photo: 11
Photo Submissions 53 Times in 50 Posts
Tucker scoots around outside trying and trying to get it off, (meanwhile grinding it in worse that how it started,) and when he can't, he comes dragging in, and quickly sits down and looks up at me out of the corner of his eyes.

Dingleberries. Cute term for a yucky pain to clean.

Sheri
Senior Member
Join Date: Feb 2008
Location: Bloomfield,CT and La Jolla, CA
Posts: 575
Submit Photo: 0
Photo Submissions 0 Times in 0 Posts
This thread is adorable, love the title and the stories.....I think this behavior speaks to their brilliance! Very sweet.
---
Debra and Moxie
Total Havanese Groupie
Join Date: Dec 2007
Posts: 2,639
Submit Photo: 7
Photo Submissions 37 Times in 16 Posts
I'm laughing out loud! Could be that I'm too late finishing a project...but more likely that you guys "feel my pain" and I love love that we can share these stories and know EXACTLY what each other is getting at! Hilarious!
Senior Member
Join Date: Jan 2008
Location: Cajun Country
Posts: 2,876
Submit Photo: 23
Photo Submissions 6 Times in 5 Posts
Here's what I don't get...why would Cricket be ashamed of a dingleberry (yeah, that's her MO too...head hung low) when she'll run straight to the litter box and get a cat crunchy to eat on? She's embarrassed when her own poop is stuck to her fur, but will gladly EAT someone else's? That just ain't right.
---
Kim, Santos & Brew
Posting Rules

You may not post new threads

You may not post replies

You may not post attachments

You may not edit your posts

---

HTML code is Off

---