In Memory of a Flower.
---
I am not sure if this sad news has been shared in this forum.
A Canadian Havanese show dog was killed recently by another dog, while under the care of a professional handler.
To me the show dogs sacrifice the most for the betterment of the breed, with the testing, heavy travel, long days, endless grooming and time away from the family.
I thought for Juanita if Hyacinth's death was not in vain it could help with the healing. She has asked on her blog for donations to Havanese rescue. So I have taken the liberty to ask again.
Please send a small monetary condolence to Havanese Fanciers of Canada Rescue, add a note in the Memory of Hyacinth.
http://www.havanesefanciers.com/resc...ationswelcomed
Or for Christmas gifts this year, I am donating profits from sales of these designs at Cafepress to HFCR.
http://www.cafepress.com/havanese_xmas
Thanks for your consideration, Angela
---
Last edited by hvapuppy2; 11-26-2008 at

07:54 PM

. Reason: correct the information
Kubrick & Hitchcock's Mom
Join Date: Apr 2007
Location: New York, NY
Posts: 7,774
Submit Photo: 1
Photo Submissions 33 Times in 24 Posts
I had not heard about this. How sad! I am so sorry for Hyacinth's family.
---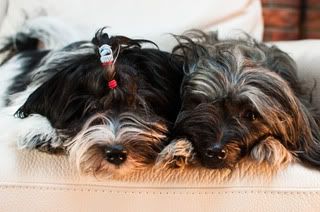 Visit
my blog

-----
Check out my
photos
-----
Photography (pets, people, weddings) -
TripleC Photography
Total Havanese Groupie
Join Date: Dec 2007
Posts: 2,639
Submit Photo: 7
Photo Submissions 37 Times in 16 Posts
and Murphy & Gracie too!
Join Date: May 2008
Location: Cumming, GA
Posts: 6,989
Submit Photo: 5
Photo Submissions 22 Times in 21 Posts
How terribly sad. From what I read on the blog Hyacinth was such a sweet dog, her photos are beautiful.

I was outside talking with some neighbors today about another dog on our street. He has acted aggressively towards adults, kids and other dogs and the family lets him out off leash all the time! After reading this, I'm going to email our HOA and ask that they remind everyone of the leash law. It's scary to have any dog come after you but a big dog is even scarier.
---
Ann-Scooter, Murphy, & Gracie's Mom
Senior Member
Join Date: Apr 2008
Posts: 3,018
Submit Photo: 73
Photo Submissions 11 Times in 11 Posts
doggy safe
---
I read about that dog and it is terrible. This isn't the first time this has happened at a show.

Scooter's mom, just be careful. I have havanese that hop with happiness when they are outside on walks and they look like rabbits. Many stupid people allow their dogs off-leash while they are working in the garage around here and the dogs (protecting their territory) have charged my dogs and even bit them. One neighbor's dog was attacked by an attack dog and the poor dear is still fearful. The neighbor with the attack dog moved away.

Riki was grabbed by the neck and shaken when he was about a year by a lady who said that her dog "never does that". Argh. We were walking once and two pit bulls were loose...I've never been so scared in my life.

It has been suggested to carry pepper spray on my walks...which I haven't done yet. Just know that in my five years with Riki we have encounted at least six times very scary situations and a few more with friendly dogs off leash...and I live in a supposed very good neighborhood.

At dog shows the folks are so nervous and there are so many dogs around getting groomed or whatever and they are not on leash. We were told at the pet expo to be careful because we had Shibas next to us and they are hunting dogs. Our havanese saw them with curled tails and being small, thought they were harmless. Since havanese are lovers, they are unsuspecting targets.

You see they hop, they have long curvy hair, and they are often white. Dogs with prey drive see them as a fun game...
---
I didn't just get havanese, I got a lifestyle!
Linda
Loving Havanese since 2003
Henry 2006-2018/ Kordelia
Join Date: Jun 2007
Location: NJ/NYC metro.
Posts: 4,155
Submit Photo: 11
Photo Submissions 25 Times in 25 Posts
Hyacinth was a beautiful havanese. My condolences to her family.
Katrina
Join Date: Aug 2007
Location: East Tennessee
Posts: 1,414
Submit Photo: 15
Photo Submissions 0 Times in 0 Posts
Does anyone know exactly what happened? This is awful and unacceptable for it to have happened at a show if that is what happened. I read her blog and Hyacinth was a beautiful Hav.
---
Katrina
and Princess Furface ---Lilly
www.youravon.com/kpresnell
Senior Member
Join Date: Oct 2008
Location: Florida
Posts: 1,814
Submit Photo: 1
Photo Submissions 2 Times in 2 Posts
Oh, that's just heartbreaking!
Gina
Groomer
Join Date: Apr 2007
Location: Atlanta Ga
Posts: 380
Submit Photo: 0
Photo Submissions 0 Times in 0 Posts
O my gosh, how terrible. I think people forget that the dogs at shows are still dogs and every day is different. I am so sorry for your loss!!
Join Date: Nov 2008
Posts: 857
Submit Photo: 0
Photo Submissions 4 Times in 4 Posts
This is so sad.
Posting Rules

You may not post new threads

You may not post replies

You may not post attachments

You may not edit your posts

---

HTML code is Off

---