Obama calls Havanese a "girlie" dog
---
Barbara Walters tried to urge Barack Obama to consider a Havanese as a pet. She showed him a photo of her Havanese Cha Cha.
Unfortunately, Obama rejected the Havanese as ""girlie dog."
Partial transcript follows:

We're getting more advice about this than my economic policy." Barack laughs during his interview with Barbara Walters, which aired tonight at 10 p.m. EST on ABC. "No doubt about it."

Given the amount of attention the new presidential pup has generated, we're not entirely sure Barack was joking.

The legendary newswoman went a step further and sent a picture of her Havanese dog, Cha-cha, to Michelle Obama.

"Cha-cha is a Havanese and a very perfect dog," Barbara gushed to the presidential pair.

Barack, amused: Cha Cha?

Barbara: Cha-Cha is a dog, he's a Havanese...his real name is Cha-cha-cha.


Cha-cha-cha, the beloved Havanese of
Barbara Walters. She's a workaholic, just
like her mom. Maybe she's penning a
tell-all book? Oh wait. Barbara already
did that.Barack: What's a Havanese?

Barbara explained it's like a "little terrier...non-allergenic and the sweetest dogs in the world."

Barack joked and said it sounded like a "little yappy dog." Michelle, sitting beside him wearing a chic, black and white dress, chides her husband. "Don't criticize," she says. Barack dismisses the notion of getting a pet that sounds like a lap dog and a "girly dog."

"We're going to get a big, rambunctious dog," the president-elect declared, holding his hands out widely.
-diane
Join Date: Apr 2008
Location: Oregon
Posts: 1,504
Submit Photo: 11
Photo Submissions 0 Times in 0 Posts
So...Two little girls would rather have a big rambunctious dog than a "girly dog".
All in all not a good reply..
---
-diane, Sophie and Gabriel's personal servant
Kubrick & Hitchcock's Mom
Join Date: Apr 2007
Location: New York, NY
Posts: 7,774
Submit Photo: 1
Photo Submissions 33 Times in 24 Posts
This doesn't bother me in the least. First off, I would never ever ever say a Hav is like a "little terrier." Ever. No offense at all to terrier owners but *I* think little terriers are yappy dogs, and if anyone described a Hav as such, I would say the exact same thing. Secondly, Havs are NOT for everyone, and if Obama doesn't think a Hav would fit with his family, he has a right to his opinion. He wants a bigger dog, and that is fine by me. Thirdly, no one showed him a picture of a Hav nor showed him one in person so the fact that a Hav sounds like a lap and girly dog to him doesn't seem all that far-fetched to me as everyone I talk to about Kubrick thinks the same thing until they meet him. It's hard to know a dog's personality without meeting one.
---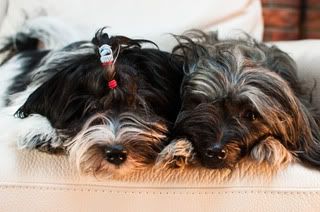 Visit
my blog

-----
Check out my
photos
-----
Photography (pets, people, weddings) -
TripleC Photography
Join Date: Aug 2008
Posts: 23
Submit Photo: 0
Photo Submissions 0 Times in 0 Posts
I am glad to hear his response. I dont want to see the Havanese become a household name. Not only would it be bad for the breed due to the demand for them, but I love the fact that most people ask me what breed Junie is. I say its a good thing that Barbara Walters portrays them as girly, yap dogs...we know better.
I don't know why, but I'm suprised BW and the president-elect know so little about our favorite dog breed. It's a lose-lose situation, I guess. If Obama chose a Havanese for a family pet, there would be a run on them and puppy mills would abound. But now he's knocked the breed and that's not good.
Joe
Join Date: Feb 2008
Location: canada
Posts: 814
Submit Photo: 0
Photo Submissions 4 Times in 2 Posts
havs are a bit girlie...i know when i play with them my voice seems to go up a bit
joe
i think obama is a smart guy but that doesn't mean he knows about dogs!!
---
greetings from mugsy & me
flickr
Cuba & Isabel's Mom
Join Date: Jul 2008
Location: Smyrna, Georgia
Posts: 267
Submit Photo: 1
Photo Submissions 0 Times in 0 Posts
And it could be me, but I don't think BW's Cha-Cha is a good representation. Or at least not in the pictures I've seen. I wouldn't want a dog that looked like hers either...
Suzy and Cazzie
Join Date: Nov 2007
Location: Up North & Down South
Posts: 796
Submit Photo: 0
Photo Nominations 1 Time in 1 Post
Cazzie is offended that he is being called a girlie dog and would like to set the record straight...he is a very macho dog, a regular little Caz-man, as much as he can be, being neutered ...

I for one though, am very happy that a Havanese will not be considered for the White House. We don't need any more Havs - and Chelsie says, Cotons too - languishing in pet stores than there already are, and more than enough in Rescue or even worse, in Shelters, because of ignorant owners who wanted a little popular plaything and then, had no tolerance or love when the little one peed on their white carpeting or threw up on the bed or tore a hole in the leather couch.

Suzy
---
Sweet Chelsie Coton
Lincoln and Scout's Mom
Join Date: Jun 2007
Location: San Francisco Bay Area, CA
Posts: 3,650
Submit Photo: 1
Photo Submissions 8 Times in 8 Posts
I am also relieved the Obamas are not getting a Havanese!

Girlie dogs? They are vicious wolves, underneath all that hair, LOL!
---
Jane
Gryff and Jinx Mommy
Join Date: Sep 2007
Location: New Paltz, NY
Posts: 2,346
Submit Photo: 7
Photo Submissions 9 Times in 9 Posts
I agree. Let's keep our wonderful dogs a secret! BW certainly didn't do much to sell how wonderful they are.
---
Posting Rules

You may not post new threads

You may not post replies

You may not post attachments

You may not edit your posts

---

HTML code is Off

---