Join Date: Dec 2008
Posts: 13
Submit Photo: 0
Photo Submissions 0 Times in 0 Posts
Worried
---
I've been looking around some other Havanese breeder websites here in Texas and I must say, I've been getting worried. Their standards seem to be much higher than that of the breeder where Buttons is coming from.

I asked the breeder about CERF testing, but she said she doesn't get those exams done for her dogs. Well, I should have listened to my instincts instead of just thinking about how adorable Buttons was and gone with a different breeder.

How bad is it that she doesn't get these medical checks done on her dogs/puppies? Should I be concerned or am I just being paranoid? Also, since I've made the deposit on Buttons, I haven't heard from the breeder even though I've emailed her to check and see how Buttons is doing.

What do y'all think?

Ang
Senior Member
Join Date: Nov 2006
Location: New Jersey
Posts: 9,794
Submit Photo: 2
Photo Submissions 28 Times in 20 Posts
Ang - sadly there are a few red flags there! My pups were not CERFed but their parents were. I think it is more important what tests they do on the parents. Of course the pups should all go to the vet to a check up!
Have you tried calling them? Maybe your deposit never arrived?
I am sure there are lots of people on here who can chime in on what you should look for.
Laurie
PS - Buttons is adorable!!
---
Lily, Lexi ,Logan, Laila & Lizzie's Mom
www.HillsboroughHavanese.com
(Gigi, Lucas, Dugan, Madeline,Reo,Alvin, Lucky, Lukey, Punch, Colby & Ben-(we will always Love you!!)
Join Date: Dec 2008
Posts: 13
Submit Photo: 0
Photo Submissions 0 Times in 0 Posts
I'm definitely going to get any and all testing done that should be done on my little angel.
She had a paypal deposit option which emailed me back and confirmed it had been received, so that's not it. Maybe she's just been busy, it is the holiday season. I'm a worrier by nature, so it isn't surprising that I feel this way
---
Last edited by ahuddleston; 12-11-2008 at

10:10 AM

.
Senior Member
Join Date: Apr 2007
Location: Long Island, New York
Posts: 8,941
Submit Photo: 3
Photo Submissions 41 Times in 25 Posts
Try to relax and enjoy the anticipation of your absolutely adorable little puppy. It certainly would have been better to know your breeder had done the testing but that little baby was meant to be yours. There are so many rescue dogs who come from horrible beginnings only to have wonderful lives with their adoptive families.

As for not hearing from your breeder. Mine was not overly warm and fuzzy either, nor did she keep me updated as much as I would have liked (although she did send me photos a couple of times), but she gave me the sweetest two boys on God's green earth. Try not to torment yourself.
---
<b>Just Milo and me, and . . . </b>Bailey makes three . . . until Ruby said, "hey, what about me?"
Geri, Milo, Bailey and HRH Princess Ruby Tuesday
If you're thinking of getting a puppy, click here
http://www.photoshow.com/watch/YK8AH4rw
Kubrick & Hitchcock's Mom
Join Date: Apr 2007
Location: New York, NY
Posts: 7,774
Submit Photo: 1
Photo Submissions 33 Times in 24 Posts
Truthfully, if I were you, I would find another breeder. Yes, you can rescue dogs, but this isn't a rescue, it's a puppy that you're paying what I'm assuming is a lot of money to ensure (to the extent that you can) that it won't have any major health problems later on. If you wanted a rescue, you could have easily gone that route, but I'm imagining that's not what you want... if it is, feel free to ignore this post.

It's important, and a good breeder will do these things, to do all the health testing necessary on the parents to ensure that no genetic disease are being passed on to the puppies. In particular, I would ask the breeder if s/he does CERF, patella and hip testing as well as BAER testing. If s/he says no, I would personally back out of the deal. Will you get your deposit back or is non-refundable? Did you put up what you think is too much money as a deposit? These are all questions you have to ask yourself and what you're willing to lose in order to get a puppy whose parents are thoroughly health checked. This is a personal decision for you and no one can tell you what you need to do, you need to come to a decision for yourself. As to my opinion, I would say back out, lose the deposit, and keep looking rather than getting a puppy that might later on have health problems that would cost me a lot more money than I would have lost on a deposit. I know that's hard to say as you've probably fallen in love with Buttons by now, but that's just what I think I would do. Like I said, you should think about it and come to a decision that you're comfortable with. It's all about your comfort level. If you think you can get Buttons anyway, go ahead and do so. I don't think anyone here will judge you badly for it, least of all myself, but you did ask for opinions, so I'm giving you mine.

Hope I'm not coming out sounding harsh, just wanted to give you my honest and truthful opinion. I'm sure whatever decision you come to will be the right one for you!
---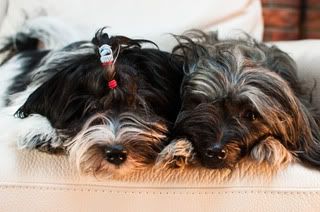 Visit
my blog

-----
Check out my
photos
-----
Photography (pets, people, weddings) -
TripleC Photography
Join Date: Dec 2008
Posts: 13
Submit Photo: 0
Photo Submissions 0 Times in 0 Posts
Lina - No, I totally understand your opinion (and was looking for experienced Hav owner opinions
). I certainly wouldn't have paid
this
must money for a rescue dog, although I hope to rescue in the future.
The breeder did give me the number of her vet, so I think I'll give him a call this week and see what I can find out about her dogs. I'm going to still get Buttons and have her thouroughly checked by my parent's vet (well, I guess our vet now
). If I wind up spending money because of future health problems, I guess that will just be the way the cookie crumbles. At least Buttons will be in caring hands.
Thanks for your valued opinion!
Marley's Mom
Join Date: Jun 2007
Location: Snohomish, WA
Posts: 629
Submit Photo: 2
Photo Submissions 6 Times in 3 Posts
Welcome to the Forum!!
Take a deep breath and relax
I think we don't know quite enough to judge the quality of the breeder completely even if it would really be nice to see her do all the testing.
Did you visit Buttons at the breeder's house? How did you find her? Any referrals? How many litters does she have at each time? Does she show her dogs and has references from other breeders? Does she charge an amount for her dogs that really should include more health testing?
I think there is a variety of quality in breeders and you have the whole range from top, top, top in every respect to the sleeziest backyard puppy mill that puts together any dog of breeding age no matter what health issues they have.
The puppies will be cute no matter where they come from. And you will fall in love with the sweet little furball no matter what. Getting a puppy from a breeder that does all the testing just increases your chances of not having to deal with medical issues and the heartbreak that comes with it later on. Health guarantees are nice, but realistically, could we actually return the "defective dog" for a new model after loving on them even for just a few months?
Then again, even breeders that DO all the health testing have puppies at times that are born with or develop serious health issues (but they will be right there with you if that should happen from what I have seen on this board...)
So all in all, there are no guarantees, but one way or other you should feel good about your decision and your puppy's health and getting one from a breeder that does do all the testing just really, really helps with that.
Can you go visit with Buttons and talk to the breeder again? Her reaction to your concerns would have a huge impact on how I'd feel on proceeding or not.
The availability of your breeder and staying connected would be another thing to think about while you still can. I envy the people on the board that have a close relationship with the breeders of their dogs. The ones that can board their furbabies with the breeder when they go on vacation and feel great about it. The people you can call when you are freaking out because this or that happened..... The kind of folks that WANT to stay in touch with you and the puppies they produced because they care, the ones where the relationship is not over as soon as the check is cashed.
So only you can make the decision, nobody else can do it for you...but my gut feeling is that you need to do a little more digging to come to a solution that feels right for you.
Alexa
Kimberly
Join Date: Aug 2006
Location: San Francisco Bay Area
Posts: 10,275
Submit Photo: 5
Photo Submissions 19 Times in 13 Posts
The breeder's vet may not share any information with you, and the only test that they would do is the patella test anyway. The place to go to verify the health testing is to
www.offa.org
. You will need the registered name or AKC # of each of Buttons parents to verify they have had the health testing done.
CERF wouldn't be done on the puppies, but it should be been done on each of the parents every year.
BAER (hearing) test is the only one that should be done on the puppy before you get her and that one can't be done until some time after 5 weeks of age. All of the other testing is meant to be done on the parents before breeding them.
Join Date: Dec 2008
Posts: 13
Submit Photo: 0
Photo Submissions 0 Times in 0 Posts
Here is what she said when I asked her about CERF and BAER testing:

"My adult dogs get thorough annual vet check ups, and teeth cleaned. I have not had advanced testing done. I've discussed it with my vet (who adopted one of my puppies), and although it is recommended on many websites, it is not a guarantee. And, none of my dogs have had any indication of any problems."
Kubrick & Hitchcock's Mom
Join Date: Apr 2007
Location: New York, NY
Posts: 7,774
Submit Photo: 1
Photo Submissions 33 Times in 24 Posts
Angela, no matter what the vet says about looking at the dogs, that is not the same as getting the preventative health testing done. You can't see these problems with the naked eye/touch... you need to get x-rays and more extensive testing done. It's really too bad that your breeder feels the way she does as it is not the best outlook for betterment of the breed at all. In light of your last e-mail, I doubt that the dogs will be on offa.org or have CHIC numbers, so I don't think it's necessary for you to check that. Like I said before, this is your decision... knowing that no health testing is done, is that a deal breaker for you?
---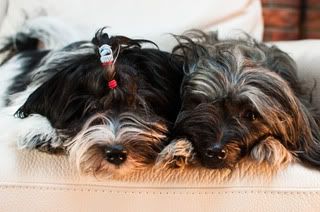 Visit
my blog

-----
Check out my
photos
-----
Photography (pets, people, weddings) -
TripleC Photography
Posting Rules

You may not post new threads

You may not post replies

You may not post attachments

You may not edit your posts

---

HTML code is Off

---