Joe
Join Date: Feb 2008
Location: canada
Posts: 814
Submit Photo: 0
Photo Submissions 4 Times in 2 Posts
christmas cards plus dogs equals ...
---
cards with torn corners.

this year i decided to show the pups the christmas cards we received so while i open the envelope and pull the cards out i call the dogs over.
then i squat down and show them the cards and read them out loud and sometimes point out things like snowmen, bright stars etc.

as i do this they tend to bite down on the corners and chew away.

i'm likin' christmas this year!!

joe
---
greetings from mugsy & me
flickr
Kubrick & Hitchcock's Mom
Join Date: Apr 2007
Location: New York, NY
Posts: 7,774
Submit Photo: 1
Photo Submissions 33 Times in 24 Posts
Joe, LOL, you're too cute!
---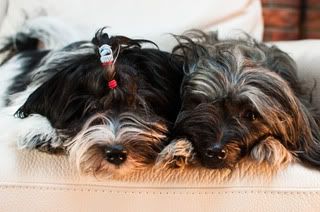 Visit
my blog

-----
Check out my
photos
-----
Photography (pets, people, weddings) -
TripleC Photography
-diane
Join Date: Apr 2008
Location: Oregon
Posts: 1,504
Submit Photo: 11
Photo Submissions 0 Times in 0 Posts
---
-diane, Sophie and Gabriel's personal servant
Mom to Ricky and Sammy
Join Date: Jan 2007
Posts: 10,319
Submit Photo: 30
Photo Submissions 21 Times in 17 Posts
Quote:
Joe, LOL, you're too cute!
That's exactly what I was thinking!! And we mean that in a very nice way, Joe.
It's nice to hear how happy these two make you. I'm sure they are just as happy with you.
---
Hello. My name is marj and I have MHS.
"The greatness of a nation and its moral progress can be judged by the way its animals are treated." Mahatma Gandhi
"Come to the edge, he said. They said: We are afraid. Come to the edge, he said. They came. He pushed them and they flew." -Guillaume Apollinaire"
Senior Member
Join Date: Nov 2006
Location: Massachusetts
Posts: 11,746
Submit Photo: 27
Photo Submissions 48 Times in 35 Posts
ummmm Joe? didn't you get a new camera?
---
Missy, Jasper & Cash
Zeus and Riley's Mom
Join Date: Mar 2008
Location: Prescott, Az
Posts: 1,105
Submit Photo: 0
Photo Submissions 6 Times in 6 Posts
Christmas is so much fun for the "kids"!
---
Jean, Riley and Zeus!
Lola's Mom
Join Date: Feb 2008
Location: San Francisco
Posts: 989
Submit Photo: 36
Photo Nominations 1 Time in 1 Post
Imagine if there were liver treats in those cards! I can't get Lola interested in anything Christmas - cards, the tree, the lights, carols. None of them seem to have meat connected to them, so she could care less. She likes her new red and green ball...woohoo!

Joe, where are the Christmas pics of your kids??? New camera or New lens?
---
---Little Lola a.k.a. Princess Pee and Poop and her humom Anne
"Happiness is a warm puppy" Charles Schultz
Joe
Join Date: Feb 2008
Location: canada
Posts: 814
Submit Photo: 0
Photo Submissions 4 Times in 2 Posts
yes, a new camera and i just ordered yet another new camera...i love christmas
now, if i just had the time and energy to take a few good shots.
i'll try over the coming weekend.
joe
---
greetings from mugsy & me
flickr
Posting Rules

You may not post new threads

You may not post replies

You may not post attachments

You may not edit your posts

---

HTML code is Off

---