Castro's Momma
Join Date: Jul 2008
Location: Earth
Posts: 260
Submit Photo: 4
Photo Submissions 0 Times in 0 Posts
Castro - Great Host, or pushover?
---
We had 4 dogs in the house for Christmas dinner... Castro, Myles - a 10m Daschound, Cornishon - a 7 yr old Pom, and Grammy - a 14 yr old Chihuahua..

All through the day, Castro let the girls eat/drink his food, and play with his toys. When Myles came, Castro had a buddy (they also go to day care together), and were just running around the house, sharing their treats and playing really nice.

Everyone was so impressed during dinner; all but Castro hovered by the table - some said that Castro was the "model dog"! <he made momma so proud!>

I thought Castro played a great host, and is testament to how we are raising and training him. SO thinks he may be a bit too submissive... Would really appreciate your thoughts and comments...

A little back story - the girls dogs aren't well socialized with people, let along other dogs, while Myles, although is great with other dogs, isn't as great with people.
Senior Member
Join Date: Nov 2006
Location: Massachusetts
Posts: 11,746
Submit Photo: 27
Photo Submissions 48 Times in 35 Posts
Castro IS a model dog! and you can tell your SO I said so...LOL. he was interested-- and you said he was playing... so that is all good. Good Job!




---
Missy, Jasper & Cash
Pepper's mom
Join Date: May 2007
Location: Southern CA
Posts: 1,329
Submit Photo: 0
Photo Submissions 6 Times in 5 Posts
Hmm, let me see if I've got this right. Castro let his guests enjoy the food and drink, and shared the entertainment without raising a fuss. I don't know...it sure sounds as if Castro was a great host!
---
Wanda & Pepper
Senior Member
Join Date: Apr 2007
Location: Long Island, New York
Posts: 8,941
Submit Photo: 3
Photo Submissions 41 Times in 25 Posts
Perfect gentleman I would say, and a perfect host. Be proud mama.
---
<b>Just Milo and me, and . . . </b>Bailey makes three . . . until Ruby said, "hey, what about me?"
Geri, Milo, Bailey and HRH Princess Ruby Tuesday
If you're thinking of getting a puppy, click here
http://www.photoshow.com/watch/YK8AH4rw
Kubrick & Hitchcock's Mom
Join Date: Apr 2007
Location: New York, NY
Posts: 7,774
Submit Photo: 1
Photo Submissions 33 Times in 24 Posts
Kubrick shares all his toys and chewies with the other doggies and he doesn't crowd the table either. However, he's one of the more dominant dogs at the dog park - he never ever lets another dog hump him... ever! So really, I don't think that has to do with being submissive at all, it's just good manners and learning to share.
I think Castro was a perfect dog too!
---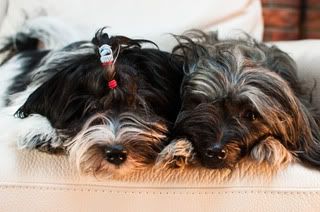 Visit
my blog

-----
Check out my
photos
-----
Photography (pets, people, weddings) -
TripleC Photography
Senior Member
Join Date: Nov 2006
Location: New Jersey
Posts: 9,794
Submit Photo: 2
Photo Submissions 28 Times in 20 Posts
Sounds perfect to me.
---
Lily, Lexi ,Logan, Laila & Lizzie's Mom
www.HillsboroughHavanese.com
(Gigi, Lucas, Dugan, Madeline,Reo,Alvin, Lucky, Lukey, Punch, Colby & Ben-(we will always Love you!!)
and Murphy & Gracie too!
Join Date: May 2008
Location: Cumming, GA
Posts: 6,989
Submit Photo: 5
Photo Submissions 22 Times in 21 Posts
He is the host with the most! Sounds great, you must have really trained him well!
---
Ann-Scooter, Murphy, & Gracie's Mom
Senior Member
Join Date: Feb 2008
Posts: 2,365
Submit Photo: 0
Photo Submissions 16 Times in 12 Posts
SO is just jealous!
---
Jill - Tess & Cody's mom
Senior Member
Join Date: Apr 2008
Posts: 3,018
Submit Photo: 73
Photo Submissions 11 Times in 11 Posts
Riki is a lot like Kubrick
---
Riki shares toys and isn't a food hog. He just doesn't like to be touched on the back with the idea that he will be dominated. for this reason, he is not a fan of terriers. He loves to run and play chase and has a great time as long as they don't go for the hind quarters...

I think your dog sounds like a sweet guy. I think it is great not to be food or toy dominant! Yipee!
---
I didn't just get havanese, I got a lifestyle!
Linda
Loving Havanese since 2003
Posting Rules

You may not post new threads

You may not post replies

You may not post attachments

You may not edit your posts

---

HTML code is Off

---