Join Date: Dec 2008
Posts: 1
Submit Photo: 0
Photo Submissions 0 Times in 0 Posts
New Member-Deb Fein
---
Hi everyone, My name is Deb and we have a six year old Havanese named Buddy. Where we live I rarely see another Havasese so the other day when I was in the pet store and ran into another owner I was thrilled. We made quick introductions and she suggested that I join the forum. After taking some time to enjoy the photos of other Haveneses', I tried to navigate the site to find other owners in my area but to no avail. The kind soul I met at the pet store metioned that , for our area, Wayne Pa, there are occasional play groups in which I would love to participate in with Buddy. Any help in giving me direction with navigation and finding a play group would be great. After the New Year, I will get it together to post pictures of our handsome boy, Buddy. Thanks. Deb
Join Date: Nov 2008
Posts: 857
Submit Photo: 0
Photo Submissions 4 Times in 4 Posts
Welcome Deb! This is a great group of people! I'm Karla and I have Gracie who is almost 6 months old...she is my first hav.
Joe
Join Date: Feb 2008
Location: canada
Posts: 814
Submit Photo: 0
Photo Submissions 4 Times in 2 Posts
greetings!
i have 2 havs, a 2 year old male and a 6 year old female.
i have my own play group
joe
---
greetings from mugsy & me
flickr
Kubrick & Hitchcock's Mom
Join Date: Apr 2007
Location: New York, NY
Posts: 7,774
Submit Photo: 1
Photo Submissions 33 Times in 24 Posts
Deb! Can't wait to see pictures of Buddy!
Who recommended you to the site? I'm not sure what forum members are from Pennsylvania...
Anyway, we do have a large East Coast play date about 2-3 times a year in New Jersey (near Princeton). If that's not too far from you (sorry I have no idea where Wayne is), we do have some members from Philadelphia who come up for that. I do know that there's a Hav club in Delaware as well.
---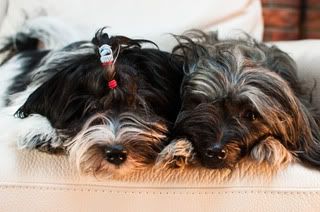 Visit
my blog

-----
Check out my
photos
-----
Photography (pets, people, weddings) -
TripleC Photography
Bugsy's Mom
Join Date: Nov 2006
Location: San Francisco, CA
Posts: 4,341
Submit Photo: 3
Photo Submissions 6 Times in 5 Posts
Welcome to the forum Deb and Buddy.
I have a 2.5 year old Havanese Bugsy and he is my very first Havanese. I also own two standard poodles. You are going to love this site.
---
-Julia
Senior Member
Join Date: Feb 2008
Posts: 2,365
Submit Photo: 0
Photo Submissions 16 Times in 12 Posts
Deb & Buddy. So glad you found us! I have a 6 year old Hav (Tess) & 3 year old Coton (Cody). I've had both for 1 year. Most of the play dates aren't on a regular, established schedule - just as one or another member in the area sets one but, but not sure about PA. I think you'll really enjoy the people & info you get with this group. Looking forward to your pictures. (You'll find we LOVE pictures!!)
---
Jill - Tess & Cody's mom
---
Last edited by Jill in Mich; 12-27-2008 at

10:06 PM

.
Sooo Smart
Join Date: Mar 2008
Location: Georgia
Posts: 3,551
Submit Photo: 9
Photo Submissions 22 Times in 12 Posts
WELCOME DEB AND BUDDY....
I hope you will enjoy the forum. It's addictive with all the information. I hope you post pictures soon.
---
Cicero trained Dale & Ronnie
Linda
Join Date: Nov 2008
Location: Eastern North Carolina
Posts: 5,409
Submit Photo: 73
Photo Submissions 24 Times in 22 Posts
Hi Deb!

My name is Linda and Dexter is 10 weeks old. We are glad to have you in the forum!
Karen
Join Date: Nov 2006
Location: PA
Posts: 3,067
Submit Photo: 4
Photo Submissions 16 Times in 9 Posts
Hi Deb,
Linda mentioned that she met you at Petsmart the other day. I live in Devon, PA, so we are right around the corner from you. I have 2 havs, Brady who is 2 1/2 and Dugan who is 5 months. Linda and I try to get together a few times a month and take the dogs for a walk at Freedom Foundation near Valley Forge Park or Lorimer Preserve in Paoli. I will send you a private message so I can get your email and we can let you know when we are going to meet up. I will be out of town, so it won't be for a few weeks. Laurie has playdates at her home in New Jersey a few times a year and she is about an hour and 15 minutes from us. I hope to get to meet you and Buddy soon!!
---
**Karen, Mom to Brady, Dugan, and Devon
Senior Member
Join Date: Nov 2007
Location: Arkansas
Posts: 1,869
Submit Photo: 0
Photo Submissions 19 Times in 6 Posts
Welcome!!
---
Tritia, Daisy, Cooper, and Bodie.
Posting Rules

You may not post new threads

You may not post replies

You may not post attachments

You may not edit your posts

---

HTML code is Off

---