Join Date: Sep 2008
Posts: 87
Submit Photo: 0
Photo Submissions 0 Times in 0 Posts
Cat Genie Litter Box (I know its a dog forum... but!)
---
Hey all!
I know this is a DOG forum... but, I was wondering if any of you know of someone who have used this product, or better yet... if you have. I saw it in this months Pet Edge. It retails for approx $299.99 for just the box. And after I buy everything else, your talken maybe $300.00. But, it is a FLUSHING LITTER BOX! No kidding! Very cool. The web site for it doesnt really help explain much except what it does. I still had a ton of questions until I watched this great youtube.com video from a women who posted her experience.
I am still doing some research but have found that everyone who has used it loved it. But I thought I would ask the trusted havanese folks.
The plus side to this is not only the smell, and cleaning (I have a littermaid and it works ok... but your still dealing with a litter box mess. And after the basket is full its a pain to get out) but that it flushes in the toilet. So my havanese and yorkie wont get into it and eat it. And its pet safe. Plus it kills any germs that are in the litter box.
Check it out... Its called the Cat Genie.
http://www.youtube.com/watch?v=5fP4uhtXwHY
Kubrick & Hitchcock's Mom
Join Date: Apr 2007
Location: New York, NY
Posts: 7,774
Submit Photo: 1
Photo Submissions 33 Times in 24 Posts
I am so confused on how it works... so you have to keep it in the tub at all times? Unless you have an extra bathroom only for your cats, how would that work?
---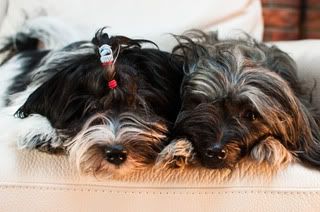 Visit
my blog

-----
Check out my
photos
-----
Photography (pets, people, weddings) -
TripleC Photography
Senior Member
Join Date: Apr 2008
Posts: 3,018
Submit Photo: 73
Photo Submissions 11 Times in 11 Posts
but the cat is cute!
---
Gee...scooping poop is something I would so miss after 18 years of doing it!
I think that the cat in the video is very pretty, looks like an abby....
---
I didn't just get havanese, I got a lifestyle!
Linda
Loving Havanese since 2003
Gryff and Jinx Mommy
Join Date: Sep 2007
Location: New Paltz, NY
Posts: 2,346
Submit Photo: 7
Photo Submissions 9 Times in 9 Posts
I used to use it when I had a cat. It has plusses and minuses. Yes, it can be cleaner than a regular litter box - however, after a while, the rake gets all clumpy with caked on litter and cat eliminations. The box also needs to be super duper cleaned after a while and those are really, really messy jobs. At least with a regular litter box, you can line it so it doesn't get gross. Don't go into it thinking "best think since slicec bread" because it certainly isn't.

Now, my sister has successfully taught her cat to actually use the toilet. That's the way to go! She bought a kit that uses increasingly smaller targets that fit over the toilet seat. It took a few months, but it really did work.
---
and Murphy & Gracie too!
Join Date: May 2008
Location: Cumming, GA
Posts: 6,989
Submit Photo: 5
Photo Submissions 22 Times in 21 Posts
Ivy-that made me laugh! If I was there, went into the bathroom and saw the cat pee on the potty I'd probably wet my pants!!!
---
Ann-Scooter, Murphy, & Gracie's Mom
Henry 2006-2018/ Kordelia
Join Date: Jun 2007
Location: NJ/NYC metro.
Posts: 4,131
Submit Photo: 11
Photo Submissions 24 Times in 24 Posts
doesn't the cat fall in? I know the cat balances but couldn't she slip?
Posting Rules

You may not post new threads

You may not post replies

You may not post attachments

You may not edit your posts

---

HTML code is Off

---