Senior Member
Join Date: Apr 2008
Location: Oklahoma
Posts: 310
Submit Photo: 0
Photo Submissions 11 Times in 7 Posts
Dog park experience
---
Our dog, Luke, LOVES the dog park. He is so fast that only the greyhounds can beet him when he turns on his turbo.
I took Linus with us the last time. He, of course, went to the small dog side. I can't say that Linus is much of a dog. I am not talking about size; I am talking about dog behavior. He did not get into the smelling of other dogs, chasing toys, or running with the pack. He actually wandered over to the bench and sat down (I was not even at the bench). He did not seem scared. He just seemed "above it". It was so odd. After a bit, Luke was exhausted and happy; Linus was ready to go.
No mean dogs, no fights or shows of aggression, just not into it. Anyone else experience that with their Havs? He really seems to love people though. Maybe I should take him to the people park.
Karen
Jackie, Sophie's Mom
Join Date: May 2008
Location: Grand Rapids, MI
Posts: 529
Submit Photo: 5
Photo Submissions 0 Times in 0 Posts
NO!!! keep taking him! It looks like he just hasn't learned how to socialize with other dogs yet. A dog park is a great place to learn. Maybe you could introduce him to a few "playmates" who are regulars before you let him off the leash.
---
Unconditional love!
Kubrick & Hitchcock's Mom
Join Date: Apr 2007
Location: New York, NY
Posts: 7,774
Submit Photo: 1
Photo Submissions 33 Times in 24 Posts
I agree, I think you should keep taking him. Kubrick just LOVES the dog park and will play and play and play until you leave. Of course, it could just be that Linus doesn't like playing with that many dogs at once. Have you done many play dates with 2-3 dogs? Maybe if you start out smaller, he will get into it.
---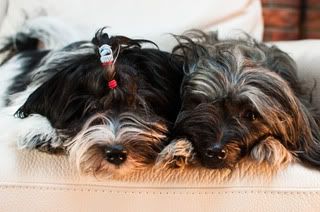 Visit
my blog

-----
Check out my
photos
-----
Photography (pets, people, weddings) -
TripleC Photography
Senior Member
Join Date: Apr 2008
Location: Oklahoma
Posts: 310
Submit Photo: 0
Photo Submissions 11 Times in 7 Posts
Linus likes to play a lot with Luke and his real brother Boomer. He likes cats and a few other dogs, but he just didn't seem to like the park. He will probably have to go with us because Luke likes it so much. It is a true sibling relationship (anyone ever have a sib that had to tag along or maybe you were the tag along?).

There is another dog park in town so I will try there as well to see if it is just that particular environment. Of course we will wait until it gets above 30. It is freezing here with wind chills in the teens.
I also live in Norman. I have not taken Daisy to the dog park yet. I have been a little nervous. Has your experiences been pretty positive?
Senior Member
Join Date: Apr 2008
Location: Oklahoma
Posts: 310
Submit Photo: 0
Photo Submissions 11 Times in 7 Posts
Quite honestly, dog parks depend on the day. If you go at noon on Saturday, there will be a LOT of dogs which may or may not be what you want. I prefer a few dogs that their owners pay attention to. Usually the "big dog" side has the dogs; whereas, the "small dog" side has none or a few. Just my experience with it.

Beware--there are some owners who bring pit bulls/mixes that tend to be very aggressive (I do not think they have been trained much). I would never put a Hav over in that side even though small dogs are usually over there.
Senior Member
Join Date: Apr 2008
Posts: 3,018
Submit Photo: 73
Photo Submissions 11 Times in 11 Posts
Riki loves the dog park, Daisy hates it
---
Riki went the year before we had Daisy and made many friends. Daisy has never liked it unless there were less than 5 or six dogs all small. I like to bring them in the day if I am off when they are the onlies so they can run. Riki has always enjoyed hanging out with the ones who don't nip his back legs or hump him...which he won't tolerate.

Daisy has always jumped on the bench and sat on someone's lap...and she has been at least 50 times! Her favorite playmate is Riki, and she doesn't really like that many other dogs...except havanese.
---
I didn't just get havanese, I got a lifestyle!
Linda
Loving Havanese since 2003
Senior Member
Join Date: Apr 2008
Location: Oklahoma
Posts: 310
Submit Photo: 0
Photo Submissions 11 Times in 7 Posts
Linus thinks sniffing his rear is rude. I can't imagine how he would view a dog humping him.

I think dogs have personalities just like people--some are party animals (extroverted) and some would rather curl up and read a good book (introverted). I guess it just comes out at the park. It does depend on who is around, though, how dogs and people respond.
Senior Member
Join Date: Oct 2008
Location: Florida
Posts: 1,814
Submit Photo: 1
Photo Submissions 2 Times in 2 Posts
I have always been afraid to go. Marble is not well socialized with other dogs. In fact, he barks, growls and lunges at them as if he will bite. I can tell he wants to play but just doesn't know how or is too afraid. I don't want him to hurt someone or get in a brawl. I'm planning on taking him to a group obedience class first to help him socialize in a more controlled environment.
Gina
---
Amanda
Join Date: Nov 2006
Location: South Carolina
Posts: 9,576
Submit Photo: 2
Photo Submissions 31 Times in 22 Posts
My Isabelle is a far from a doggy's dog. She usually spends her time at the dog park with the people. But to be honest she LOVES the dog park. She gets so excited to go
Unfortunately we don't have one any where near us here. She does tend to be a bully and I have to watch her. She will easily pick out a dog to pick on and size doesn't matter. Belle can be found chasing or bullying dogs. But she would never play with them!
Dash loves other dogs so he loved the dog park. Dora isn't as crazy as Dash but she likes to walk around and sniff and hang out. I think dog parks can be great. You just have to be aware of the dogs. I have hardly ever taken my little guys into the big sides though. Often those are chase games which are fun and one little ran over dog could be a big injury.
Posting Rules

You may not post new threads

You may not post replies

You may not post attachments

You may not edit your posts

---

HTML code is Off

---