Join Date: Dec 2008
Posts: 66
Submit Photo: 0
Photo Submissions 0 Times in 0 Posts
2 lb yorkie killed in the hands of Petsmart...
---
I saw this on another site and thought I would share the information for those of you that have your babies groomed at Petsmart....
Hello,
I am writing in plea of urgent attention to the negliance of Petsmart Inc. On January 6, 2009, I dropped off two of my dogs at Petsmart located in Daly City CA at around 12:30pm for a grooming service. At around 2:15pm I received a call from Petsmart informing me that my teacup yorkie (Bella) had just been bitten by a husky. I immediately rushed back to Petsmart but upon arrival, the grooming manager Jennifer informed me that Bella had been sent to Banfield hospital located in the store for medical attention. The scenery when I arrived to Banfield was unbearable. Bella had an oxygen mask on and was fighting for survival. Jennifer then rest Bella in my arms but all I can hear was the squirming cry from my poor dog. The doctors advise me to have Bella transfer immediately to an emergency vet hospital for further assistance. Apparently Banfield does not have the apprioate equipment to save Bella. Banfield offered to have an ambulance transport Bella to SFVS but it will take 2 hours before an ambulance can arrive. Bella cannot wait 2 hours! I took matters into my own hands and drove Bella to SFVS myself. On my way to SFVS, Bella was consistently gasping for air and saliva began to drool from her mouth like the symptom of a seizure. These last no more than 5 minutes before she stopped breathing. Bella was rushed into the ER when I arrived at SFVS. It took no more than 2 minutes before the doctor announced that he was unable to revive her.
Petsmart is a big company so how something like this can possibly happens under their supervision. I have asked repeatedly for a statement from Petsmart in regards to the events that have led to this tragedy. Instead of getting any cooperation, I was asked to come back tomorrow. Petsmart only inform me that everything is confidently among Petsmart and their cooperate office. They will not release any information. The district manager was very unprofessional for not even taking anything under his or his staffís responsibility. He gave me a stupid example (if you where driving on a freeway and if a rock come towards you, you would not be able to react-saying if a dog jumps to bite another dog you canít react fast enough) which is a ridiculous example! The dogs were supervised under their control which means they are fully responsible. I also over heard that the owner of the husky had already told them to keep the husky away from other dogs. If you were to search under DOG OWNERS SUING PETSMART!!
I pleading that you guys put this on the air because I want people to know about it and to be more cautious about how dogs are handled and that they should always pay special attention to one dog at a time. This has happened more than once and they should take this more seriously.
If you have any question please call:415-793-4237
my name is Julie le
--------------------------------------------------------------------------------
Last edited by melissaloi; Yesterday at 08:01 PM.
and Murphy & Gracie too!
Join Date: May 2008
Location: Cumming, GA
Posts: 6,989
Submit Photo: 5
Photo Submissions 22 Times in 21 Posts
OMG!!! That's just horrible.
---
Ann-Scooter, Murphy, & Gracie's Mom
Senior Member
Join Date: Apr 2007
Location: SF area
Posts: 6,425
Submit Photo: 63
Photo Submissions 62 Times in 48 Posts
WOW I was just there the day before watching them groom some dogs
---
Sally,((Oliver)) Comet and Pennie too!
The best things in life are not things!
Senior Member
Join Date: Oct 2008
Location: Florida
Posts: 1,814
Submit Photo: 1
Photo Submissions 2 Times in 2 Posts
This broke my heart when I read it. I feel so bad for the little Yorkie and her owner. It really makes me wonder what could happen when they're at a groomer. I bring mine to daycare occasionally, and now I worry about that also. I'm shocked that Petsmart would handle this so poorly.
Gina
---
Biscuit's mom
Join Date: Jul 2007
Location: San Francisco Bay Area
Posts: 2,518
Submit Photo: 2
Photo Submissions 7 Times in 5 Posts
That is terrible and they surely are liable. Their response is unprofessional, to say the least. My condolences to the owner who did everything to save her dog.

However, I would never leave a dog that tiny alone in any kind of a mass setting like Petsmart. It's simply too vulnerable to injury by its size alone.
---
HAV A GREAT DAY ! ~~AMY & BISCUIT~~
and HEATH-Y, TOO !
Sharlene
Join Date: Dec 2008
Location: South Carolina
Posts: 3,098
Submit Photo: 3
Photo Submissions 9 Times in 8 Posts
How horrible. My heart aches for the pet owner. The story brought tears to my eyes.
Senior Member
Join Date: May 2007
Location: Indiana
Posts: 3,119
Submit Photo: 3
Photo Submissions 4 Times in 4 Posts
That is just terriable. I could not even imagine. I told my husband what happened and he said why would you allow anyone to take care of your two pound baby. He feels bad and thinks this is aweful but when Betzie came home she was 2 lbs and there was no way we would leave her with anyone. He wouldn't let anyone hold her. He is very protective when they are sooo tiny. He still is protective but when they cant take care of themselves we as there owner need to be responsible. I feel just aweful for that lady!!
---
~~Mommy"s Little Angel~~
New Hav-Momma
Join Date: Oct 2008
Location: Boston, MA
Posts: 58
Submit Photo: 0
Photo Submissions 0 Times in 0 Posts
---
How sad! I can't believe how insensitive Petsmart was to this poor woman and how they took no responsibility to their actions!
Dave T
Join Date: Dec 2007
Location: Ontario Canada
Posts: 10,866
Submit Photo: 3
Photo Submissions 119 Times in 117 Posts
Julie we had a very similar story happen a while back in Kitchener Ontario Petsmart. A Yorkie was attacked at the check out counter by a Husky and was rushed to a vet nextdoor where it died. So sorry to hear this.
---
Dave and Molly
Ian Dunbar was awarded the Outstanding Achievement Award from I.P.D.T.A. Here's a picture of me accepting the award on his behalf.
Member of IAABC ,International Association of Animal Behavior Consultants , Member of Pet Professional Guild
Kubrick & Hitchcock's Mom
Join Date: Apr 2007
Location: New York, NY
Posts: 7,774
Submit Photo: 1
Photo Submissions 33 Times in 24 Posts
This is horrible! I wonder if she will press charges?
---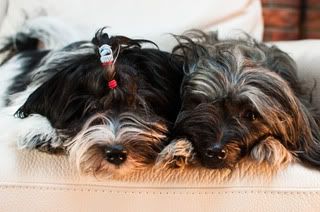 Visit
my blog

-----
Check out my
photos
-----
Photography (pets, people, weddings) -
TripleC Photography
Posting Rules

You may not post new threads

You may not post replies

You may not post attachments

You may not edit your posts

---

HTML code is Off

---