Junior Member
Join Date: Jun 2008
Posts: 1
Submit Photo: 0
Photo Submissions 0 Times in 0 Posts
Separation Anxiety
---
Havanese shakes whenever all of the family leaves the hosue and leaves him behind. Of course, he knows that we will always come back. HE starts to get uncomfortable when we get our coats and shoes on. It is so sad to look at.
We are considering a second dog to give him a firend to keep him company but I don't want him to get too mad. Do you think getting a second dog would help him out? He is very protective of the house. He barks at every person car or squirel that he sees out the window.
Kubrick & Hitchcock's Mom
Join Date: Apr 2007
Location: New York, NY
Posts: 7,774
Submit Photo: 1
Photo Submissions 33 Times in 24 Posts
Hello and
to the forum. First off, if your dog has separation anxiety, adding another dog to the mix will not be a quick fix cure at all. Separation anxiety (SA) has nothing to do with having another person/animal around, it has to do with a specific person (or group of people) not being around. So if you leave your pup with another dog, he will still get upset and likely pass on that trait to the new dog. I think a companion is a great idea, but only after you deal with your current dog's SA first. I have actually JUST written posts on both your problems. I have quoted them below for you. I hope they help you!
For separation anxiety:
Quote:
Here's a list of things that worked really well for me:

1. Before you leave, ignore your puppy for 20 minutes. That means no eye contact and no touching. This shows him that he can be apart from you while you're home and be happy. It might be hard at first because he might beg for attention. He will stop doing this eventually, though.

2. When you leave give him an extra special treat that he LOVES and ONLY gets when you are leaving home. Kubrick, for example, gets some boiled chicken and a piece of beef jerky. He gets so excited to get his treats, he's actually HAPPY that I'm leaving. You can also do this with a toy if you don't want to go the treat route. Kubrick, however, doesn't even touch his toys or chews while I'm gone, so you might find that to be the case.

3. Leave a shirt or pillowcase that you've slept in for a week or so in the crate with him. This will give the puppy your scent and will help soothe him while you're gone.

4. Leave the TV or radio on for background noise.

5. When you leave, use a key word. I always said Be Good. This will help him associate this word with you coming back.

6. When you come back, ignore him until he's completely calm. I know this is very hard, especially for the kids since they love to see an excited puppy. But it's better for him in the long run. By ignoring him until he's calm, you're showing him that it's OK for you to be out of the house, he doesn't need you around all the time and being calm gives him attention and love.

I hope some of these tips can help you. My vet and my trainer both told me to do these things and it helped Kubrick immensely! I haven't had him cry and/or bark when I leave in a really long time and you had to have seen what he was like before. He used to do the same thing, knock his water dish over, throw everything around and act very upset with lots of barking and crying.

And in your particular case, I will stress that the crate IS necessary for separation anxiety. It's not necessary for every dog, but a dog that has separation anxiety needs to be in a safe enclosed space. You have to get him used to the crate in small steps. Don't stick him in there for two hours while you're gone the first time, it will only make him nervous. I would start out by feeding him in the crate with the door open, this will help him associate the crate with a good place. Slowly, start to close the door, then lock the door while he's eating. Let him out the minute he is done. When he is comfortable eating in there with the door locked, start to put him in by giving him an extra special treat and locking the door. If he cries, ignore him. Don't leave him in there more than 5 minutes and make sure to be within eye sight the whole time. Don't let him out when he's crying, only let him out when he's quiet and make sure to praise him for being quiet as you let him out. Start to increase the time when you are still within eyesight. Once you see that he doesn't cry at all anymore, start to leave the room (not the house) in small time increments, 1 minute, 5 minutes, 15 minutes, so on and so forth. Eventually he will be fine in the crate.

I can't stress enough how important the crate is for dogs with separation anxiety. It's their safe haven. You can eventually (once he is used to being in the crate) put the crate in an expen and leave the door open with him in the pen. Until his separation anxiety is gone, you can't leave him that much space to roam, it will only make him even more anxious.

Good luck and keep us updated!
And for getting upset when he sees you're getting ready to leave:
Quote:
I would tell you to start tricking him. Go through your getting ready to leave routine - pick up your keys, put on a jacket, etc. - but then don't leave. Do this 2-3 times a day to desensitize him to you leaving. Pretty soon, he won't care that you're getting ready to walk out the door. Though of course still practice the things I mentioned above for when you DO leave! I hope this helps!
---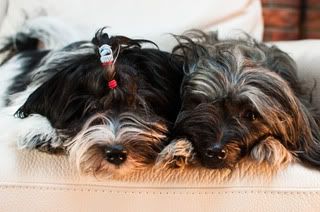 Visit
my blog

-----
Check out my
photos
-----
Photography (pets, people, weddings) -
TripleC Photography
and Murphy & Gracie too!
Join Date: May 2008
Location: Cumming, GA
Posts: 6,989
Submit Photo: 5
Photo Submissions 22 Times in 21 Posts
The desensitizing to leaving works, Scooter used to freak out when I'd put shoes on. Now it doesn't phase him at all.
---
Ann-Scooter, Murphy, & Gracie's Mom
Senior Member
Join Date: Apr 2008
Posts: 3,018
Submit Photo: 73
Photo Submissions 11 Times in 11 Posts
Well Lina, that just about says it all!
---
What else can I add, Lina has said it all.

We didn't add the second dog until Riki was almost a year, which was recommended by my havanese mentor.
---
I didn't just get havanese, I got a lifestyle!
Linda
Loving Havanese since 2003
Posting Rules

You may not post new threads

You may not post replies

You may not post attachments

You may not edit your posts

---

HTML code is Off

---