Senior Member
Join Date: Apr 2011
Location: Cleveland
Posts: 371
Submit Photo: 10
Photo Submissions 2 Times in 2 Posts
Maya is 3!
---
Where has the time gone. Can't believe that on Sunday, my baby girl will be 3. In the 3 years that she has been part of our family, she has been my best friend. She is doing great with agility and I can't wait till we can start competing. I am so proud of her and love her very much. I will have to get her a jr. roast beef sandwich from Arbys on Sunday, her favorite. Happy birthday Maya.
Senior Member
Join Date: Aug 2012
Location: Cape Cod, MA
Posts: 2,550
Submit Photo: 9
Photo Submissions 19 Times in 19 Posts
Happy birthday Maya. Yum, a roast beef sandwich sounds like the perfect present. Enjoy it!
---

Mary (miss you, Bailey-1996-2011 and Tyler-1997-2015)
Evelyn
Join Date: Apr 2010
Location: Chicago burbs
Posts: 4,652
Submit Photo: 4
Photo Submissions 30 Times in 28 Posts
Happy Birthday! Sounds like somebody is going to get a special treat!!
---
Canela, Vino & Jack's Mom
Join Date: May 2012
Location: Born and raised in Chicago; now North Pole, Alaska
Posts: 693
Submit Photo: 35
Photo Submissions 6 Times in 6 Posts
Happy Birthday Maya!!
Lucky girl - I bet she is going to love her sandwich! don't forget...
---
Betty AKA Canela, Jack and Vino's Mom
In a perfect world, every dog would have a home and every home would have a dog..
---
Last edited by BFrancs; 01-25-2014 at

05:17 PM

.
Cuba and Tycho
Join Date: Jul 2013
Location: I live in Oxford in the UK
Posts: 1,080
Submit Photo: 0
Photo Submissions 11 Times in 11 Posts
Metrowest, MA
Join Date: Jun 2009
Location: Massachusetts
Posts: 24,494
Submit Photo: 8
Photo Submissions 334 Times in 332 Posts
Senior Member
Join Date: Apr 2011
Location: Cleveland
Posts: 371
Submit Photo: 10
Photo Submissions 2 Times in 2 Posts
Maya says thanks for all the nice birthday wishes!
Ruth (me) Chester (dog)
Join Date: May 2013
Location: St. Louis area
Posts: 887
Submit Photo: 16
Photo Submissions 8 Times in 8 Posts
Havvy Havvy Birthday!
---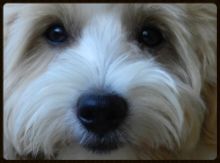 Hav to hav a Hav!!!
Ruth and Chester
(Chester's DOB - 4/04/13)
"Dogs are NOT stupid, they are smarter than you think."
Senior Member
Join Date: Aug 2012
Location: North Carolina
Posts: 2,362
Submit Photo: 36
Photo Submissions 60 Times in 60 Posts
Senior Member
Join Date: Jan 2013
Location: Maryland
Posts: 143
Submit Photo: 0
Photo Nominations 1 Time in 1 Post
Posting Rules

You may not post new threads

You may not post replies

You may not post attachments

You may not edit your posts

---

HTML code is Off

---