Senior Member
Join Date: May 2007
Posts: 1,829
Submit Photo: 0
Photo Submissions 13 Times in 13 Posts
Had to post pics
---
Had to post some pics of my sweet puppy.
Canela, Vino & Jack's Mom
Join Date: May 2012
Location: Born and raised in Chicago; now North Pole, Alaska
Posts: 693
Submit Photo: 35
Photo Submissions 6 Times in 6 Posts
---
Betty AKA Canela, Jack and Vino's Mom
In a perfect world, every dog would have a home and every home would have a dog..
He looks like he's doing great!
Senior Member
Join Date: Apr 2007
Location: Connecticut
Posts: 1,327
Submit Photo: 0
Photo Submissions 18 Times in 18 Posts
Aww what sweet pictures of your boy.
---
Mom to Phoenix too
| | |
| --- | --- |
| The Following User Nominates Ditto's Mom Great Photo: | |
Jen, Timmy and Mae
Join Date: Sep 2011
Location: Philly Burbs
Posts: 1,672
Submit Photo: 21
Photo Submissions 16 Times in 16 Posts
Django looks so much like Timmy, I never realized that. Is he pretty laid back? Timmy loves to sleep or just relax like your pictures but he doesn't get too much so a chance for that with crazy Mae. He would sleep till noon if I didn't have to get up to take Mae out in the morning, poor guy.
---
Senior Member
Join Date: May 2007
Posts: 1,829
Submit Photo: 0
Photo Submissions 13 Times in 13 Posts
He just celebrated his 10th birthday. We noticed a little bit of a slow down this past year. He loves to lay on the couch or on his pillow, anywhere that's close to me. He gets bursts of energy where he runs like a mad man and loves his walks but for the most part, he's pretty laid back, as you can see from the photos.
Member
Join Date: Dec 2013
Location: St. Louis Mo.
Posts: 97
Submit Photo: 4
Photo Nominations 1 Time in 1 Post
Cute photos of your little boy. I really like the avatar photo, he has a very pretty face.
Evelyn
Join Date: Apr 2010
Location: Chicago burbs
Posts: 4,652
Submit Photo: 4
Photo Submissions 30 Times in 28 Posts
Those are really sweet photos!
---
Gucci's mom
Join Date: Feb 2007
Location: Virginia Beach, VA
Posts: 9,378
Submit Photo: 1
Photo Submissions 12 Times in 11 Posts
So cute!! Familiar sight, Gucci will also nap near the macbook charger..
Atleast it looks like my charger cord
Kara
---
Super Moderator
click to join us: Havanese Forum on Facebook
Ruth (me) Chester (dog)
Join Date: May 2013
Location: St. Louis area
Posts: 887
Submit Photo: 16
Photo Submissions 8 Times in 8 Posts
What a sweet boy!
---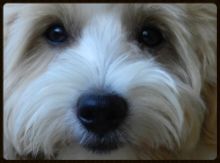 Hav to hav a Hav!!!
Ruth and Chester
(Chester's DOB - 4/04/13)
"Dogs are NOT stupid, they are smarter than you think."
Posting Rules

You may not post new threads

You may not post replies

You may not post attachments

You may not edit your posts

---

HTML code is Off

---