Member
Join Date: Oct 2013
Location: Buffalo, NY
Posts: 50
Submit Photo: 0
Photo Nominations 1 Time in 1 Post
Howling to music
---
When I practice my clarinet , Benji howls ( like a wolf) .. for 5 or ten minutes, then settles down. Is he in pain and anguish over the music? Should I go upstairs and shut the door as far away as possible? Or might he be trying to sing along? Any insights out there? Benji is 7 months old..
Senior Member
Join Date: Aug 2012
Location: Cape Cod, MA
Posts: 2,550
Submit Photo: 9
Photo Submissions 19 Times in 19 Posts
I don't think he's in pain, unless your playing is really bad. lol. Sounds like he's just responding to a sound which may be new to him. I think you should keep it up and he will get used to it or maybe sing along. Sounds cute to me. Enjoy the music.
---

Mary (miss you, Bailey-1996-2011 and Tyler-1997-2015)
Ruth (me) Chester (dog)
Join Date: May 2013
Location: St. Louis area
Posts: 887
Submit Photo: 16
Photo Submissions 8 Times in 8 Posts
Chester does the same thing. He's started
singing
since 4 months. I play the piano, and Chester loves it. He comes by the piano every time and sit and howls. I certainly don't think he is in pain, I believe he loves the sound and will want to join in. We both enjoy it a lot together. I have a thread where he sings.
---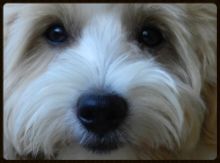 Hav to hav a Hav!!!
Ruth and Chester
(Chester's DOB - 4/04/13)
"Dogs are NOT stupid, they are smarter than you think."
Henry 2006-2018/ Kordelia
Join Date: Jun 2007
Location: NJ/NYC metro.
Posts: 4,158
Submit Photo: 11
Photo Submissions 27 Times in 27 Posts
Henry likes to howl along with the fire-siren that goes off in our town. He stops during our walk, howls, and then we keep going. I have to try to get video of it, I love it so much!
Posting Rules

You may not post new threads

You may not post replies

You may not post attachments

You may not edit your posts

---

HTML code is Off

---