Amanda
Join Date: Nov 2006
Location: South Carolina
Posts: 9,576
Submit Photo: 2
Photo Submissions 31 Times in 22 Posts
Night Escapades
---
So Dora has developed a bad habit and I need to kick it and fast!!! When we go to bed at night, all 3 sleep in our bed- I know I am crazy and they are spoiled. Belle completely crashes and usually stays in the same spot and Dash only moves over to touch you if you roll away. Well Dora has became the "bad dog." Each night we get in bed turn the lights off, and Dora gets out of bed. Unfortunately, my husband is the lightest sleeper in the world. She often goes out and wonders and brings toys or chews into bed. She has a Dora stash in my closet and I normally shut the door.
Last night I stayed up later than DH to watch the dog show and I snuck into bed to not wake him up. I heard Dora get down and I knew she left the bedroom, I forgot to shut he door trying to be super quiet. Well I dozed off and felt Dora get on the bed and crawl up my body standing on my shoulder. I tried in a muffled mean mom voice to say "dora lay down!" Well suddenly I felt stuff fall on my face
. I thought Dora had just vomited on my face- I was so disgusted! I yelled at DH t cover his eyes and turned the lines on. I got out of bed and saw Dora was just bringing kibble to bed and I yelled at her and she dropped it all over me.
Any advice on kicking this? She then sleeps most of the morning while me and the dogs are doing stuff! I thought about leashing her to the bed but I am thinking with 2 other dogs and 2 people that might be a bad idea.
Total Havanese Groupie
Join Date: Dec 2007
Posts: 2,639
Submit Photo: 7
Photo Submissions 37 Times in 16 Posts
stash the stuff? she'll figure out she can't get any "prizes" when it's bed time and go to bed....probably...
Pablo&Chuy's momma
Join Date: Jul 2007
Location: Eden, NC
Posts: 4,286
Submit Photo: 11
Photo Submissions 9 Times in 8 Posts
Shut your bedroom door so she can't 'retrieve' anything?
---
Senior Member
Join Date: Apr 2007
Location: Long Island, New York
Posts: 8,941
Submit Photo: 3
Photo Submissions 41 Times in 25 Posts
I'm sorry Amanda but I just spit milk all over my computer when I read your story. I can just imagine the feeling of having the "stuff" dump on your face. The good thing about this incident is it will provide you with a story to tell for years to come. Realistically, I don't know what you can do, other than make sure the door is closed so she can't get to it or put her in a crate every time she jumps off the bed when it's sleepy time. I'm sure you'll get better advice from the group.
---
<b>Just Milo and me, and . . . </b>Bailey makes three . . . until Ruby said, "hey, what about me?"
Geri, Milo, Bailey and HRH Princess Ruby Tuesday
If you're thinking of getting a puppy, click here
http://www.photoshow.com/watch/YK8AH4rw
Katrina
Join Date: Aug 2007
Location: East Tennessee
Posts: 1,414
Submit Photo: 15
Photo Submissions 0 Times in 0 Posts
AHHH she is sharing her midnight snack with you.
On a more serious side keep her up during the day for a few days and not let her out of the bedroom. Perhaps that would work.
---
Katrina
and Princess Furface ---Lilly
www.youravon.com/kpresnell
Kubrick & Hitchcock's Mom
Join Date: Apr 2007
Location: New York, NY
Posts: 7,774
Submit Photo: 1
Photo Submissions 33 Times in 24 Posts
OMG, Amanda, your story cracked me up! I would have freaked out too... though I love that you told Jim to shut his eyes before you turned the light on. How sweet of you!
I say shut the door and make sure there's nothing in your room to amuse her. Also, in the morning, wake her up and make her do things (things she likes) so she'll be tired for bed. It sounds to me that she's keeping a different schedule than you and is having a hard time falling asleep with you (for whatever reason that is). Retraining her to your schedule should help with the problem, I think.
---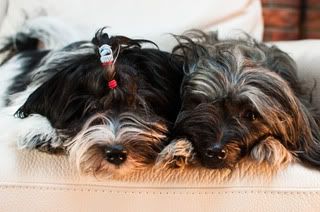 Visit
my blog

-----
Check out my
photos
-----
Photography (pets, people, weddings) -
TripleC Photography
Senior Member
Join Date: Feb 2008
Posts: 2,365
Submit Photo: 0
Photo Submissions 16 Times in 12 Posts
I love that she wanted to share her stash with you! I once got into bed, reached under my pillow, in the dark, to find something very squishy....eewwww. I wasn't nice enough to say close your eyes. When I turned on the lights I found my dog had hidden a half eaten chocolate bar (that had melted). I can't tell you how glad I was that it was melted chocolate and not the melted poop I thought was there. (Fortunately the dog had not been hungry so didn't eat enough chocolate to hurt her.)
Tess is my wanderer. When I go to bed Cody follows me but Tess stays on the couch. At some point she comes & join us. For a while I was finding "surprises", fortunately that has stopped!
---
Jill - Tess & Cody's mom
Senior Member
Join Date: Nov 2006
Location: Massachusetts
Posts: 11,746
Submit Photo: 27
Photo Submissions 48 Times in 35 Posts
Amanda, thanks for the laugh. Could it just be too crowded for her in bed with you all? Jasper loves his crate. he loves a space of his own. Cash on the other hand...loves the bed and will stay in one spot perfectly at our feet the whole night, and although not as creative as Dora went through a stage where he wanted to get up and roam the room at 5am...at 23.5 lbs the thud of him jumping down really woke us up... so we brought his crate back in the room and when he jumped down we got up and put him right in his crate. He was broken of his 5am habit in 3 nights. I also agree that if she is sleeping all day you have to reset her clock a bit too.

I say crate...and perhaps a bed of her own in your room.




---
Missy, Jasper & Cash
Senior Member
Join Date: Apr 2007
Location: Georgia
Posts: 4,107
Submit Photo: 0
Photo Submissions 8 Times in 8 Posts
I loved the laugh. Not sure how to help other than crate? close all doors? no treats to get to? Smarty does leave the BR if I do not close the door and she is a shredder, get into-er, tear-er upper, and anything else you can think of. But she has never brought me a midnight snack.
---
Sandi, taking a new road with Smarty and Galen
Mom to Dusty and Indie
Join Date: Oct 2006
Location: AZ
Posts: 1,181
Submit Photo: 1
Photo Submissions 4 Times in 4 Posts
Funny story! I'm afraid I can't help much! This is why mine sleep in crates--I value my sleep too much.
---
~Joelle
Posting Rules

You may not post new threads

You may not post replies

You may not post attachments

You may not edit your posts

---

HTML code is Off

---