What was/is your puppy's favourite toy?
---
There is a lot of stuff out there. What's worth buying? What's not? Getting ready for the arrival of my puppy in a few weeks
Senior Member
Join Date: Mar 2012
Location: Seattle, WA
Posts: 2,216
Submit Photo: 7
Photo Submissions 49 Times in 49 Posts
Emmie LOVES Chuckit! Small Ultra Balls. You can find them at most pet stores and on Amazon.



She has a lot of toys! LOL Her favorite activity is for me to throw her stuffed animals or balls and for her to run really fast and retrieve them.
Evelyn
Join Date: Apr 2010
Location: Chicago burbs
Posts: 4,652
Submit Photo: 4
Photo Submissions 30 Times in 28 Posts
---
Senior Member
Join Date: Aug 2012
Location: North Carolina
Posts: 2,362
Submit Photo: 36
Photo Submissions 60 Times in 60 Posts
Junior Member
Join Date: Mar 2014
Location: Oregon
Posts: 7
Submit Photo: 0
Photo Submissions 0 Times in 0 Posts
Buddy loves his Kong - even if there's nothing in it.
Senior Member
Join Date: Jan 2014
Location: NW Florida
Posts: 184
Submit Photo: 6
Photo Submissions 2 Times in 2 Posts
Manny loves his Skineez's too. I think he could entertain himself for hours tossing them around. He has several varieties but my favorite is the skunk. When he curls up with that one to go to sleep I can't tell which part is Manny and which is the skunk. They're identical in color and coat. He's also partial to a Kong Cozie...cute little pink bunny. I know! But I always wanted a little girl!
Banned
Join Date: Feb 2014
Location: Ontario, Canada
Posts: 63
Submit Photo: 0
Photo Submissions 0 Times in 0 Posts
I second the skineez, Simcoe also likes this felt ball that is tied together like a pompom that petsmart will release in seasonal colours - I got mine after christmas for 99 cents! Rope toy is also a good investment and they're only a couple of dollars. My favourite has been a squeak toy that is above human hearing range - it was 11 dollars but so worth it in my mind because I can give it to her in her crate without her making a racket in the middle of the night.
Ruth (me) Chester (dog)
Join Date: May 2013
Location: St. Louis area
Posts: 887
Submit Photo: 16
Photo Submissions 8 Times in 8 Posts
Its hard to say...I think its a stuffed animal cat that is soooo worn and been through a lot. Or the hard/chewy goose I gave him for his birthday.
---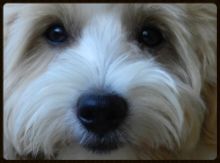 Hav to hav a Hav!!!
Ruth and Chester
(Chester's DOB - 4/04/13)
"Dogs are NOT stupid, they are smarter than you think."
Posting Rules

You may not post new threads

You may not post replies

You may not post attachments

You may not edit your posts

---

HTML code is Off

---