MHS- I HAVE BEEN BITTEN
---
I THINK I HAVE BEEN OFFICIALLY DIAGNOSED WITH MHS- AS OF TOMORROW ANYWAY. I WROTE A MONTH OR SO AGO ABOUT MY LITTLE GUY TUCKER HAVING SOME SEIZURES. WELL HE'S DOING MUCH BETTER NOW.
HE IS MY BEST BUD- I WORK AT HOME AND IT GETS LONELY, SO HE IS MY BIG COMPANY. I'M ABSOLUTELY AND UTTERLY IN LOVE WITH THIS DOG.
AS A RESULT, I'M PURCHASING MY SECOND HAVANESE TOMORROW!
IT'S ONLY BEEN 4 MOS SINCE I BOUGHT TUCKER- BUT I CAN'T HELP IT. I'M IN LOVE!!! I'M HOPING THAT TWO WILL CURE MY ITCH, OTHERWISE, I THINK I'M IN BIG TROUBLE!
Pablo&Chuy's momma
Join Date: Jul 2007
Location: Eden, NC
Posts: 4,286
Submit Photo: 11
Photo Submissions 9 Times in 8 Posts
kellybean48, looking forward to seeing pics of your 'disease' tomorrow!
---
Senior Member
Join Date: Apr 2007
Location: Long Island, New York
Posts: 8,941
Submit Photo: 3
Photo Submissions 41 Times in 25 Posts
Me too. Scratch away. So many of us have.
---
<b>Just Milo and me, and . . . </b>Bailey makes three . . . until Ruby said, "hey, what about me?"
Geri, Milo, Bailey and HRH Princess Ruby Tuesday
If you're thinking of getting a puppy, click here
http://www.photoshow.com/watch/YK8AH4rw
Senior Member
Join Date: Jan 2008
Location: Cajun Country
Posts: 2,876
Submit Photo: 23
Photo Submissions 6 Times in 5 Posts
Um....pictures please!
---
Kim, Santos & Brew
Senior Member
Join Date: Jan 2007
Location: Toronto, ON, Canada!
Posts: 4,155
Submit Photo: 0
Photo Submissions 16 Times in 6 Posts
Hahahah... congrats on your second! I'm also trying to get another...
Ryan
---
Mom of Brutus and Roxie
Join Date: Mar 2007
Location: Danville, CA
Posts: 2,152
Submit Photo: 0
Photo Submissions 0 Times in 0 Posts
Congrats to Kelly--keep us posted with pictures. Ryan--I have definately missed your confession. Keep us posted.
Kubrick & Hitchcock's Mom
Join Date: Apr 2007
Location: New York, NY
Posts: 7,774
Submit Photo: 1
Photo Submissions 33 Times in 24 Posts
Congrats, Kelly! Looking forward to pics.
Ryan, I can't wait! Hope you post pictures as soon as you find your second.
---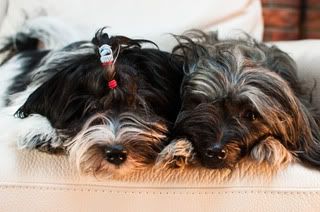 Visit
my blog

-----
Check out my
photos
-----
Photography (pets, people, weddings) -
TripleC Photography
Amanda
Join Date: Nov 2006
Location: South Carolina
Posts: 9,576
Submit Photo: 2
Photo Submissions 31 Times in 22 Posts
Kelly- Congrats and just a warning it doesn't stop at two!

Lina- there have been pictures posted- now Ryan just needs some convincing to happen!!!
Senior Member
Join Date: Oct 2008
Location: Florida
Posts: 1,814
Submit Photo: 1
Photo Submissions 2 Times in 2 Posts
Congrats! Can't wait to see the pics!
Gina
---
Linda
Join Date: Nov 2008
Location: Eastern North Carolina
Posts: 5,409
Submit Photo: 73
Photo Submissions 24 Times in 22 Posts
You had me fooled! I thought you really had an injury!!! I want to see "this wound" in pictures when your injury is actually in your home! :-)
---
Dexter & Jack
"One Hav is NOT enough to enjoy the RLH skills!"
Posting Rules

You may not post new threads

You may not post replies

You may not post attachments

You may not edit your posts

---

HTML code is Off

---