Amanda
Join Date: Nov 2006
Location: South Carolina
Posts: 9,576
Submit Photo: 2
Photo Submissions 31 Times in 22 Posts
Junk Food Hound
---
Without a doubt, Dasher is the pickiest dog I have ever known. He will skip dinner if I forget and have peas on his plate, separate a new mixed in kibble, not eat the pupperonis at the bank while Belle acts like it is the best thing she has ever had. However, Dash loves junk food. It all started with our cross country move, my husband always hits up the hotel vending areas and he bought a bag of Buggles. Dora and Belle refused never looked at them but Dash was begging and DH gave him one. Later, we found Dash with his head in the bag. This has continued and as you can see, he clearly knows which bags contain the salty greasy goodness. He is such a unique little guy!
Senior Member
Join Date: Apr 2007
Location: FLORIDA!
Posts: 4,657
Submit Photo: 1
Photo Submissions 3 Times in 3 Posts
That's a darling picture. Mine like almost anything human and love Fritos and Twizzlers
---
Jan
jashavanese.net
Senior Member
Join Date: Nov 2006
Location: Massachusetts
Posts: 11,746
Submit Photo: 27
Photo Submissions 48 Times in 35 Posts
Amanda, that bag is as big as he is!!! what cutie! I guess even Havs can't Hav just one!




---
Missy, Jasper & Cash
Pepper's mom
Join Date: May 2007
Location: Southern CA
Posts: 1,329
Submit Photo: 0
Photo Submissions 6 Times in 5 Posts
It sounds like Dasher simply knows what he likes. Who can blame him? Lays are delicious! He looks adorable by the way.
Our Pepper is a garbage disposal! He eats pretty much anything he can get his mouth on - and it's a challenge to keep him out of trouble. The ONE thing he's picky about is bully sticks. They have to be lighter in color or he won't chew them.
Go figure.
---
Wanda & Pepper
Henry 2006-2018/ Kordelia
Join Date: Jun 2007
Location: NJ/NYC metro.
Posts: 4,160
Submit Photo: 11
Photo Submissions 27 Times in 27 Posts
Dasher's not picky, you're his servant! ha ha ha
he's a cutie.
Kubrick & Hitchcock's Mom
Join Date: Apr 2007
Location: New York, NY
Posts: 7,774
Submit Photo: 1
Photo Submissions 33 Times in 24 Posts
I really do love that picture, LOL!
---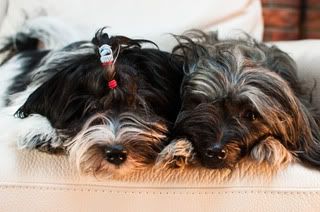 Visit
my blog

-----
Check out my
photos
-----
Photography (pets, people, weddings) -
TripleC Photography
Dave T
Join Date: Dec 2007
Location: Ontario Canada
Posts: 10,873
Submit Photo: 3
Photo Submissions 119 Times in 117 Posts
---
Dave and Molly
Ian Dunbar was awarded the Outstanding Achievement Award from I.P.D.T.A. Here's a picture of me accepting the award on his behalf.
Member of IAABC ,International Association of Animal Behavior Consultants , Member of Pet Professional Guild
Quincy's Mom-Vinnie too!
Join Date: Feb 2007
Location: Ia.
Posts: 9,923
Submit Photo: 35
Photo Submissions 17 Times in 16 Posts
That is funny Amanda! I love the photo! I just think Dasher knows he needs to pack on a few pounds and he knows where to get the calories at!
It certainly works for me!
---
Vincent-Quincy's playmate
"Behind every unstable dog is a lesson for the owner"-Cesar Millan
Senior Member
Join Date: Oct 2008
Location: Florida
Posts: 1,814
Submit Photo: 1
Photo Submissions 2 Times in 2 Posts
Amanda, I loved the picture of Dasher with the chips. Does he beg everytime he sees a bag of chips or bugles? If Marble isn't by my feet and I go looking for him, I usually catch him in my daughters room trying to tear open her baggie with pretzels in it. After reading the Pupperonis article, I think the Lays have to be much healthier.
Gina
---
Michelle, Seamus's mom
Join Date: Feb 2007
Location: Cherry Hill NJ
Posts: 541
Submit Photo: 0
Photo Nominations 1 Time in 1 Post
OMG that bag is bigger than him!!!!!! How cute that picture is!
---
Michelle - Mom to Seamus, Finnegan and Hamlet
Posting Rules

You may not post new threads

You may not post replies

You may not post attachments

You may not edit your posts

---

HTML code is Off

---