Join Date: Feb 2009
Posts: 4
Submit Photo: 1
Photo Submissions 3 Times in 2 Posts
New Member
---
I would like to introduce ourselves and our wonderful 15 month old Havanese puppy, Princess Anne. We live in Nanaimo, BC during the summer months and Lo de Marcos Mexico for the winter. We adopted Annie a year ago last December from a wonderful breader in Las Vegas. We have had several dogs over the years but, needless to say, Annie is the best. I just stumbled across this forum a few days ago so am looking forward to reading other postings and looking at Havanese pictures. We haven't come down with MHS yet but you know how these things go, one day you are fine and the next day full blown MHS.

Thanks, Don, Louise, and Princess Anne
| | |
| --- | --- |
| The Following User Nominates djcrigh Great Photo: | |
Kubrick & Hitchcock's Mom
Join Date: Apr 2007
Location: New York, NY
Posts: 7,774
Submit Photo: 1
Photo Submissions 33 Times in 24 Posts
to the forum Don and Louise! Anne looks like a beauty.
---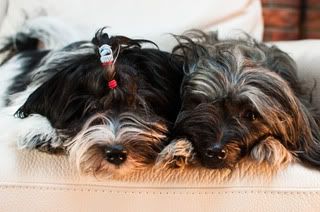 Visit
my blog

-----
Check out my
photos
-----
Photography (pets, people, weddings) -
TripleC Photography
Senior Member
Join Date: Feb 2008
Posts: 2,365
Submit Photo: 0
Photo Submissions 16 Times in 12 Posts
Princess Anne is appropriately named! Looking forward to more stories and pictures.
---
Jill - Tess & Cody's mom
Castro's Momma
Join Date: Jul 2008
Location: Earth
Posts: 260
Submit Photo: 4
Photo Submissions 0 Times in 0 Posts
Welcome to the forum! This is the best place to be when looking for anything Havanese related!
Princess Anne looks beautiful, and I speak for everyone when saying that we want more pictures!
When you say you spend half the year in Mexico - does Princess Anne get to join you?
---
Meet the Robinsons
Joann, Bryant and Castro
Find me on facebook - Joann Abellar
Mom to Ricky and Sammy
Join Date: Jan 2007
Posts: 10,319
Submit Photo: 30
Photo Submissions 21 Times in 17 Posts
Yaaay!!! Another Canadian in the forum!!
Welcome, Don, Louise and your pretty Princess Anne.
I hope you enjoy browsing the forum and sharing your stories and pictures of your sweet girl. We'd love to hear more!
---
Hello. My name is marj and I have MHS.
"The greatness of a nation and its moral progress can be judged by the way its animals are treated." Mahatma Gandhi
"Come to the edge, he said. They said: We are afraid. Come to the edge, he said. They came. He pushed them and they flew." -Guillaume Apollinaire"
Senior Member
Join Date: May 2007
Location: West Bloomfield, MI
Posts: 963
Submit Photo: 0
Photo Nominations 1 Time in 1 Post
Welcome! I'm another transplanted Canuck but I sure like how you have your homes arranged.

Princess Anne looks beautiful.
LINDA
Join Date: Jun 2007
Location: PA
Posts: 6,496
Submit Photo: 3
Photo Submissions 36 Times in 33 Posts
Senior Member
Join Date: Oct 2008
Location: Florida
Posts: 1,814
Submit Photo: 1
Photo Submissions 2 Times in 2 Posts
to the forum! Princess Anne has beautiful colors!
Gina
---
Welcome Don, Louise and Princess Anne.
Stick around here....you'll have MHS in no time......
---
Stacy - Mom to Jake & Jazz


"When I die, I want to go peacefully in my sleep like my Grandfather.....not screaming in terror like the passengers in his car."
Linda
Join Date: Nov 2008
Location: Eastern North Carolina
Posts: 5,409
Submit Photo: 73
Photo Submissions 24 Times in 22 Posts
Welcome! Princess Anne is beautiful! I love her color.
---
Dexter & Jack
"One Hav is NOT enough to enjoy the RLH skills!"
Posting Rules

You may not post new threads

You may not post replies

You may not post attachments

You may not edit your posts

---

HTML code is Off

---