Join Date: Feb 2009
Posts: 4
Submit Photo: 1
Photo Submissions 3 Times in 2 Posts
pink fur
---
We took Annie with us when we went for lunch yesterday in Bucerias. She sat under our table on what I thought was a red tiled floor. When we got up to leave I found Annies fur especially on her legs was tinted pink from the red tiles. At first I thought it was paint but it washed right off. Unfortunately I did not get a picture of our pink Hav. I am trying to resize my pictures so this is my first attempt using shrinkpicture.com. It is Annie and her friend Poco the maltese.
Sooo Smart
Join Date: Mar 2008
Location: Georgia
Posts: 3,551
Submit Photo: 9
Photo Submissions 22 Times in 12 Posts
The picture is great and the place is even greater ~ so sunny and beautiful. Your Annie reminds me of my Cicero.
---
Cicero trained Dale & Ronnie
Kimberly
Join Date: Aug 2006
Location: San Francisco Bay Area
Posts: 10,275
Submit Photo: 5
Photo Submissions 19 Times in 13 Posts
Adorable dogs in a beautiful setting. What could be better?

Was it a terra cotta floor? I just stepped in some ground red tile on Saturday and it stuck to my shoes until I walked out into the snow and then it came right off.
Senior Member
Join Date: Jan 2008
Location: North Carolina
Posts: 1,257
Submit Photo: 2
Photo Submissions 2 Times in 2 Posts
Adorable!!
---
Kathy
and
Jackson
Zeus and Riley's Mom
Join Date: Mar 2008
Location: Prescott, Az
Posts: 1,105
Submit Photo: 0
Photo Submissions 6 Times in 6 Posts
Awww...so cute!
Wish we could have seen the pink tushie!
---
Jean, Riley and Zeus!
Kubrick & Hitchcock's Mom
Join Date: Apr 2007
Location: New York, NY
Posts: 7,774
Submit Photo: 1
Photo Submissions 33 Times in 24 Posts
So cute!
---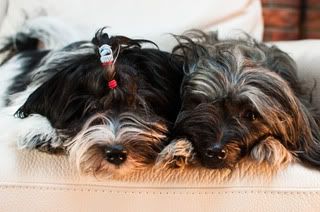 Visit
my blog

-----
Check out my
photos
-----
Photography (pets, people, weddings) -
TripleC Photography
Michelle, Seamus's mom
Join Date: Feb 2007
Location: Cherry Hill NJ
Posts: 541
Submit Photo: 0
Photo Nominations 1 Time in 1 Post
That is a GREAT picture, but OMG.... that pic with her in the sunglasses
Can you post a bigger one of that????????
---
Michelle - Mom to Seamus, Finnegan and Hamlet
Senior Member
Join Date: Oct 2008
Location: Twin Falls, Idaho
Posts: 6,255
Submit Photo: 11
Photo Submissions 53 Times in 50 Posts
What cute pups and location! Too bad you didn't get the pink hair, too! Ha!
---
Sheri, Tucker's Mom
and Murphy & Gracie too!
Join Date: May 2008
Location: Cumming, GA
Posts: 6,989
Submit Photo: 5
Photo Submissions 22 Times in 21 Posts
Beautiful photo!
---
Ann-Scooter, Murphy, & Gracie's Mom
Posting Rules

You may not post new threads

You may not post replies

You may not post attachments

You may not edit your posts

---

HTML code is Off

---