Best Buddies
---
I can't tell you the joy I get watching Teddy and the puppy, Simon, playing together. Teddy just seems so happy to have a little brother now. The puppy has such a sweet personality too, what a great little guy(not that I am biased, lol!)
It is so cute to watch the puppy steal Teddy's toys and chews and they trade the same item back and forth, even when there are plenty to go around!
Just a few pics. The last picture cracks me up because I think it looks like Teddy's so happy to be sharing his bully stick with his little brother
---
Last edited by Diana; 02-09-2011 at

01:41 PM

.
Susan
Join Date: Feb 2007
Location: Near San Francisco Bay Area
Posts: 4,063
Submit Photo: 2
Photo Submissions 2 Times in 2 Posts
Awww, more adorable pics. They do look happy together.
---
Susan
Kubrick & Hitchcock's Mom
Join Date: Apr 2007
Location: New York, NY
Posts: 7,774
Submit Photo: 1
Photo Submissions 33 Times in 24 Posts
Diana, I love these pics! They seem like they are doing really well together. That's wonderful.
---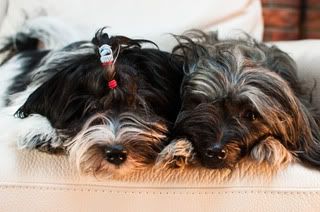 Visit
my blog

-----
Check out my
photos
-----
Photography (pets, people, weddings) -
TripleC Photography
Pablo&Chuy's momma
Join Date: Jul 2007
Location: Eden, NC
Posts: 4,286
Submit Photo: 11
Photo Submissions 9 Times in 8 Posts
Diana, Teddy has the warmest eyes. I really like the last picture and think you should definitely frame it!
---
Amanda
Join Date: Nov 2006
Location: South Carolina
Posts: 9,576
Submit Photo: 2
Photo Submissions 31 Times in 22 Posts
They are so cute together and it looks like you picked out the best toy for Teddy! He is adorable and I thought his daddy was very cute as well
Senior Member
Join Date: Jun 2008
Location: Olympia, Wa.
Posts: 1,477
Submit Photo: 0
Photo Submissions 6 Times in 6 Posts
Awwww...they look so happy together.
I love the name Simon
---
Eva, Mom to Todd....2 year old short hair Havanese
Senior Member
Join Date: Jan 2008
Location: Westfield, Massachusetts
Posts: 224
Submit Photo: 2
Photo Submissions 0 Times in 0 Posts
There really isn't anything in my book that is more fun to watch as the playfulness of puppies no matter how old they are!! Nothing like a BRO to hang around with who understands doggie language!! Love your pictures...keep them coming!! Trish
Quincy's Mom-Vinnie too!
Join Date: Feb 2007
Location: Ia.
Posts: 9,923
Submit Photo: 35
Photo Submissions 17 Times in 16 Posts
Oh how cute! Teddy and Simon look adorable together Diana! They are so cute!
It sounds like they are doing wonderfully together. Congrats Diana!
---
Vincent-Quincy's playmate
"Behind every unstable dog is a lesson for the owner"-Cesar Millan
Thanks everyone, it truly is the best feeling to watch them together.
Amanda- Have you met his Daddy?
---
Last edited by Diana; 02-27-2009 at

02:19 PM

. Reason: spelling!
Senior Member
Join Date: Apr 2007
Location: SF area
Posts: 6,425
Submit Photo: 63
Photo Submissions 62 Times in 48 Posts
Congratulations! I love those photos (esp. the last one
)
---
Sally,((Oliver)) Comet and Pennie too!
The best things in life are not things!
Posting Rules

You may not post new threads

You may not post replies

You may not post attachments

You may not edit your posts

---

HTML code is Off

---