Help with Dry Dogfood and Treats
---
I know that there are several threads and websites that discuss dog food, but I think my question is a little different and I hope you all can help.

Shiloh turns 6 months tomorrow and we have had him for about 5 weeks. His breeder was giving him eukanuba, so I purchased a small bag when we first got him. After reading extensively, I realized, that although this is not horrible, I could do a lot better. I purchase Innova Dry Puppy food and mixed it in with some eukanuba. I have been doing this for a little over a week and he painstakingly picks out the eukanuba and doesn't eat the Innova. Should I keep trying the new food and if so, for how long? Or should I try something else? Are puppies like kids, they have to try something 10 times, or more, to like it?

Also, Shiloh has been in puppy kindergarten for 3 weeks, with his younger boxer cousin (my sister-in-law's new puppy) and they would like me to bring in a special treat for Shiloh that he cannot resist. Unfortunately, I cannot find anything that fits the bill. He doesn't really care for american cheese and I have purchased 6 or 7 different type of treats, which he only moderately likes. Is there anything that you can recommend that he will do "anything" for, that I can use for training. We are learning "come" and they want that command to work well.

Any suggestions would be greatly appreciated. I have learned so much from this site as a lurker, most especially, everyone's passion for their dogs and to help us newbies.
Senior Member
Join Date: Oct 2008
Location: Twin Falls, Idaho
Posts: 6,246
Submit Photo: 11
Photo Submissions 53 Times in 50 Posts
No suggestions about the switching food question...I'll be interested to read responses to that.

Tucker isn't very food driven, either. Two things worked for us. Very tiny bits of boiled or baked chicken, and also little pieces of Natural Balance food logs. They come in tubes at the pet store, and around here quite a few people use them for training. The pieces I cut from the Natural Balance tubes are easier to handle (less messy.)
---
Sheri, Tucker's Mom
Kubrick & Hitchcock's Mom
Join Date: Apr 2007
Location: New York, NY
Posts: 7,774
Submit Photo: 1
Photo Submissions 33 Times in 24 Posts
As far as food goes, it depends on how firm you can be. If you can put down a food and have him eat it no matter what, then if you stick to the Innova he WILL eat it eventually. It's possible that he just doesn't like the taste. There are other good foods out there - if you want grain free you should try Orijen and if you don't care, Fromm's, Merrick's, Solid Gold, and more are good foods but make sure not to overfeed! Also, you don't have to feed him puppy food you can always feed adult! Hitchcock has never been fed puppy food in his life, so it's not a requirement if you find more adult foods that you like - such as Innova Evo, which Kubrick really likes.
As far as treats, the things that Kubrick could never resist are cheese (not American, he likes Cheddar and Low-Fat Mozzarella), boiled chicken (I add a small amount of garlic powder to the water to give it a little flavor), and homemade jerky. I realize not everyone has a dehydrator so I'd recommend Bailey's K9 jerky... every dog I've ever met goes crazy for it. Here's a link to it:
http://k9jerky.com/
Good luck and
to the forum! I hope you post pictures soon!
---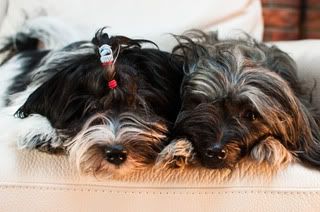 Visit
my blog

-----
Check out my
photos
-----
Photography (pets, people, weddings) -
TripleC Photography
Senior Member
Join Date: Feb 2008
Posts: 2,365
Submit Photo: 0
Photo Submissions 16 Times in 12 Posts
For treats my dogs love the Natural Balance food rolls also. Our trainer uses spam - which all of the dogs seem to go nuts for.
---
Jill - Tess & Cody's mom
Tori's mom
Join Date: Feb 2007
Location: Sunny SoCal
Posts: 4,988
Submit Photo: 19
Photo Submissions 10 Times in 6 Posts
When I was looking for a kibble Tori would eat, I gathered many samples and gave them a try. If I couldn't get a sample of a particular food, I'd always ask if I could return the unused portion of a bag if I bought it and she didn't like it. Most were happy to take it back. We tried many different brands before she finally settled on Taste of the Wild, a 6* grain-free kibble.

As for treats, Tori will do just about anything for a baby carrot. She also loves Bailey's Jerky, string cheese, Natural Balance roll, and grilled chicken.

Good luck!
Senior Member
Join Date: Nov 2006
Location: Massachusetts
Posts: 11,746
Submit Photo: 27
Photo Submissions 48 Times in 35 Posts
even my finicky, finicky, Jasper (who is no longer that finicky at 3) never, ever refused Canz Real Meat Treats-- Chicken/Venison version. l

The kibble thing is hard. I truly believe that sometimes, our dogs know what is best for them...there may be something in the Innova that your pup is allergic too or just doesn't agree with him (my guess would be cheese if he does not like cheese either --- very few dogs won't eat cheese)... But some of it is that they learn you will come up with something better if they hold out long enough.

What I would do, like Leslie suggested is gather up a bunch of sample bags of kibbles you would like to feed. Wait until Shiloh is hungry, and put out a few different plates of the different kibbles...Which ever one Shiloh picks to eat, stick with, even if he decides later on that he would prefer something else.

I like this method because you know there is no aversion to it.




---
Missy, Jasper & Cash
Senior Member
Join Date: Jun 2008
Location: Olympia, Wa.
Posts: 1,477
Submit Photo: 0
Photo Submissions 6 Times in 6 Posts
Todd was a picky eater when he was a pup. I tried adding things like wet food, chicken and treats to his food but eventually I just made him eat what I bought. He will go 3 days sometimes without eating but he always gives in eventually.
Treats were also a challenge when he was little...He wouldn't touch any "biscuit" treats and so I finally found a couple of freeze dried raw treats that he went absolutely NUTS for (and still does)
Here are links....
Wildside Salmon..
http://www.wildsidesalmon.com/3oz_orig_dog-treats.html
Natural Nibbles Beef or Chicken Liver....
http://estore.skylarhaley.com/produc...products_id=68
---
Eva, Mom to Todd....2 year old short hair Havanese
Senior Member
Join Date: Apr 2007
Location: SF area
Posts: 6,425
Submit Photo: 63
Photo Submissions 62 Times in 48 Posts
Oliver wouldn't go for treats either! I finally discovered he loves to be praised for doing "a good job".
---
Sally,((Oliver)) Comet and Pennie too!
The best things in life are not things!
Thanks everyone so much. I have been writing all this down. I will try some new foods, now that he is going to be 6 months. (maybe some adult food). As for the treats, we will try a few a day. I don't want to fill him up on junk food!!

I just posted some pics to a gallery. Not sure how to put a picture in a post. (I did it before but forgot how).
Mom to Dusty and Indie
Join Date: Oct 2006
Location: AZ
Posts: 1,181
Submit Photo: 1
Photo Submissions 4 Times in 4 Posts
All of mine like the Natural Balance rolls (most pet stores have them-just ask) and Charlie Bears from Trader Joe's. Hot Dog works for some dogs too. With a small dog, when you are training you may have to cut down on meals for a while. I found that on the days we gave lots of training treats, I had to feed Dusty less. Also use very small pieces of treat-the Natural Balance rolls work well for that because you can cut it into very small pieces or even break the pieces smaller. The treat can be just a pinch--the dog doesn't care how big it is as long as it gets into the mouth!
---
~Joelle
Posting Rules

You may not post new threads

You may not post replies

You may not post attachments

You may not edit your posts

---

HTML code is Off

---