Think I'm too picky?
---
I want my new havanese to be able to do therapy work and agility. So I need to try to get the healthiest one I can. ( I have my breeder now if all works out for a later summer adoption). But I have been very picky on dogs I pick out checking every word on websites. I started with the HCA and HSDA (silk dog) and checked sites. I then went made sure each parent had all the proper tests and went to the different websites and checked the results. I only picked pairings where the parents and grandparents if possible had all good results. I noticed that some dogs passed the tests but there were annotations about eye problems so I ruled those dogs out. I also ruled out any dogs where parents had "fair" on hips. If I want to do agility I want at least "good" hips. I then sent emails and asked questions including about soaped pictures and CD. I asked how the puppies were socialized and insisted I be able to visit before puppies are born and pick them up when they are ready to come home. Am I being a bit OCD and picky? All this checking makes it a lot harder to find a puppy lol.
Senior Member
Join Date: Feb 2008
Posts: 2,365
Submit Photo: 0
Photo Submissions 16 Times in 12 Posts
Nope, you're not being too picky. Your qualifications look pretty reasonable and doing the work now will save you heartache and $$$ later. Keep at it, you'll find the right dog.
---
Jill - Tess & Cody's mom
Join Date: May 2008
Posts: 651
Submit Photo: 0
Photo Nominations 1 Time in 1 Post
No, I don't think so, given what you are looking for. I did something pretty similar. I didn't go back 2 generations and was told that "fair" hips are still perfectly fine, so I didn't worry about that. Actually I think the parents of the puppy I ended up choosing both had good hips. The mother does have some sort of pupillary membrane, but it is the type that doesn't cause any problems, some sort of leftover birth thing, so I didn't worry about that either.

That said, my previous dog, a yorkie, was an impulse purchase and I didn't know to do all the health checking. I think she was reasonably well bred and cared for as a puppy, but she did have luxating patellas (that fortunately never needed surgery, though she would limp occasionally), and her coat never silvered out to the steel blue/gray as I was told it would. None of that mattered, though, in the end, since I loved her to pieces and I couldn't imagine her not being part of my life. Best to do your homework so that you have the best shot at a healthy, nice tempered puppy, but even if there are unexpected things that crop up to change your plans, by that time he/she will be your constant companion and the love of your life, and that's all that will matter.
Kubrick & Hitchcock's Mom
Join Date: Apr 2007
Location: New York, NY
Posts: 7,774
Submit Photo: 1
Photo Submissions 33 Times in 24 Posts
I don't think you're being too picky at all, though I just want to say that a "fair" on hips is not at all bad on a Hav. If you really want only "good" on hips, that's totally your decision, but I wouldn't rule out a possibility that was great in all ways except for a fair on hips.
Also, please make sure that you find a breeder that does temperament testing! It won't be easy to find a puppy that will both like Agility AND Therapy. It's not impossible (a couple of dogs on the forum do both), but you have to make sure the dog will enjoy these two very different activities, you don't want to force him into something! Kubrick, for example, LOVES agility and is pretty good at it (we're beginners), but I know he'd hate to do therapy. I'm not sure how Hitchcock would do at agility, but I don't think he'd enjoy it or be as good at it as Kubrick. However, I think he'd make the perfect Therapy dog, and I'm thinking of doing that with him when he's older.
Looking forward to seeing what breeder and puppy you end up with!
---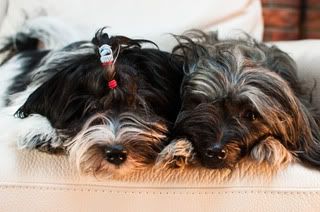 Visit
my blog

-----
Check out my
photos
-----
Photography (pets, people, weddings) -
TripleC Photography
Senior Member
Join Date: Aug 2006
Location: Lake Gaston, N.C.
Posts: 3,135
Submit Photo: 0
Photo Submissions 22 Times in 22 Posts
You're doing it like everyone should. Good luck with your search. There is nothing that you will learn more from than a visit to the breeder. We visited everyone we could find when we were looking for our first one.
Thanks for responses... I have so much to learn. As far as agility vs therapy I will decide when I see what my puppy enjoys. I wouldnt make him do something he didn't want to do. If he prefers one over the other that's fine. Guess they might take different personalities. After all I can always get another hav for the other one later lol. I also didn't know "fair" hips were fine I might have ruled out too many puppies lol. I really do need to be careful on health issues though because once I get my puppy there is no way in the world I'd ever desert it no matter what the expense.
Amanda
Join Date: Nov 2006
Location: South Carolina
Posts: 9,576
Submit Photo: 2
Photo Submissions 31 Times in 22 Posts
I think good things come to those who wait is often true in the case of adding a puppy. My first havanese, I didn't pick for performance and didn't check health testing but the second one I did. While Dora was able to do agility, obedience and rally pretty well, running her is nothing like trying to keep up with Dasher! His parents both have great health testing which I looked for but I think his structure is what makes him way faster than Dora. But what I would say is the best part, is he had a lot of exposure to different people, things, and that made him a naturally curious and fun dog. He seems to be comfortable and excited and ready to play wherever we go. Also while hips are important, I would say in this breed, there a lot more dogs with patella and lcp problems that keep them out of the agility ring than hips (well at least that I personally know of in havanese) so that is something I would probably look into more than good and above hips (but I was thrilled Dasher's daddy came back with excellent!).

As to dogs who do agility and therapy dog, I have one who does both pretty well (my fiesty dog is often the favorite therapy dog- go figure) and I hope Dash passes the therapy dog test at the end of the month too. However, I do agree dogs tend to pick their favorite activities just like people. He is also a super mamma's boy so I am thinking it is going to take some growing up for him to be okay with laying with strangers when his mommy's lap is right there. But we are having a blast in many different rings.

I would highly recommend the book Building Blocks for Performance while you are waiting to find your perfect pup. I got that before I added Dash and a lot of the exercises and games gave him a head start in many venues.
Senior Member
Join Date: Apr 2008
Posts: 3,018
Submit Photo: 73
Photo Submissions 11 Times in 11 Posts
Remember, the dog is very smart and learns fast...
---
There is the challenge when you do get a dog and learn agility, that the dog will be better than you are! You don't get tons of time to learn the course, and often the dog senses any movement or thought in your mind as they are totall watching you. If I even think of going the wrong way, I see Riki heading in that direction as if he reads my mind. Perhaps it is a simple turn of the foot...but these dogs are good!

Riki loves agility, Daisy isn't too keen on some of the obstacles as she isn't heavy at all and needs to go far up the teeter for it to tilt. She is fast though, wish she did like it. She is very in touch with my face and not at all interested in any other dog so she would be excellent if I could get her over her fear.

Riki makes an excellent canine good citizen because he is very obedient. Daisy though has a more gentle spirit and is better with older folks...

Good luck on your search. Remember the puppy can almost read your mind so be positive in all interactions!
---
I didn't just get havanese, I got a lifestyle!
Linda
Loving Havanese since 2003
Join Date: Feb 2009
Posts: 9
Submit Photo: 0
Photo Submissions 0 Times in 0 Posts
I just adopted a 4 month old pupipy and I did the same type of research. I think you are smart to have found a great breeder. I want to do agility and therapy with Cisco, too, I don't see whyu you can't do both as long as you are both having fun.
Beth and the girls
Join Date: Feb 2009
Location: Florida
Posts: 1,926
Submit Photo: 1
Photo Submissions 7 Times in 5 Posts
I think it is very smart to check out the health and be picky. Of course that is no guarantee that there will be nothing wrong with your baby. As to personality(I didn't know they could test for temperament testing) my girls are sisters from the same litter. They have had the same experiences but have very different temperaments. Zoey is shy and warms up slowly to people, where as Bella just loves everyone and thinks they should love her too.
---
Blessings, Luna and the girls
Posting Rules

You may not post new threads

You may not post replies

You may not post attachments

You may not edit your posts

---

HTML code is Off

---