Castro's Momma
Join Date: Jul 2008
Location: Earth
Posts: 260
Submit Photo: 4
Photo Submissions 0 Times in 0 Posts
Dog Rental???
---
Ahhh - the power of the internet... you click, and click and click some more, and you find the strangest things....
Has anyone heard of FLEXPET (
http://www.flexpet.com
)...
From their website:
FLEXPETZ is a unique concept for dog lovers who are unable to own a full-time doggy pal and miss spending time with a canine friend.
FLEXPETZ is a also a unique opportunity to provide rescue dogs or dogs that need a new home with a carefree, loving environment.
...all I can say is... REALLY!?!
---
Meet the Robinsons
Joann, Bryant and Castro
Find me on facebook - Joann Abellar
Senior Member
Join Date: Jun 2008
Location: Olympia, Wa.
Posts: 1,477
Submit Photo: 0
Photo Submissions 6 Times in 6 Posts
I saw a posting on a community board outside of a little country store for
Rent-A-Bunny
.
Basically, they would set you up with a bunny and all of the fixin's for it and you pay a weekly or monthly fee..if you decide to keep it you pay for the supplies/bunny...if you don't they take it back.
Your link took me to doggie arthritis medicine..lol
I googled Flexpet and found the right link..
http://www.flexpetz.com/
---
Eva, Mom to Todd....2 year old short hair Havanese
---
Last edited by Eva; 03-19-2009 at

04:00 PM

.
Senior Member
Join Date: Feb 2008
Posts: 2,365
Submit Photo: 0
Photo Submissions 16 Times in 12 Posts
I've heard of this. May work for the people, sounds rotten for the dog. Can you imagine moving from house to house and never getting the chance to bond with anyone? How does the dog ever trust anyone, get trained, relax???
---
Jill - Tess & Cody's mom
Senior Member
Join Date: Jun 2008
Location: Olympia, Wa.
Posts: 1,477
Submit Photo: 0
Photo Submissions 6 Times in 6 Posts
It looks like the company isn't up and running at the moment??
I found this on the site..
AN IMPORTANT ANNOUNCEMENT FROM FLEXPETZ
In July 2008, the company put operations on temporary hold. Since launching in early 2007, the concept, while often misunderstood (or deliberately maligned as part of the agenda of others), has been a great success.
FLEXPETZ is seen by many sensible and intelligent animal lovers as a revolution in dog adoption, and has been well supported. It has helped dogs and families, and has been a financial success. However, early in 2008, politicians from Boston decided to mount a campaign specifically targeting FLEXPETZ. Their agenda was to bring in a law "banning pet rental". The proposition was introduced by these elected politicians who NEVER spoke to the company, or visited our facilities, or met our dogs or spoke with our members. If they had, they would have quickly realized that FLEXPETZ is not a "Blockbuster for dogs", but a new way of approaching responsible dog adoption and ownership.
Although this law in Boston was passed, the legislature's failure to contact FLEXPETZ ensured that the law that was brought in is ineffective and a waste of taxpayer's money - and is likely to lead to the death in shelters of hundreds of dogs that could have been placed in homes by FLEXPETZ. However, the actions of these politicians (supported by the likes of the MSPCA who perhaps fear that this new adoption model might affect their own bottom line) did come at a time when our company was ready for expansion and the pending proposed legislation did halt further investment from our main funder.
FLEXPETZ gives our members an opportunity to carefully evaluate dog ownership while at the same time, funding a great quality of life for our dogs. And the system works: FLEXPETZ dogs generally stay with FLEXPETZ for an average of 90 days before being adopted on a permanent basis by a member family. The FLEXPETZ experience gives our members a real understanding of the responsibilities of owning a dog - and ensures that the dog finally gets their "forever" home.
So where does this put FLEXPETZ? The concept, the proprietary systems and operation model are tried and tested. When operating, FLEXPETZ has been profitable and has opened locations both in the USA and internationally. Independent auditors valued the company at $98 million at the beginning of 2008 - in all, not bad for a year old company!.
FLEXPETZ continues to receive dozens of inquires every day from willing future members who want FLEXPETZ in their vicinity. But in order to proceed with the planned expansion to 100+ locations, we have two options: either obtain new capital OR license the FLEXPETZ model to a an interested party. Either option will allow FLEXPETZ to resume operations and grow into a business that will achieve its projected multi-million dollar earnings - and unite thousands of dogs with new owners.
If you are interested in licensing or other forms of financial partnership, please contact us by email at
[email protected]
- and thank you for supporting FLEXPETZ.
---
Eva, Mom to Todd....2 year old short hair Havanese
Kubrick & Hitchcock's Mom
Join Date: Apr 2007
Location: New York, NY
Posts: 7,774
Submit Photo: 1
Photo Submissions 33 Times in 24 Posts
I feel sorry for these dogs! I would hate to be moved around so much. I agree, though, that a bunny probably wouldn't care much.
---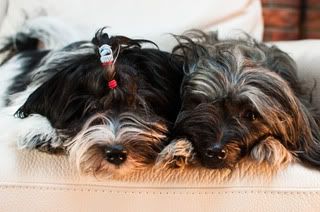 Visit
my blog

-----
Check out my
photos
-----
Photography (pets, people, weddings) -
TripleC Photography
Castro's Momma
Join Date: Jul 2008
Location: Earth
Posts: 260
Submit Photo: 4
Photo Submissions 0 Times in 0 Posts
Hey, Eva - I didn't even get that far with the clicking...
---
Meet the Robinsons
Joann, Bryant and Castro
Find me on facebook - Joann Abellar
Join Date: May 2008
Posts: 651
Submit Photo: 0
Photo Nominations 1 Time in 1 Post
the fact that they are bragging about their profits really makes me wonder what the real agenda is.

Dogs are way too intelligent and social to be shuffled around like that. People who aren't sure they are ready probably shouldn't adopt. Maybe fostering is a way to "try it out." Certainly fosters are always needed by many rescue groups, and since the foster family isn't paying the rescue group to take "rent" the dog, there's no profit motive, so I'm thinking the rescue group is more likely to thoroughly check out the foster family to make sure they will provide a good in between home.
Kimberly
Join Date: Aug 2006
Location: San Francisco Bay Area
Posts: 10,275
Submit Photo: 5
Photo Submissions 19 Times in 13 Posts
Hmmm, I have mixed feelings about this. I lived right next to a very special nature center & rescue for a while. They had quite a variety of local wildlife (foxes, rodents, etc.), but mostly birds, and all were animals that had been injured and would not survive back in the wild. All of the local schools would bring classes of a certain age for the learning experiences there. (It was really run more like one of the educational parks.) In the buildings, they had displays behind glass of what their homes would look like and a lot of other information. Then, if you looked carefully, they had an animal lending program. It wasn't very obvious, but you could "rent" a hamster or a guinea pig for a week. There was a small fee ($14/wk?), but they provided the animals cage, bedding & food for you so it wouldn't be new to the rodent. The purpose was so that families could see what it would be like to have a pet of this sort in their home without going through the process of buying one and all the supplies only to realize they were in over their heads.

I wish I could remember where it was, but I just saw a similar program at a hotel. They had animals you could rent for the week while you stayed there. It could be a dog to take for a walk or... (can't remember what else). If you didn't want the responsibilities of a dog, they offered a goldfish in a bowl in your room. LOL

In the case of the two places I've mentioned, I don't see much of a problem with it. The first one is educational. The second one is for companionship and the dogs' "home" is the hotel anyway.
Senior Member
Join Date: Apr 2008
Posts: 3,018
Submit Photo: 73
Photo Submissions 11 Times in 11 Posts
what about puppy parties...
---
I've seen Puppy Parties for children advertised locally. It sounds really horrible from a puppy standpoint. Kids often misbehave at a birthday party with all the excitement and sugar. Poor little puppies. I wonder why no one has outlawed this?

I think that the kids should go back to playing outside with each other.
---
I didn't just get havanese, I got a lifestyle!
Linda
Loving Havanese since 2003
Posting Rules

You may not post new threads

You may not post replies

You may not post attachments

You may not edit your posts

---

HTML code is Off

---