Join Date: Mar 2009
Posts: 8
Submit Photo: 0
Photo Submissions 0 Times in 0 Posts
New To The Hav World
---
Hello! My name is Courtney- and I'm so glad I found this forum! I was turned-on to it by a reference I contacted about our breeder. We are anxiously awaiting the birth of our new Havanese Puppy- any day now! I'm assuming we will be able to bring him/her home somewhere in the first 2 weeks of June. We just had to put our 13 year old beagle/pointer mix down- so sad! I have 3 daughters, and he was my only "boy". I started researching breeds a while ago, when we first realized that his health was slipping quickly. I came across the Havanese, and instantly knew this was the breed for us. We adopted our other dog from the SPCA, and he was already grown, so this will be my first time potty-training a puppy...so glad there's so much information on here! I just wanted to introduce myself, and say thanks for all the great threads! Looking forward to being able to post photos of our new little one soon!
CourtneyS
Pablo&Chuy's momma
Join Date: Jul 2007
Location: Eden, NC
Posts: 4,286
Submit Photo: 11
Photo Submissions 9 Times in 8 Posts
Hey Courtney and
Sorry to hear about your 'boy' and how wonderful that a Hav pup will come along and help healing your hearts. You are lucky you found this forum before you bring your puppy home. I bet you will be glued to your PC to inhale all the info you can get. Lots of decisions: potty training w/ or w/o pads, food, harness/collar, etc. Take your time and use the search button and feel free to ask your own questions if you don't find the right topic. Where do you live? Hopefully near other members, that you could meet in person. It's a lot more fun!
---
Senior Member
Join Date: Jan 2008
Location: North Carolina
Posts: 1,257
Submit Photo: 2
Photo Submissions 2 Times in 2 Posts
Courtney! You know a smart person who referred you here.
I know you miss your first doggy, but the Havanese is a great choice.
I would recommend pee pads to start . . . we wanted to train Jackson to go outside with our lab (in the dead of icy winter), and if I had to do it over again, I would have tried the pads inside until he was older - he went three times as much as the lab at first. Potty training doesn't have to be as hard as I made it!
I'm sure you will be taking lots of photos once your pup is born so that all of us here can get a "puppy fix."
---
Kathy
and
Jackson
Join Date: Mar 2009
Posts: 8
Submit Photo: 0
Photo Submissions 0 Times in 0 Posts
We live just north of Dallas, TX. Our girls are 6, 4, and 20 months, too. Like I don't have enough to do...I need to add a puppy in to the mix!
That's why we wanted to find a good breeder that would be having a litter now, though...so that we could bring one home right after school gets out, and have all summer to work with/train it. Looking forward to that day!
CourtneyS
Kubrick & Hitchcock's Mom
Join Date: Apr 2007
Location: New York, NY
Posts: 7,774
Submit Photo: 1
Photo Submissions 33 Times in 24 Posts
to the forum Courtney! I can't wait to see pictures of the litter and to see which puppy you get when s/he is born!
---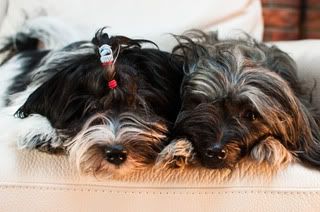 Visit
my blog

-----
Check out my
photos
-----
Photography (pets, people, weddings) -
TripleC Photography
Senior Member
Join Date: Mar 2009
Location: CT
Posts: 1,530
Submit Photo: 0
Photo Submissions 9 Times in 8 Posts
Welcome!
I am also waiting for a puppy (to be born). Good luck in the picking the right one. And I am very sorry about the loss of your other dog!
---
Zury

Peluito's King Bumi (Bumi)

Across the Rainbow Bridge - Starborn Mi Pequeño Tesoro (Toby) - Miss you my sweet boy.

Peluito's Phoenix King (Nix)
Senior Member
Join Date: Oct 2008
Location: Twin Falls, Idaho
Posts: 6,246
Submit Photo: 11
Photo Submissions 53 Times in 50 Posts
Welcome, and happy researching! I wish I'd known about this site ahead of time!
---
Sheri, Tucker's Mom
Senior Member
Join Date: Feb 2009
Posts: 806
Submit Photo: 0
Photo Submissions 0 Times in 0 Posts
Hi Courtney! Mimi and I live in Garland! Maybe we'll get to meet your puppy soon! We're relatively new members and just love all the great advice and understanding from all the forum members.
Senior Member
Join Date: Jan 2007
Location: Toronto, ON, Canada!
Posts: 4,155
Submit Photo: 0
Photo Submissions 16 Times in 6 Posts
Welcome to the forum!

Ryan
---
Posting Rules

You may not post new threads

You may not post replies

You may not post attachments

You may not edit your posts

---

HTML code is Off

---