View Poll Results

: What do you use for walks?

Harness
20
37.04%
Collar
17
31.48%
Both
17
31.48%
Voters: 54. You may not vote on this poll
Join Date: Mar 2009
Posts: 58
Submit Photo: 0
Photo Nominations 1 Time in 1 Post
Harness or Collar?
---
Just wondering . . .
Senior Member
Join Date: Jul 2007
Location: Morris County, NJ
Posts: 251
Submit Photo: 0
Photo Submissions 0 Times in 0 Posts
I prefer a harness - I like the step in type where there is one clip over their back or the Puppia harness which is sort of a vest.
---
_________________

Arlene
Mom to Javi, Phoebe, Otto, Lacey and Capt. Jack
Senior Member
Join Date: Jul 2008
Location: Argyle, Texas
Posts: 982
Submit Photo: 1
Photo Submissions 3 Times in 3 Posts
Max is so excited and pulls, so I use the Easy Walk harness. It does something mental to him. The pulling just stops.

Cooper doesn't pull and responds well to a leash with just his collar.

I put them both on a Double Dog leash coupler when I walk them together. It's easier on me and they have settled into a routine very well. Max's eagerness helps Cooper with his tendency to hold back.
---
Janan
Max and Cooper
Both,

I love the vest style harness from Puppia but... have my ID tags on a collar so they wear both. I will remove the harness when we arrive at our destination but want their ID on them in case...

Meeka
Senior Member
Join Date: Feb 2008
Posts: 2,365
Submit Photo: 0
Photo Submissions 16 Times in 12 Posts
Tess wears a harness that hooks in the back. Since Cody is a puller he wears an Easy Walker harness that hooks in the front. Janan is right - is really helps. Both also wear a collar with their tags.
---
Jill - Tess & Cody's mom
Join Date: Mar 2009
Posts: 58
Submit Photo: 0
Photo Nominations 1 Time in 1 Post
I'm really interested in the Easy Walker Harness. I just did a search for it on Amazon and amongst all of the 5 star reviews, I found this one:
"2 of 2 people found the following review helpful:
Dangerous and restrictive, January 23, 2009
By Veterinary Student
This harness prevents the dog from walking normally and will cause a shortened stride, potentially leading to joint problems and definitely leading to abnormal musculature and muscle damage. It is analogous to a human only being allowed to take very short strides--it will cause a shortened gait and decreased range of motion. There is also a buckle directly over the biceps tendon which could injure the dog by rupturing this critical tendon if he suddenly pulls against it. "
http://www.amazon.com/Premier-Gentle...DateDescending
I'm totally open to trying it out, but for those of you who have this harness, do you believe it restricts your dog in any way? I also see that the leash connects at the front of the chest, kind of wierd - right? I feel like Moose always gets his leash caught under his legs when his collar twists forward. I also saw that some people said it doesn't work for dogs with short legs. Moose is about 11 inches from foot to bottom of neck and about 16 inches from chest to butt. He's his own sort of hot dog dog. Would he be too short?
---
Last edited by Racheval3; 04-01-2009 at

03:25 PM

.
Senior Member
Join Date: Feb 2008
Posts: 2,365
Submit Photo: 0
Photo Submissions 16 Times in 12 Posts
I'm not sure how it can restrict their stride. There's a strap across the chest (where the leash hooks) and then a strap under the chest (behind the front legs). When he starts pulling, the front lead turns him towards me - about the same as my turning in the opposite direction and making him follow. We've been using it about a month and he does try to pull if he's excited (beginning of his walk or he knows there's a dog at a house up ahead). I do see him trying to lean to the opposit side now - since he realized what happens when he pulls so I'm trying to correct that (stopping and moving the leash to the other side). Even if he does try pulling, it's not nearly to the degree it is with a regular harness. The one problem I am having is matting on the sides.
---
Jill - Tess & Cody's mom
Amanda
Join Date: Nov 2006
Location: South Carolina
Posts: 9,576
Submit Photo: 2
Photo Submissions 31 Times in 22 Posts
I use both depending on the situation but with dogs in coat, I like collars the best. Belle when teamed up with Dash- go for the harness. Belle is super competitive on being ahead and Dash feeds into it too. They do great on the dual lead together. Dora can always be in a collar cause she is my perfect little walker. If she has to be hooked to Belle, I put her in her harness. Dash alone collar as well. Harnesses tend to cause more matting than collars even the soft harnesses.
Kubrick & Hitchcock's Mom
Join Date: Apr 2007
Location: New York, NY
Posts: 7,774
Submit Photo: 1
Photo Submissions 33 Times in 24 Posts
It depends on the walk. For really long walks through the park we do a harness with flexi leash but for walks through the city I use a collar and leash (6'). For Hitchcock, who is still learning to walk on a leash, I always use a harness as I don't want the collar to hurt him when he pulls. I also use a short 4' leash to have better control of him.
---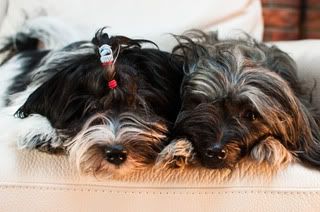 Visit
my blog

-----
Check out my
photos
-----
Photography (pets, people, weddings) -
TripleC Photography
Senior Member
Join Date: Mar 2009
Location: Canada
Posts: 219
Submit Photo: 0
Photo Submissions 0 Times in 0 Posts
Puppia Harness
---
I would like to order a Puppia Harness, as we don't have them where I live. What size do I get, I was thinking small, but it says weight 7-8 pounds, and my Havanese already weighs 9 lbs?

Wouldn't medium be too big?

Thanks.
Posting Rules

You may not post new threads

You may not post replies

You may not post attachments

You may not edit your posts

---

HTML code is Off

---