Boo Hoo,
---
Well, I just finished shaving all of Lola's hair off. We got home from vacation on Sunday to discover a dog that was just one big matt. Our babysitters thought that since she was matted they would give her a bath and oh my god - the matts were frightening. There was no way of saving her hair and there was no way I was going to put her through me trying to comb out the matts, that would have been way too painful for her. So, now Lola has a full head of hair on her head and tail but the rest is shaved right down. She's sort of a chinese crested now ha ha.
On a brighter note, she is healthy and happy and seems like her supplements are really helping her. We will be taking her back to the vet in a couple of weeks to see how her xrays look, I'm hoping he'll say that she won't need the femoral hip ostectomy - keeping my fingers crossed.

Have a wonderful day everyone!

P.S. We pick up Lily today - woo hoo! very excited to see how Lola likes her new baby sister.
Pablo&Chuy's momma
Join Date: Jul 2007
Location: Eden, NC
Posts: 4,286
Submit Photo: 11
Photo Submissions 9 Times in 8 Posts
Oh Sandy, what a shock to come home to. But luckily it's going to get warm soon and she will have her hair back by Winter. We need pics!!! Especially once Lily has joined you.
---
Kubrick & Hitchcock's Mom
Join Date: Apr 2007
Location: New York, NY
Posts: 7,774
Submit Photo: 1
Photo Submissions 33 Times in 24 Posts
Sandy, wow, poor Lola! At least you are getting her a little sister to console her in this hard time.
---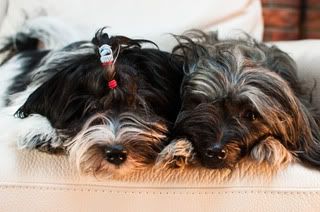 Visit
my blog

-----
Check out my
photos
-----
Photography (pets, people, weddings) -
TripleC Photography
and Murphy & Gracie too!
Join Date: May 2008
Location: Cumming, GA
Posts: 6,989
Submit Photo: 5
Photo Submissions 22 Times in 21 Posts
Awww, poor baby! Where are the photos????
---
Ann-Scooter, Murphy, & Gracie's Mom
Hi Maryam, oh my goodness Pablo is cute! Ann, thank you Murphy is getting big, and Lina Hitchcock is growing so fast too! Wow what a difference three weeks makes!

Thank you for writing, I feel bad for my Lola but at least she is comfortable now. Those matts must have been so aggravating and itchy for her.

I will try and post photos tomorrow okay! Might as well wait until Lily gets here!

Talk to you soon, have a great day!
Sandy & Lola
Senior Member
Join Date: Jul 2008
Location: South Fla
Posts: 2,815
Submit Photo: 1
Photo Submissions 10 Times in 10 Posts
I agree with not messing with those cursed matts!
I know it can really hurt them. Don't worry-that hair will grow before you know it.

Beth and Pixie Puff
Thanks Beth and Pixie Puff (she's so cute!)
Gryff and Jinx Mommy
Join Date: Sep 2007
Location: New Paltz, NY
Posts: 2,346
Submit Photo: 7
Photo Submissions 9 Times in 9 Posts
I feel your pain.
---
Posting Rules

You may not post new threads

You may not post replies

You may not post attachments

You may not edit your posts

---

HTML code is Off

---