Senior Member
Join Date: Nov 2006
Location: Massachusetts
Posts: 11,746
Submit Photo: 27
Photo Submissions 48 Times in 35 Posts
29 calories an inch....
---
that is how many calories are in a bully stick. I guess size does matter.
I use the moo brand but in searching for calories I found them on the redbarn site...if you click on a product it will give you the info. It says the steer sticks on the lower right are only 6 calories an inch but I think it is a mistake because the top ones are also 29 calories an inch.
http://www.redbarninc.com/c-11-bully-sticks.aspx
so a 7 inch bully stick is 203 calories. we've started cutting them in half.
---
Missy, Jasper & Cash
Dave T
Join Date: Dec 2007
Location: Ontario Canada
Posts: 10,862
Submit Photo: 3
Photo Submissions 119 Times in 117 Posts
Yep, I guess size does matter Missy, LOL. And yes that's a lot of calories, Molly is on 250 a day so one inch would be all she could have. LOL
---
Dave and Molly
Ian Dunbar was awarded the Outstanding Achievement Award from I.P.D.T.A. Here's a picture of me accepting the award on his behalf.
Member of IAABC ,International Association of Animal Behavior Consultants , Member of Pet Professional Guild
Mom to Ricky and Sammy
Join Date: Jan 2007
Posts: 10,319
Submit Photo: 30
Photo Submissions 21 Times in 17 Posts
Oh, that's funny, Missy !
And enlightening! I knew they weren't "light", but yeah...a whole flossie is about 250 calories, then! hmmmmm...... I never did let the boys eat a whole one, would remove it from them when they were halfway, but I'll have to let the store owners where I work know and if any customer asks, at least I'll know what to say. Thanks for the info, Missy !
---
Hello. My name is marj and I have MHS.
"The greatness of a nation and its moral progress can be judged by the way its animals are treated." Mahatma Gandhi
"Come to the edge, he said. They said: We are afraid. Come to the edge, he said. They came. He pushed them and they flew." -Guillaume Apollinaire"
Senior Member
Join Date: Oct 2008
Location: Florida
Posts: 1,814
Submit Photo: 1
Photo Submissions 2 Times in 2 Posts
Missy, how do you cut it in half? I'd love to do that, but it's so thick and hard. I'm pretty sure it would break my wimpy scissors.
Gina
---
and Murphy & Gracie too!
Join Date: May 2008
Location: Cumming, GA
Posts: 6,989
Submit Photo: 5
Photo Submissions 22 Times in 21 Posts
Missy-
That cracked me up!
You can cut them with kitchen shears if you have them. I try to break the flossie with my hands first, it won't break all the way through, then cut the small part that won't break by hand. It's easier that way since they're so tough.
---
Ann-Scooter, Murphy, & Gracie's Mom
Amanda
Join Date: Nov 2006
Location: South Carolina
Posts: 9,576
Submit Photo: 2
Photo Submissions 31 Times in 22 Posts
Missy- you also might want to think about the jerky for dogs. I know that is pretty high in calories too. My friend with the newfies started making it and then realized how many calories were in there and switches between that and charlie bears when training
Joyce
Join Date: Aug 2008
Location: Connecticut
Posts: 773
Submit Photo: 6
Photo Submissions 3 Times in 3 Posts
My DH cuts them in half with wire cutters.
---
Joyce and Milo with Brookie forever in our hearts
Senior Member
Join Date: Jan 2008
Location: North Carolina
Posts: 1,257
Submit Photo: 2
Photo Submissions 2 Times in 2 Posts
I use some very sharp pruning shears to cut flossies. Haven't tried to cut the bully sticks . . . I think Jackson thinks he's cool carrying that huge thing around
He doesn't eat enough of it at one time to worry about the calories, but I do appreciate knowing the calorie count for future diet needs!
---
Kathy
and
Jackson
Kubrick & Hitchcock's Mom
Join Date: Apr 2007
Location: New York, NY
Posts: 7,774
Submit Photo: 1
Photo Submissions 33 Times in 24 Posts
I don't think that flossies would have as many calories per inch as a bully stick, though. I'm guessing a lot less. I give the braided bullies and there's no way that Kubrick gets through an inch in a sitting... Hitchcock might be able to, but I'm guessing not. Flossies, on the other hand, are fast to go.
---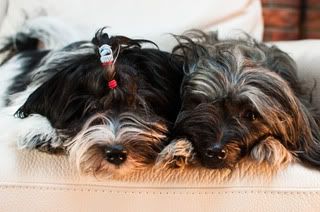 Visit
my blog

-----
Check out my
photos
-----
Photography (pets, people, weddings) -
TripleC Photography
Posting Rules

You may not post new threads

You may not post replies

You may not post attachments

You may not edit your posts

---

HTML code is Off

---