Joe
Join Date: Feb 2008
Location: canada
Posts: 814
Submit Photo: 0
Photo Submissions 4 Times in 2 Posts
we are moved
---
and i can't find a thing.

this is gonna sound crazy but the dogs have their own room and the light in there is beautiful! the window is very high, not sure why, but it makes the light just gorgeous.

the only drawback is the stairs, up to the bedrooms and down to the t.v. room...and mugsy is refusing to use them. kaylie could care less and runs them without fear. and she would rather be with me than mugs so he is left alone.
i'm trying to not carry him up and down thinking he will eventually start to use them on his own.
time will tell i guess.

now for more unpacking...

joe
---
greetings from mugsy & me
flickr
Quincy's Mom-Vinnie too!
Join Date: Feb 2007
Location: Ia.
Posts: 9,923
Submit Photo: 35
Photo Submissions 17 Times in 16 Posts
Joe---try putting a really great treat a couple steps down,then another one a couple more steps down etc. That should help lure Mugsy down the steps.
---
Vincent-Quincy's playmate
"Behind every unstable dog is a lesson for the owner"-Cesar Millan
Senior Member
Join Date: Apr 2007
Location: FLORIDA!
Posts: 4,657
Submit Photo: 1
Photo Submissions 3 Times in 3 Posts
We have a huge move coming up. Any hints on dealing with it? Last time we moved we had 1 dog which was a snap. She even got her own seat on the plane (I had the cars trucked here). This time it looks like hubby will drive half way there in my SUV (my back can't take a ride like that) so I'm flying.
He'll have the dogs in the car and then pick up my daughter and drive the rest of the way with her and our grandkiddo. Woooooooooohooooooooooooooooooo just that's worth moving for!!
---
Jan
jashavanese.net
Mom to Dusty and Indie
Join Date: Oct 2006
Location: AZ
Posts: 1,181
Submit Photo: 1
Photo Submissions 4 Times in 4 Posts
Congrats on the move!
Our foster, Jackson, didn't know what to do with stairs at first. I carried him when I needed him up there. I also fed him upstairs some of the time, so he had incentive to follow me up. It took him about a week to figure out that he could make it up there on his own. I would also sometimes carry him most of the way up and set him down just a couple of steps from the top. That seemed to help too. It took him just a little longer to figure out that he could go down the stairs. I think Mugsy will figure it out fairly quickly with just a little encouragement.
---
~Joelle
Baloo's Mom
Join Date: Mar 2009
Location: New Brunswick, Canada
Posts: 532
Submit Photo: 1
Photo Submissions 0 Times in 0 Posts
Hi Joe, hopefully you won't be living out of boxes for long LOL! Don't worry mugsy will get the hang of the stairs before you know it. It took Baloo about 3 days to get used to ours.

Good luck!
---
~ Angie ~
Mom to Baloo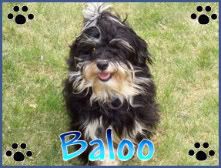 Benji and Lizzie's Mom
Join Date: Jun 2007
Location: New Jersey
Posts: 4,086
Submit Photo: 0
Photo Submissions 6 Times in 5 Posts
Congratulaitons on the move!

As Julie suggested, try treats on the staircase. Benji's breeder trained him at our home using the trick on his very first day with us. He was going up and down the stairs without any problems.

Jan, good luck with your move!
---
Best, Poornima
and Murphy & Gracie too!
Join Date: May 2008
Location: Cumming, GA
Posts: 6,989
Submit Photo: 5
Photo Submissions 22 Times in 21 Posts
Congrats on the new place Joe, lucky dogs having their own room!
---
Ann-Scooter, Murphy, & Gracie's Mom
Senior Member
Join Date: Nov 2006
Location: New Jersey
Posts: 9,794
Submit Photo: 2
Photo Submissions 28 Times in 20 Posts
Congrats on your new place Joe - how exciting
I am sure that Mugsy will eventually use the stairs - just be patient.
---
Lily, Lexi ,Logan, Laila & Lizzie's Mom
www.HillsboroughHavanese.com
(Gigi, Lucas, Dugan, Madeline,Reo,Alvin, Lucky, Lukey, Punch, Colby & Ben-(we will always Love you!!)
Senior Member
Join Date: Nov 2006
Location: Long Island, NY
Posts: 8,619
Submit Photo: 3
Photo Submissions 19 Times in 19 Posts
Joe, glad you made it through the move. As for the stairs, are they carpeted. I know mine will only go up the stairs if they are not carpeted, and will not go down. If they have carpet on them, then they have no problems going up and down.
---
Michele
Kodi & Shelby's Mom and Julian's Grandma
Linda
Join Date: Nov 2008
Location: Eastern North Carolina
Posts: 5,409
Submit Photo: 73
Photo Submissions 24 Times in 22 Posts
Wooden steps can be very slippery coming down. I am very cautious when I go down wooden steps at my daughter's home.
---
Dexter & Jack
"One Hav is NOT enough to enjoy the RLH skills!"
Posting Rules

You may not post new threads

You may not post replies

You may not post attachments

You may not edit your posts

---

HTML code is Off

---