Join Date: May 2008
Posts: 651
Submit Photo: 0
Photo Nominations 1 Time in 1 Post
Quick Question about Pet Flys carriers
---
I'm actually thinking about getting one of these Pet Flys carriers to shuttle her inconspicuously around town (thanks for the recommendation in my earlier thread on carriers).

For those of you who have one - do you know if it's a bit hot in there in warmer weather, particularly for longer haired dogs? It seems like the ventilation is not as good as on some other carrier designs, though better for hiding a dog, I guess. Considering we're going into summer, I'm wondering if I can even use it right now.

I thought I'd get one of the trekky back pack styles or the sherpa on wheels for real traveling, which won't be anytime soon.

Plan B is picking up the cheapest possible carrier at T.J. Maxx or Wal Mart to see if I can even get her used to one before dropping the big bucks on a Pet Flys.
Senior Member
Join Date: Aug 2006
Location: Lake Gaston, N.C.
Posts: 3,231
Submit Photo: 0
Photo Submissions 26 Times in 26 Posts
If it's just for the puppy stage, I'd go the cheap route. They grow fast. Pam found the perfect puppy carrier in Target. It's just a lightweight cloth shoulder bag. Juego loves it. He can stick his nose out curled up in the bottom watching what's going on around him and unless attention is called to him, people don't even notice there's a puppy in there.
Join Date: May 2008
Posts: 651
Submit Photo: 0
Photo Nominations 1 Time in 1 Post
Thanks Tom. I was going to get the largest size anticipating her final weight to be 13-15lb, but I guess there are no guarantees on her final measurements. I haven't been to Target in ages, I'll have to check it out. Seems like everything I buy there breaks or falls apart very quickly and I got fed up with cheap disposable products. In this case that's probably what I need, though.
Renee
Join Date: Sep 2008
Location: Saint Louis, MO
Posts: 1,217
Submit Photo: 1
Photo Nominations 1 Time in 1 Post
Amanda
Join Date: Nov 2006
Location: South Carolina
Posts: 9,576
Submit Photo: 2
Photo Submissions 31 Times in 22 Posts
Diane- First, I didn't really bag train my havs but I think they are too big for that. But then again I first had a maltese so Havs are big dogs to me and I have medium sized havs 9-12lbs.
I would also say go the cheap route until you find a style that works great for your dog. Isabelle loves bags but some are better than others- her favorite (I dont sneak her in that many places to be honest) are the ones where her little head can be out and they have a comfortable cushion where the head can be. But if I get one of those out Belle will jump in it and stay in it even when i set it down. She also loves her slug bug bag even though it doesn't seem like it would be comfortable. I just got it it at a ridiculous price and it is adorable. In warmer weather I always make sure I use one that has the mesh on both sides and not much lining. I posted a FB picture of her at the airport where you can see snot bubbles cause she wants out (one place I did sneak her cause it was too warm to leave her in the car). It does get warm especially the ones you carry up against your body.
But I would say figure out of it works for you and what you like and then spend the big bucks
I think I have had Dora in a bag once... she doesn't like it and panics. Dash a few times but then again I can't carry that many bags
Senior Member
Join Date: Aug 2007
Posts: 936
Submit Photo: 15
Photo Submissions 9 Times in 7 Posts
I LOVE my Petfly bags....one side has a steel mesh grate and the other has several holes. There is also a chain you can attach inside the bag...attach to their collar and then unzip the bag if you want more ventilation....and now of course, pictures
Harley's bag
Senior Member
Join Date: Aug 2007
Posts: 936
Submit Photo: 15
Photo Submissions 9 Times in 7 Posts
and Seymours
Total Havanese Groupie
Join Date: Dec 2007
Posts: 2,639
Submit Photo: 7
Photo Submissions 37 Times in 16 Posts
I have to disagree with all of you, sorry
hope you'll still like me. EDITED TO SAY: Pat, we must have been posting at the same time.
I agree with you. Get the Petflys carrier now and start using it right away! Tammy from Petflys is awesome and always packs free goodies with your purchases, stands behind her products, and gives discounts when you are "buying for a good 'cause-e.g. giving something to a shelter, etc..." I have two Petflys carriers, a small and a medium and I wouldn't trade them for anything. There is plenty of ventilation. I would say just as much as a Sherpa. You just can't tell from the online pictures. There are "holes" all over the carrier and they are very sturdy.
I would say go ahead an order the medium size, which fits the dog Violet is likely to become. When she gets bigger, you may have to put her in "butt first" as it doesn't open from the top, but I promise you will love it!
I think it's important during this economy to support good people and spend a little money, to save a little money-as in you won't have to buy a cheap one now and one you like later!
Here are some pics of Posh in her small (purple) and medium (white) carriers. Posh is 9.5 inches at the withers, and about 14 inches in length.
Shade is drawn in the picture below, but it can be open to expose "cage" ventilation area. FYI Tammy sent Posh the dress for free with the carrier, and treats, and toys!
As you can see she lies comfortably in the purple carrier, and can turn herself around in it, but not stand up. In the white, medium carrier she can stand, sit, and lie down easily. I take the white carrier with me everywhere in the car, to agility, to the coffeehouse, etc...and when I fly I use the purple one because it fits under the seat without going on its side.
If you do end up ordering one, make sure you get it from Petflys directly so that you have Tammy's support and great customer service.
Geez. I wish I worked on commission!
Join Date: May 2008
Posts: 651
Submit Photo: 0
Photo Nominations 1 Time in 1 Post
Thanks, Amy. You guys are so hip and Posh looks very, well, Posh in her outfit and fancy ride. I also like buying directly from small artist workshops when I can. I was sure I'd need the largest size (super) because I think she's going to be 13-15lb and a little leggier than some havs, and I don't want her to be too smooshed in there. Typically I would wait until she's done growing to be sure, but I can't spring one of these on her a year from now without getting her used to it first. My husband doesn't have a clue what I've spent already on her and probably would have a heart attack if he did, so I'm thinking this one over carefully.

So it's not too hot? I know you live in a colder climate, but do you use it on warm days in the summer?
Kubrick & Hitchcock's Mom
Join Date: Apr 2007
Location: New York, NY
Posts: 7,774
Submit Photo: 1
Photo Submissions 33 Times in 24 Posts
Diane, I'm pretty sure that Posh is a small Hav, so if you're expecting 13-15lbs (Kubrick's weight), I would say you need a large. I haven't used Petflys, though, so I could be wrong.
---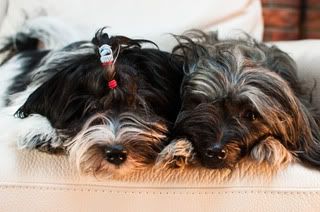 Visit
my blog

-----
Check out my
photos
-----
Photography (pets, people, weddings) -
TripleC Photography
Posting Rules

You may not post new threads

You may not post replies

You may not post attachments

You may not edit your posts

---

HTML code is Off

---