Senior Member
Join Date: Feb 2008
Posts: 2,365
Submit Photo: 0
Photo Submissions 16 Times in 12 Posts
Poor Tessie!
---
I'll post more later under the Allergies thread but I just got Tess home. She's doing fine, a little drugged up from the anesthesia, but look what they had to do to her! Because she's little they ended up shaving her entire side (and one paw). I'll be running out later tonight to get her a onsie --- just in case.
Poor Tessie! What really makes me sad is that I have to have her hair cut, permanently, to help control her allergies. I know that what she looks like really doesn't matter as long as she's comfortable and healthy, but still.....
When I dropped her off, they took me back to the operating room so I could see exactly where she would be. Knowing that she had been a puppy mill breeder they were very kind and verified that she'd be okay to be crated after the procedures.
I sort of regretted having gone back there - it made it a bit too real and I started to panic. I realized later in the day that the last time one of my dogs went under anesthesia, she never came out of it.
Cody was very out of sorts all day also. He and I went to a few small towns and walked around but he kept heading back to the car. He finally perked up when we pulled into the vets office parking lot.
---
Jill - Tess & Cody's mom
Senior Member
Join Date: Apr 2007
Location: Long Island, New York
Posts: 8,941
Submit Photo: 3
Photo Submissions 41 Times in 25 Posts
Oh Jill I'm so sorry. Give Tess and extra kiss from me. There's nothing worse than watching our little ones suffer -- from anything. I hope it wasn't traumatizing for her.
---
<b>Just Milo and me, and . . . </b>Bailey makes three . . . until Ruby said, "hey, what about me?"
Geri, Milo, Bailey and HRH Princess Ruby Tuesday
If you're thinking of getting a puppy, click here
http://www.photoshow.com/watch/YK8AH4rw
Senior Member
Join Date: Feb 2008
Posts: 2,365
Submit Photo: 0
Photo Submissions 16 Times in 12 Posts
Quote:
I hope it wasn't traumatizing for her.
More for me than her. They gave her good drugs - including morphine - so I don't think she really cared what they were doing. And now she's lying in front of the storm door, barking at anything that goes by.
Also going to be much more traumatizing for me in the future. My entire house is carpeted - I should have hardwood floors. All of my furniture is cloth - I should have leather or wood. I have to freeze (yes, freeze!) all of their toys once a week. Clean all of their bedding, etc. in hot water once a week. Bath her once a week. Completely wipe her down every time she's been outside.... Oi vey!
---
Jill - Tess & Cody's mom
---
Last edited by Jill in Mich; 04-23-2009 at

07:01 PM

.
Riley & Monte's mom
Join Date: Feb 2007
Location: MA
Posts: 5,579
Submit Photo: 2
Photo Submissions 16 Times in 13 Posts
Jill. I am soooo amazed at how much of her they had to shave and test on her, I have never seen allergie testing before so this is all new to me. Give Tess some belly rubs for us, with all she went through today she is going to feel so much better in the long run with all the answers you get.
Tori's mom
Join Date: Feb 2007
Location: Sunny SoCal
Posts: 4,988
Submit Photo: 19
Photo Submissions 10 Times in 6 Posts
Senior Member
Join Date: Nov 2006
Location: New Jersey
Posts: 9,794
Submit Photo: 2
Photo Submissions 28 Times in 20 Posts
Oh my goodness, that poor baby! I have never seen anything like that before! Jill, I cannot imagine how you must feel! I am glad that they gave her lots of good drugs to get her through this, and maybe they can find a great answer to her allergies.
---
Lily, Lexi ,Logan, Laila & Lizzie's Mom
www.HillsboroughHavanese.com
(Gigi, Lucas, Dugan, Madeline,Reo,Alvin, Lucky, Lukey, Punch, Colby & Ben-(we will always Love you!!)
Sooo Smart
Join Date: Mar 2008
Location: Georgia
Posts: 3,551
Submit Photo: 9
Photo Submissions 22 Times in 12 Posts
Oh my, Jill. I never knew they would have to test her like that about so many things. Right now all I can do is
....I know this is hard on both of you. I pray she will feel better soon.
---
Cicero trained Dale & Ronnie
Baloo's Mom
Join Date: Mar 2009
Location: New Brunswick, Canada
Posts: 532
Submit Photo: 1
Photo Submissions 0 Times in 0 Posts
Oh no, poor little Tess....looks like she was positive to quite a few things from the looks of her allergy blocks. What a brave little girl.
It is going to be hard at first, but once you get into a routine it will be a snap. Hopefully other members of your family will pitch in. She is so lucky to have such a caring Mom.
---
~ Angie ~
Mom to Baloo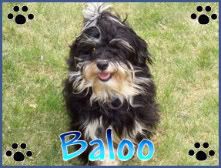 Senior Member
Join Date: Oct 2008
Location: Twin Falls, Idaho
Posts: 6,255
Submit Photo: 11
Photo Submissions 53 Times in 50 Posts
Poor little Tess, and Poor Jill! You are a VERY good mom! This is such a hard ordeal, and hard that it won't just be over after you finish the "bottle of pills!" I wish it were going to be as easy as that for you and her.
Sending you, especially, and Tess, too, a hug and belly rub! (Respectively, of course!
)
---
Sheri, Tucker's Mom
Michelle, Seamus's mom
Join Date: Feb 2007
Location: Cherry Hill NJ
Posts: 541
Submit Photo: 0
Photo Nominations 1 Time in 1 Post
Oh Jill
, sending Tess AND you love and licks from Seamus and Finnegan and bunches of
from me!
---
Michelle - Mom to Seamus, Finnegan and Hamlet
Posting Rules

You may not post new threads

You may not post replies

You may not post attachments

You may not edit your posts

---

HTML code is Off

---