Cooper,Emma,Lily,Winston
Join Date: Oct 2006
Location: Lincoln,NE
Posts: 2,018
Submit Photo: 57
Photo Submissions 4 Times in 4 Posts
Little bites VS regular kibble
---
I've been feeding my pack Natural Balance Duck and Potato Small Bites since I brought home Winston because it's the only thing he can tolerate.

For some reason the Small Bites is $2.40/lb while the regular size kibble is $1.66/lb. With 4 mouths to feed, the kibble goes fast and I'm trying to figure out if there is a difference in the kibble other than size, and if not, if there is a practical way to break it up a bit for little mouths.

Any thoughts or ideas?

Beverly
---
"The greatness of a nation and it's moral progress can be judged by the way its animals are treated"
Mahatma Gandhi
Senior Member
Join Date: Mar 2008
Location: Sweden
Posts: 323
Submit Photo: 3
Photo Submissions 6 Times in 4 Posts
Do you give your dogs the kibble dry, or do you soften it before?

I feed raw, but I have been down the "kibble path" and I know for my own experience that after a while...I do not think it is worth it so "give the kibble a bang" before feeding...

BUT I do not know wath size your Havs are...Some of my angels have NO problems with the big size of the kibble...and prefere them...
Ask the store for a "testbag", often you can just e-mail to the food company and get some test...then you know...
---
Karin
www.callunavias.se
Sweden
Linda
Join Date: Nov 2008
Location: Eastern North Carolina
Posts: 5,409
Submit Photo: 73
Photo Submissions 24 Times in 22 Posts
We use a nut grinder to break up the kibble for Dexter with small and large chunks and we moisten the food. Mix a few large pieces in with the little pieces and see what he prefers to eat. We quit grinding food by 6 months. In the beginning, Dexter would eat the large kibble and one day he vomited all the whole pieces, then we started grinding up some of the food.
---
Dexter & Jack
"One Hav is NOT enough to enjoy the RLH skills!"
and Murphy & Gracie too!
Join Date: May 2008
Location: Cumming, GA
Posts: 6,989
Submit Photo: 5
Photo Submissions 22 Times in 21 Posts
Or just put it in a Ziploc bag and hit it with a meat mallet. That's how I break up stuff I have to cook with all the time. It would be worth a try.
---
Ann-Scooter, Murphy, & Gracie's Mom
Senior Member
Join Date: Nov 2006
Location: Massachusetts
Posts: 11,746
Submit Photo: 27
Photo Submissions 48 Times in 35 Posts
I vote for the mallet method. But if Winston is the only problem, you could also get him a small bag of the small bites...




---
Missy, Jasper & Cash
Sooo Smart
Join Date: Mar 2008
Location: Georgia
Posts: 3,551
Submit Photo: 9
Photo Submissions 22 Times in 12 Posts
Beverly, do you think you could pulse it in a blender to break it up? That way you could do a lot at one time and store in a ziplock bag so you wouldn't have to do daily...maybe.
---
Cicero trained Dale & Ronnie
Baloo's Mom
Join Date: Mar 2009
Location: New Brunswick, Canada
Posts: 532
Submit Photo: 1
Photo Submissions 0 Times in 0 Posts
That is quite a difference in price, make sure that it is the same. Is the small bites made for pups and the other one for adults? The ingredient percentage might be different, they say not to give adult food until they are 1 year. You could ask at the store where you buy it if they think it would be okay for Winston.
---
~ Angie ~
Mom to Baloo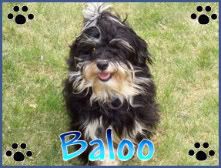 Renee
Join Date: Sep 2008
Location: Saint Louis, MO
Posts: 1,217
Submit Photo: 1
Photo Nominations 1 Time in 1 Post
Cooper,Emma,Lily,Winston
Join Date: Oct 2006
Location: Lincoln,NE
Posts: 2,018
Submit Photo: 57
Photo Submissions 4 Times in 4 Posts
I've been thinking of trying the food processor...might as well, I don't use it for anything else!
I'll check on their website and see if I can compare ingrediants there. I don't think it's meant for puppies and dogs, more like small mouths and bigger mouths.
I was using some small bites of a prescription diet and the content was different than the regular size kibble.
It's not so much the small bites that Winston needs as the Duck and Potato. The Natural Balance is the only brand I can find locally that is a Duck and/or potato base product.
Sometimes I mix the kibble with a bit of water, they love that, but if they don't eat it all, it's a mess!
Thanks everyone!
Beverly
---
"The greatness of a nation and it's moral progress can be judged by the way its animals are treated"
Mahatma Gandhi
Quincy's Mom-Vinnie too!
Join Date: Feb 2007
Location: Ia.
Posts: 9,923
Submit Photo: 35
Photo Submissions 17 Times in 16 Posts
Beverly,
I'm not sure if the ingredients are the same,but if they are--I would certainly give it a try. I can tell you however that working at the vet's....we have small bites and large breed kibble and the small bites they eat so much better. In fact I've had a small jack russell now for quite a long time and he throws his big kibble down the grating. The little bites he gobbles right up! Still-----it's worth a shot!
---
Vincent-Quincy's playmate
"Behind every unstable dog is a lesson for the owner"-Cesar Millan
Posting Rules

You may not post new threads

You may not post replies

You may not post attachments

You may not edit your posts

---

HTML code is Off

---