Amanda
Join Date: Nov 2006
Location: South Carolina
Posts: 9,576
Submit Photo: 2
Photo Submissions 31 Times in 22 Posts
Dasher's first therapy dog visit
---
Well, I first have to say I am horrible about overbooking myself, my dogs, my husband. I forgot and told a friend I would do a therapy dog visit for someone and she sent me an email reminder the night before. Well I forgot that we were moving last night! Dasher was at the old house with no furniture that night and then we picked him up during the dark and brought him to the new house. Ofcourse an hour of RLH in the new house.
So this morning, I brushed Dash out and made him look as pretty. I go outside and where is Dash- in the hostas that are taller than him and he is now soaking wet
I have no clue where anything is at this point so I just throw him in the car and put the a/c vent on him as we drive. I was more concerned on both of our lack of sleep with Belle grumbling thru the night and realizing Jim is going to kill me for doing this right now.
We went to the visit and walked around a bit first. I was concerned Dash having too much energy as I normally wear Belle out before a visit. He is a lap dog with me when he is tired but he really doesn't sit on too many stranger's laps as he is such a mommy's boy. My goal was for him to be calm as the other dog that was going was a newfy who barely moves and Dasher loves to visit with other dogs. Well Dash was calm but very curious about this new place, the wheel chairs, the walkers, etc. I am sure he will get more used to the strange equipment as time goes. He was very good with the patients and one woman asked if he was a Hav- I was so excited someone recognized the breed! Dash loved the patients who were sitting on actual furniture as he would run and jump on the couch next to them- one time without being asked
I do have to say I am not sure if they wash their hair with the same product there but Dasher was pushing his entire nose on many of the women's heads. Everyone thought it was endearing but I thought it was so goofy. He put his paws on one patient's shoulders and she thought he wanted to kiss her (Dash is not a kissing dog AT ALL!) and he went to town sniffing her hair
We later went to the memory ward which I was concerned about Dash going into. I let the leader know with it being Dasher's first visit if I thought he was stressed, I would end it early. He actually turned into an actual therapy dog visit! Some of the patients in this area can really be kind of pushy and clumsy and Dash kind of liked it. He seemed to be more comfortable than the previous visit or maybe he just was a bit more used to all the commotion? One patient kept wanting to move his face hair to see his eyes, Dash kept kissing her hand while she was doing this. I was so proud of him. I tried to not praise him cause then he wants to be with me- he is a mommy's boy and I want to keep him that way!
But it was a great first visit. When you consider all the changes and stress in my life and Dasher's, it was absolutely amazing. He did quite a few of his tricks and we need to learn more as he was making quite a few fans.
We do have an issue we are going to have to work on. In 2 of my regular visits (including this one) they have a bird watching area in the facilities. Well Dasher is convinced they have that set up for him. I couldn't get him to visit with any of the patients anywhere near that and he barked. While they all thought it was cute, I couldn't get him to forget about the birds. I actually had to pick him up and carry him past the area!
Overall, I was thrilled with Dasher and his first visit. Later this week we are doing the read to rover program which may be a bit better for his age and energy level but I am thinking, Dash will do well where ever we go
Proud Mama!
- Jane
Join Date: Jan 2009
Posts: 386
Submit Photo: 0
Photo Submissions 0 Times in 0 Posts
Good for you and Dasher -- sounds like he did wonderfully. My mother's nursing home had a resident golden retriever, Goldie, and she did so much to cheer up the residents and give them something to focus on. You'll never really know what a difference Dasher and you make in others' lives by doing this, but I still remember Goldie just the way I know the people you visit and their relatives and friends will remember Dasher. Jane
Pablo&Chuy's momma
Join Date: Jul 2007
Location: Eden, NC
Posts: 4,286
Submit Photo: 11
Photo Submissions 9 Times in 8 Posts
Go Dasher! It looks like all the waiting, researching, and talking was worth getting your Dash-man. I love the three tongues hanging out on your signature pic.
---
Kubrick & Hitchcock's Mom
Join Date: Apr 2007
Location: New York, NY
Posts: 7,774
Submit Photo: 1
Photo Submissions 33 Times in 24 Posts
That's awesome Amanda! Dasher is such a good boy and I'm glad he did so well on his first visit.
---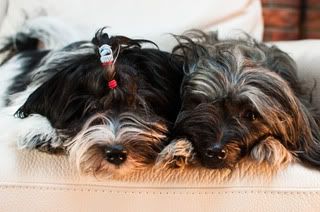 Visit
my blog

-----
Check out my
photos
-----
Photography (pets, people, weddings) -
TripleC Photography
Senior Member
Join Date: Feb 2008
Posts: 2,365
Submit Photo: 0
Photo Submissions 16 Times in 12 Posts
That's great Amanda. Dasher is really something....and so are you for managing to still fit today's therapy visit in with your move. I hope you get some rest this weekend - you deserve it!
---
Jill - Tess & Cody's mom
Dave T
Join Date: Dec 2007
Location: Ontario Canada
Posts: 10,873
Submit Photo: 3
Photo Submissions 119 Times in 117 Posts
good going Amanda, that work is so rewarding for not only the people but for you and Dasher. I admire this work immensely. I wish I had time to get into it.
---
Dave and Molly
Ian Dunbar was awarded the Outstanding Achievement Award from I.P.D.T.A. Here's a picture of me accepting the award on his behalf.
Member of IAABC ,International Association of Animal Behavior Consultants , Member of Pet Professional Guild
Senior Member
Join Date: Oct 2008
Location: Twin Falls, Idaho
Posts: 6,255
Submit Photo: 11
Photo Submissions 53 Times in 50 Posts
Amanda, you are amazing! On move day! What a woman of integrity you are! Good for Dasher on his first therapy visit! And, I love your new signature photo, too.
---
Sheri, Tucker's Mom
Senior Member
Join Date: Nov 2006
Location: California
Posts: 2,082
Submit Photo: 3
Photo Submissions 3 Times in 3 Posts
What a nice story! You and Dasher never stop amazing me!!!! Dasher has LOVED life from the first moment he entered into this world and I am so proud of both of you for sharing a little part of your lives with people who can enjoy and appreciate the joy you bring them. With you at his side, Dasher will always "fit in"!!!

I went back on my old computer tonight after reading this and enjoyed looking at all of his baby pictures, he is special and so are you!!!

THANK YOU,
---
Kathy
www.bellahavanese.com
Jeanne
Join Date: Mar 2007
Location: SF Bay Area
Posts: 2,622
Submit Photo: 2
Photo Submissions 3 Times in 3 Posts
Amanda, it sounds like you and Dasher had a really good first therapy visit. When we had our first visit, I was told by the team leader that many dogs can only take 15 minutes or so on their first visit before they show stress and need to cut the visit short. Maybe Havanese are different, as they are such happy and content little dogs. Maddie was like Dash....she took to it immediately. We stayed the entire hour, and she acted like she had done it her whole life. I cracked up when you mentioned Dash inviting himself up on a couch to sit next to a resident. Maddie does this all the time. She assumes that the person is just waiting for her arrival (and often they are!). She hops right up next to them (or sits on their lap) and gives lots of ear lickies. Luckily, they seem to like it. She loves the facility we visit as it has a grand staircase, and her favorite thing is to run up it. She loves the place so much that she doesn't want to leave (I have to tug on her leash to get her out the door). Dasher has such a "joie de vivre" about him, and I bet he'll take to therapy work really well. I'm pretty sure that the reason Maddie likes it is the attention. She literally smiles when she gets there, and especially when she's being loved by the residents. You always hear about Goldens and Labs being the perfect therapy dog (and they are wonderful at it), but I think Havanese just have that special knack for spreading love wherever they go.
I'm so glad you're doing this with Dash. Its unbelieveable how much Alzheimer's and nursing home patients react with joy when the animals visit. I think you should be very proud of your boy. He's a natural. Great first visit Dash!
---
Jeanne (Mom to Maddie)
---
Last edited by MaddiesMom; 05-24-2009 at

12:19 AM

.
Riley & Monte's mom
Join Date: Feb 2007
Location: MA
Posts: 5,579
Submit Photo: 2
Photo Submissions 16 Times in 13 Posts
Posting Rules

You may not post new threads

You may not post replies

You may not post attachments

You may not edit your posts

---

HTML code is Off

---