Join Date: May 2008
Posts: 651
Submit Photo: 0
Photo Nominations 1 Time in 1 Post
Returning Violet
---
I've deleted my posts in this thread because while I initially thought they might be helpful for anyone trying to decide on getting a puppy, I am embarrassed about my public meltdown here and prefer not to have it hanging out in cyberspace for ever and ever. It seems like there was a more productive thread started on that topic, anyway. Thanks for the kind words, and for the less than kind - well, point taken. Non-judgment is one of at least a few things I need to work on in this life, and I had a couple mirrors turned toward me the last few days. So actually, it's all good. It would be a shame if I didn't learn something from this.
---
Last edited by Petaluna; 06-04-2009 at

10:46 PM

.
Senior Member
Join Date: Oct 2008
Location: Florida
Posts: 1,814
Submit Photo: 1
Photo Submissions 2 Times in 2 Posts
Diane,
I am so very sorry to hear this. You have planned and researched harder than anyone I know, and you can't blame yourself. If you feel you can't handle her, you are doing the most unselfish thing in the world by giving her up. I know you love and adore her, and this was very painful for you to reach this decision. I really admire you for being so strong and wise enough to foresee that it may cause you too much stress in the long run. Perhaps someday your situation will change or there will be another breed that requires less maintenance or even a nice calm adult dog that you can adopt. I wish you the best of luck, and I really enjoyed your contributions to the forum. I hope you pop in and let us know how you are.
Gina
---
Susan
Join Date: Feb 2007
Location: Near San Francisco Bay Area
Posts: 4,063
Submit Photo: 2
Photo Submissions 2 Times in 2 Posts
Diane, Kudos to you for realizing your limitations and making the best decision for yourself and for Violot. The best thing is, you worked with a good breeder who will take her back and find her a good, forever home. Imagine if that weren't the case.

Someday you might have the ability to fit a dog into your life. I respect you for recognizing that it's just not the right time She taught you a life lesson and that's a good thing. Perhaps that was her purpose in being a part of your life for a time.
---
Susan
---
Last edited by mckennasedona; 05-29-2009 at

03:38 PM

.
Senior Member
Join Date: Nov 2006
Location: Massachusetts
Posts: 11,746
Submit Photo: 27
Photo Submissions 48 Times in 35 Posts
Diane, this is a very brave post. And I want to commend you for being so honest with your self. Given what you said I think you are doing the best thing for you and for Violet. A lot of people would have muddled through longer and then it would have been harder to place and train Violet and you would have had more misgivings not matter what you did.

You have made a lot of friends here so even without Violet in the mix, please do check in. As far as I am concerned you are always welcome!

Hugs to you.




---
Missy, Jasper & Cash
Baloo's Mom
Join Date: Mar 2009
Location: New Brunswick, Canada
Posts: 532
Submit Photo: 1
Photo Submissions 0 Times in 0 Posts
Oh Diane, I am so sorry to read this, I can't imagine how torn up you are and I can feel your heartbreak across the miles. I know how much you prepared for Violet and how much you love your girl, but I do applaud you for recognizing that it isn't going to work and have the heart to send her back to the breeder.
to you, stay strong, keep in touch.
---
~ Angie ~
Mom to Baloo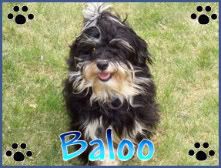 Senior Member
Join Date: Nov 2006
Location: New Jersey
Posts: 9,794
Submit Photo: 2
Photo Submissions 28 Times in 20 Posts
Diane, I am very sorry to hear this, but give you lots of credit for doing what is best for you and Violet. I know you will miss her but to make the hard decision and think about what is best for her takes a lot of courage!
No need to leave the forum - please stick around
---
Lily, Lexi ,Logan, Laila & Lizzie's Mom
www.HillsboroughHavanese.com
(Gigi, Lucas, Dugan, Madeline,Reo,Alvin, Lucky, Lukey, Punch, Colby & Ben-(we will always Love you!!)
Dave T
Join Date: Dec 2007
Location: Ontario Canada
Posts: 10,873
Submit Photo: 3
Photo Submissions 119 Times in 117 Posts
Diane you made the correct choice, you know it , and that is all that matters. We all make mistakes in life, but it is what we do about them that matters. Hugs and wags Dave and Molly.
---
Dave and Molly
Ian Dunbar was awarded the Outstanding Achievement Award from I.P.D.T.A. Here's a picture of me accepting the award on his behalf.
Member of IAABC ,International Association of Animal Behavior Consultants , Member of Pet Professional Guild
Total Havanese Groupie
Join Date: Dec 2007
Posts: 2,639
Submit Photo: 7
Photo Submissions 37 Times in 16 Posts
Big bummer. I know that's over simplifying it, but really that is a major bummer.

I hope you can find a way to find simplicity in your life. Really, I've realized since having my children that there is no such thing as "perfect parenting," "never say never," and "worrying won't protect my kids or me."

Good luck Diane, I'm sure this was a really hard decision for you to make and I hope you won't beat yourself up about this for years to come. Shame really is a useless emotion.
Sharlene
Join Date: Dec 2008
Location: South Carolina
Posts: 3,098
Submit Photo: 3
Photo Submissions 9 Times in 8 Posts
Diane I am so sorry for the turmoil you must have gone through to reach this very difficult decision. I commend you for doing what you feel is the ultimate best for both you and Violet. I enjoyed following along with you on your journey and I hope that you will pop back in on the forum from time to time.
---
Sharlene, Evye & Bentley's Mom (Taylor too)
Quincy's Mom-Vinnie too!
Join Date: Feb 2007
Location: Ia.
Posts: 9,923
Submit Photo: 35
Photo Submissions 17 Times in 16 Posts
I am so sorry Diane.
This was a tough decision for you,but a decision that sounds like it was best for you. I applaud your post and your insight into yourself.
Alot of people in the world are not made for pets,or dogs that require alot of attention. I am sad for you,but happy for Violet,as I see alot of people that make a mistake and tredge along and the pet truly suffers.
Maybe someday in the future you could entertain the idea of fostering,or even volunteering at animal shelter etc. because that would let you "love on a pet who needs you" but without the commitment. Just an idea....as I thought it could serve two purposes...fulfill you and the animal.
Sending you a hug for your hard decision.
---
Vincent-Quincy's playmate
"Behind every unstable dog is a lesson for the owner"-Cesar Millan
Posting Rules

You may not post new threads

You may not post replies

You may not post attachments

You may not edit your posts

---

HTML code is Off

---