Join Date: Jan 2009
Posts: 6
Submit Photo: 0
Photo Submissions 0 Times in 0 Posts
Natural Balance food roll = itchy dog???
---
Hi all,
Something I read somewhere here made me wonder if my new puppy's incessant itching might be due to a reaction/allergies to the NB food roll I'm giving him. I give him a small bit the size of a small pea as a treat. I'm estimating that the total amount he gets in one day is less than 1/4 oz. My new puppy started itching on about the third day that we had him (which corresponds to about when we started treating). I'm using Tropiclean for baths and am careful to rinse very well. The vet checked for fleas and skin problems and said all is well, so I started to accept that this was just a normal amount of dog itching, but I'm so experienced I wouldn't really know what was normal. THEN...I was reading a general food thread and one person mentioned that their dog's itching seemed to be caused by the NB food. I'm wondering if this was a fluke or if anyone else has experienced this. Also, I now need a suggestion for a new treat for a 4 month old puppy. I would prefer a baked treat or something fairly easy (I can't cope with boiled chicken, for example); I have kids, a husband who travels, a job and now a puppy. I need to keep things simple! Any ideas about the NB, the itching or a new treat suggestion?
Carol
Baloo's Mom
Join Date: Mar 2009
Location: New Brunswick, Canada
Posts: 532
Submit Photo: 1
Photo Submissions 0 Times in 0 Posts
---
~ Angie ~
Mom to Baloo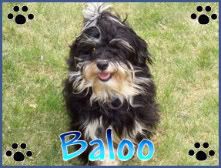 Amanda
Join Date: Nov 2006
Location: South Carolina
Posts: 9,576
Submit Photo: 2
Photo Submissions 31 Times in 22 Posts
I make my own jerky for the most part as the China recall scared me but I have also used Zuke's mini when I am out of jerky. They are tiny and come in a bag already in small sizes. However if you think he is having allergies from something he is eating, you may have to find what he is allergic too- the wheat, the chicken, etc. or you will still have the itching? Also like you said it could be the normal itching. Did you keep him on the same diet the breeder had him on when you brought him home? Have you given him flea medication since you brought him home. Did he have vaccines? Unfortunately allergies usually aren't as easy as a tiny treat each day.
http://www.zukes.com/woof/mini-naturals.html
Join Date: Jan 2009
Posts: 6
Submit Photo: 0
Photo Submissions 0 Times in 0 Posts
I'm feeding him Avoderm Natural puppy formula which is chicken and rice which is what the breeder was feeding him. The NB food I'm using is the beef variety, so maybe I should switch to NB chicken food rolls if they make them, that way I would be changing only one variable as opposed to an entirely different recipe with a different product. Thanks for the other treat recommendations.
Carol
Senior Member
Join Date: Apr 2007
Location: Georgia
Posts: 4,107
Submit Photo: 0
Photo Submissions 8 Times in 8 Posts
I feed my dogs Natural Balance Duck and Potato dry and NB Venison wet. These are limited ingredients foods for Smarty's itching. The two NB limited ingredients foods have been great for her skin.

I had a thread questioning if the sweet potato may be adding to her urinary tract infections. Some research is beginning to question too much of a good thing may not be so good.

I hope you find the cause of the itching, it can drive you nuts. My bet wuld be the treats.
---
Sandi, taking a new road with Smarty and Galen
---
Last edited by SMARTY; 06-04-2009 at

08:53 AM

. Reason: spelling of course
Senior Member
Join Date: Apr 2008
Posts: 3,018
Submit Photo: 73
Photo Submissions 11 Times in 11 Posts
Itching...
---
When you say itching is it all over or just the pads of the feet?

Some folks believe it is a reaction to the vaccines. There is a homeopathic remedy called Thuja that is supposed to help with that.

My Daisy has seasonal allergies and itches during he season when the pollen is very high, she doesn't do it in the winter.

This isn't to rule out a food issue. Many sensitive dogs have allergies to additives and wheat, among other things.

I also find that bathing in a neem or oatmeal shampoo helps, as neem has no soap and oatmeal is soothing to sensitive skin.

My vet and the grooming place believe in omega 3 supplements which has helped too.
---
I didn't just get havanese, I got a lifestyle!
Linda
Loving Havanese since 2003
Don't follow me!
Join Date: Jan 2009
Location: Phoenix, AZ
Posts: 66
Submit Photo: 0
Photo Submissions 0 Times in 0 Posts
Try the "Pure Bites" treats, your dog will go nuts for them. We were at our Pet Club store about 3 weeks ago and they had just got some samples and our Gandorf went nuts for them and he is a finicky eater. They have since started stocking them and he loves them. I can't imagine any dog not liking them. They are freeze dried and all natural.
http://www.purebites.com/
---
Gene, Nelene & Gandorf
Phoenix, AZ
Kubrick & Hitchcock's Mom
Join Date: Apr 2007
Location: New York, NY
Posts: 7,774
Submit Photo: 1
Photo Submissions 33 Times in 24 Posts
Where exactly is he itching/scratching? Paws, head, bum? Both my pups, when I got them would scratch themselves incessantly if I let them - I found that it was either out of boredom, stress, or just because they could. They both stopped after about 2 weeks or so in my house. I've read some articles that address this, though I can't for the life of me find them. I seriously doubt that your puppy would have developed allergies after only a day on the food - most allergies take at least a week or so (actually much longer, but I've heard of a week so I'm throwing that out there) to show up. It really depends on what he's scratching and when he's doing it. Make sure to give him something else to do when he's scratching and distract him from doing it. If you want to stop feeding him the NB, that's totally okay, I'm just saying that I'm not convinced it would be from allergies, but that's just my opinion.
For great treats that you can have in your own home, SMALL pieces of cheese work wonders. As does some turkey deli meat (make sure to give very tiny pieces and watch you pup for any diarrhea as SOME have sensitive tummies when on turkey - my dogs have always been fine on it). And the best treat is to go out buy a value pack of skinless, boneless chicken breasts and boil them with a bit (not too much) of garlic powder (not garlic salt - powder). Put them in plastic baggies, put one in the fridge and freeze the rest. Give out small pieces at a time (every treat should be small!). It's healthy, made at home, and easy to make - plus they think it tastes delicious!
If you want to invest in a a dehydrator (I did!), you can also make jerky out of all types of meat and dehydrate sweet potatoes, etc. I'm only saying all this because I've found that homemade treats not only last longer, are money saving and healthier, I also don't have to worry about what my dogs are eating outside of their regular kibble.
Good luck and keep us posted!
---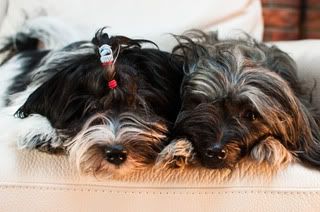 Visit
my blog

-----
Check out my
photos
-----
Photography (pets, people, weddings) -
TripleC Photography
Baloo's Mom
Join Date: Mar 2009
Location: New Brunswick, Canada
Posts: 532
Submit Photo: 1
Photo Submissions 0 Times in 0 Posts
Oh Lina, you are so creative...I am going to make Baloo some homemake chicken treats this weekend. I usually do keep something fresh, usually from family meal whether it be pieces of beef or chicken, but the boiled chicken would be very easy and I would have a stock of it in the freezer.
---
~ Angie ~
Mom to Baloo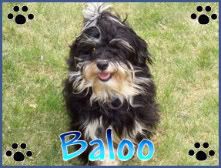 Join Date: Jan 2009
Posts: 6
Submit Photo: 0
Photo Submissions 0 Times in 0 Posts
Thanks everyone for all of the ideas.
My puppy is itching all over his torso, bum, neck, etc. but not the paws. I may not have been clear, but we brought him home at 12 weeks and after about his third day home with us, we started giving him the NB beef roll as a treat. He is now 16 weeks, so has been on that for the last 4 weeks, not a few days. I am going to start by making a treat change and I'll let you know what happens.
Carol
Posting Rules

You may not post new threads

You may not post replies

You may not post attachments

You may not edit your posts

---

HTML code is Off

---