Senior Member
Join Date: Oct 2008
Location: Florida
Posts: 1,814
Submit Photo: 1
Photo Submissions 2 Times in 2 Posts
Marble and Doggie Daycare
---
Usually I only post about problems with Marble, and there have been ALOT of problems, but today I am really proud of him for the progress he's made! Marble is very aggressive towards dogs we encounter on walks, outside, etc. He always barks like a maniac, lunges at them, growls at them, etc. We have been working on that with a group class where I've had the trainer help me correct, distract, etc. So, today I took a risk and sent him to doggie daycare at a wonderful place. They actually have video cameras on the dog so you can check on them through the web and the dogs are separated according to size. The owners were absolutely great and slowly introduced him to a smaller pack and then a larger. I got to stay and watch him on the cameras and then check on him throughout the day. He was a little scared and shy all day, BUT he did not show any aggression at all when I wasn't there. He was a perfect angel. I am so happy!!! My hope is that if I take him once or twice a week, he will start to play with the dogs and become less anxious and more confident overall. It really was a breakthrough, because around me, he acts like an attack Pit Bull to every dog we see, and I was terrified that he would bite someday if we couldn't fix this. He's also been doing very well in obedience class - he's the smartest one there!
Gina
---
Linda
Join Date: Nov 2008
Location: Eastern North Carolina
Posts: 5,409
Submit Photo: 73
Photo Submissions 24 Times in 22 Posts
This is so wonderful to know...I have been putting off doggy day care since our first training session. I wish I could be so brave!
---
Dexter & Jack
"One Hav is NOT enough to enjoy the RLH skills!"
Senior Member
Join Date: Oct 2008
Location: Twin Falls, Idaho
Posts: 6,255
Submit Photo: 11
Photo Submissions 53 Times in 50 Posts
Wonderful news about Marble! Good boy, good mommy!
---
Sheri, Tucker's Mom
and Murphy & Gracie too!
Join Date: May 2008
Location: Cumming, GA
Posts: 6,989
Submit Photo: 5
Photo Submissions 22 Times in 21 Posts
That's great Gina! We've got one opening soon here and I can't wait. The one here will be Camp Bowwow. What's yours called?
---
Ann-Scooter, Murphy, & Gracie's Mom
Baloo's Mom
Join Date: Mar 2009
Location: New Brunswick, Canada
Posts: 532
Submit Photo: 1
Photo Submissions 0 Times in 0 Posts
Yeah Marble and way to go Gina... working with him to overcome this. Now you can feel more relaxed when you encounter other dogs. Have fun
---
~ Angie ~
Mom to Baloo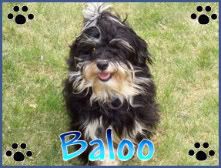 Mom to Josh and Izzy
Join Date: Oct 2007
Location: Rhode Island
Posts: 1,419
Submit Photo: 12
Photo Submissions 0 Times in 0 Posts
That's great. Glad to hear Marble's making progress.
---
Marianne
Senior Member
Join Date: Oct 2008
Location: Florida
Posts: 1,814
Submit Photo: 1
Photo Submissions 2 Times in 2 Posts
Thanks, everyone! Ann, its called Melbourne Preppy Pet (one of the franchises if anyone's ever heard of it). A husband and wife own it, and they are really great. They took so much time with us! I used to board him for our trips at a kennel last year and pay for the daycare so he'd play in the day, but I never knew if they actually let him out during the day. Now if we travel, I can see it for myself, and that makes me feel better knowing he's not stuck in a cage. Linda, if you find the right place, I think it could be great for Dexter. This is my third one.
Gina
---
Sharlene
Join Date: Dec 2008
Location: South Carolina
Posts: 3,098
Submit Photo: 3
Photo Submissions 9 Times in 8 Posts
Wonderful !! I said I was going to look into something like that but have yet to do it. This was encouraging enough to push me in the right direction, it's just a matter of finding the right place.
---
Sharlene, Evye & Bentley's Mom (Taylor too)
Posting Rules

You may not post new threads

You may not post replies

You may not post attachments

You may not edit your posts

---

HTML code is Off

---