Member
Join Date: Jul 2009
Location: Arizona
Posts: 47
Submit Photo: 0
Photo Submissions 0 Times in 0 Posts
New Member
---
Hi Everyone! My name is Elaine and I got my first Havanese in May. His name is Drew and he is 5 months old. I am so in love with this puppy. He has a goofy personality. The Havanese has been my dream dog for awhile now. I wasn't planning on getting a Havanese until sometime this fall because my husband was going through chemo for colon cancer. I thought when he was finish with chemo, then I would start to look. Well, I am impatient when it comes to looking. So I said to myself "You can look and check out different breeders but, you have to wait until fall". Well, that didn't happen. I saw Drew in the newspaper and fell in love with him. I drove 50 miles in rush hour just to look at him. I told myself I was just looking. Well, needless to say he came home with me the next day.
Drew is always happy and go lucky. He loves everyone and everything. We have a 11 year old basset hound mix and they get along fine. We also have a cat and Drew can't figure out why the cat doesn't play with him. Our other dog and the cat have an understanding. They leave eachother alone. Not Drew, he wants to play. So the cat is always hissing and swatting at him. I am sure he will learn one day.
I am so happy to have found this sight. I have to have my husband help me post pictures. I am not to smart with a computer. Well, I have babbled
on long enough. I can't wait to meet you all.
Hi Elaine,
Drew looks sooo adorable! What a cute face. My husband has been going through chemo too and our little pooch sure helps us to laugh alot. At first we were worried about having a puppy around when my husband's immune system was so low but it hasn't been a problem at all. In fact Dudley is the best medicine of all! Enjoy all of Drew's antics ... the puppy days go by so fast. All the best to your husband.
Dudley's Mom,
Val
Member
Join Date: Jul 2009
Location: Arizona
Posts: 47
Submit Photo: 0
Photo Submissions 0 Times in 0 Posts
Hi Val,
I have to agree with you. Drew has wormed his way into my hubby's heart. He makes us laugh all of the time. Even during his chemo weeks, my husband would find the strength to play with him. All of my family members thought I was crazy for getting a puppy but, I really do think it has lifted hubby's spirits. Now, he would never admit it. HEHE! I hope all goes well with your husband. I know what a stressful time this can be.

Elaine
Bugsy's Mom
Join Date: Nov 2006
Location: San Francisco, CA
Posts: 4,341
Submit Photo: 3
Photo Submissions 6 Times in 5 Posts
Welcome to the forum Elaine and Drew.
---
-Julia
and Murphy & Gracie too!
Join Date: May 2008
Location: Cumming, GA
Posts: 6,989
Submit Photo: 5
Photo Submissions 22 Times in 21 Posts
Drew is a cutie!
---
Ann-Scooter, Murphy, & Gracie's Mom
Senior Member
Join Date: Mar 2007
Location: Arkansas
Posts: 305
Submit Photo: 0
Photo Submissions 0 Times in 0 Posts
Welcome to the forum. Drew is such a cute little boy, I know he will fill your world with lots of kisses. We hope your husband does well and is back to fulll speed soon.

Jonda
Senior Member
Join Date: Oct 2008
Location: Florida
Posts: 1,814
Submit Photo: 1
Photo Submissions 2 Times in 2 Posts
Elaine! Drew is absolutely adorable....what a cute face, and it looks like he's smiling in his avatar. I had to laugh at the story about your cat. I hope that your husband (and Val's) will be better soon!
Gina
---
Senior Member
Join Date: Jul 2008
Location: South Fla
Posts: 2,815
Submit Photo: 1
Photo Submissions 10 Times in 10 Posts
Welcome!
Drew is soo cute.
---
Beth, Pixie Puff and MiG too
Baloo's Mom
Join Date: Mar 2009
Location: New Brunswick, Canada
Posts: 532
Submit Photo: 1
Photo Submissions 0 Times in 0 Posts
Hi Elaine and Drew, welcome to the forum. I know you will love it here as much I do, lots of great information and the best is all those cute Hav's!
---
~ Angie ~
Mom to Baloo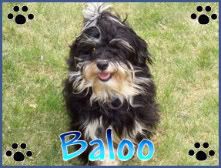 Joyce
Join Date: Aug 2008
Location: Connecticut
Posts: 771
Submit Photo: 6
Photo Submissions 3 Times in 3 Posts
Drew is just adorable. Welcome to the Forum, Elaine and Drew! Hope your husband is doing well.
---
Joyce and Milo with Brookie forever in our hearts
Posting Rules

You may not post new threads

You may not post replies

You may not post attachments

You may not edit your posts

---

HTML code is Off

---