Truly Scrumptious
Join Date: Feb 2011
Location: Canada
Posts: 138
Submit Photo: 0
Photo Submissions 0 Times in 0 Posts
Lola is home!
---
I'd have posted yesterday, but after you here our saga, I might be forgiven!
We got up early yesterday to head out on our almost 5 HOUR trip (one way) to pick up our Lola. Well......as we stopped at the drive-thru for coffee, my husband turned on the weather report only to discover that the MAIN highway to get us there (quickly and most directly) was CLOSED! The weather was treacherous, white outs, ZERO visibility, ice patches, accidents galore.
Our hearts sank. And the kids.....well, our son who's 7 was ok, but our 9 year old daughter was devastated......her eyes like Niagara Falls. We waited a bit and seeing the disappointment on their faces, I made the decision that if the HWY re-opened, I would be willing to drive us back in the night.....if that's what it took. Besides, the weather wasn't looking any better for the next day and so, what to do?
The kids' prayers must have been answered as soon, we heard the highway re-opened. Slow, blustery, but moving. We wasted no time. Long story short.....we hopped in the SUV and drove off! Made it safely there and back......but w/o it's challenges!
First of all, our breeder and family who raised these pups is phenomenal. We couldn't have found a better breeder. Very VERY lucky and believe me.....we've had some breeder nightmares (another time), so finding the right one kind of like winning the lottery. I still cannot believe how lucky we got (thanks to KSC & her referral to 1 breeder who referred me to ours)
Lola LOVED us immediately. She was the only female and has 4 brothers. She is the smallest, but also feisty......can hold her own, but is a real "lady"
The trip home could have been turned into a movie! It was dark as we headed back and I finally got to use my highbeams which believe me, were NEEDED! So, she vomited 3 times, pooped once, barked, but this occurred early on in the trip back home. She slept most of the way. Must say that the bonus is that Lola was exceptionally calm & co-operative when being changed/cleaned up- didn't squirm or complain one bit. A real Angel.
Without further adieu, some pictures as promised. Challenging to take really good ones as she moves quite a bit, but here's what I managed this morning.
We LOVE her! And I'll post further on how she's progressing as I feel as though I've written a novel here!
Our girl Lola!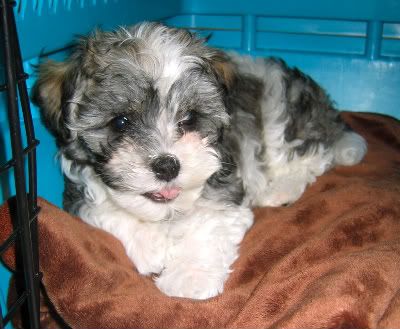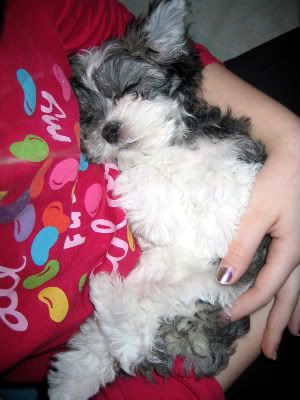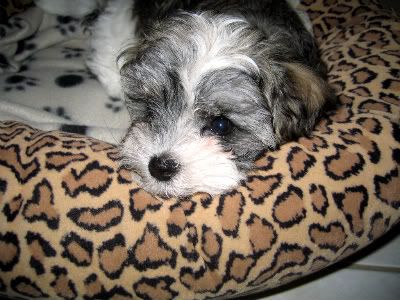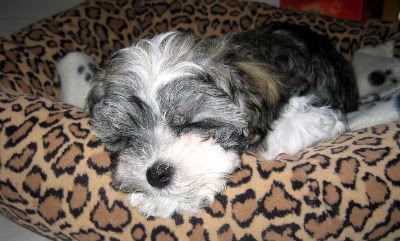 Evelyn
Join Date: Apr 2010
Location: Chicago burbs
Posts: 4,652
Submit Photo: 4
Photo Submissions 30 Times in 28 Posts
oh my gosh...what a trip huh??
Worth it! What a little doll...cute as a button!
I'm thinking she is going to be very pampered from the looks of the pictures! LOL
---
Gigi
Join Date: Feb 2010
Location: Eastbourne by the sea England.
Posts: 2,468
Submit Photo: 2
Photo Submissions 21 Times in 19 Posts
Lola is absolutely lovely, and your pics are charming.I love the one of her snuggled up in,is it your daughters arm?, so sweet.So do you know how much she weighs?I think the little ladies can be hilarious[I know ours is]and know how to wind you around their little paws!But the boys are just as wonderful!
---
Dave T
Join Date: Dec 2007
Location: Ontario Canada
Posts: 10,818
Submit Photo: 3
Photo Submissions 115 Times in 113 Posts
Wow what a pick up. She's a doll. Enjoy.
---
Dave and Molly
Ian Dunbar was awarded the Outstanding Achievement Award from I.P.D.T.A. Here's a picture of me accepting the award on his behalf.
Member of IAABC ,International Association of Animal Behavior Consultants , Member of Pet Professional Guild
Truly Scrumptious
Join Date: Feb 2011
Location: Canada
Posts: 138
Submit Photo: 0
Photo Submissions 0 Times in 0 Posts
Yes, the drive was interesting!

That leopard bed by the way, was originally ordered for our cats who took one look at it and said, "I don't think so!" So now, it belongs to someone who recognizes and appreciates it!

will say that so far, the "bathroom" situation has been going well. She uses her pee pad that's in our shower and has been diligent about going there and nowhere else. We're keeping her in our upstairs bathroom for now which is safe and has a floor for easy clean-up. Once the warmer weather hits, we'll be taking her outside to use the "facilities"
---
Last edited by West End Girl; 02-20-2011 at

02:27 PM

.
Senior Member
Join Date: Jul 2009
Location: Bedford, NH
Posts: 598
Submit Photo: 1
Photo Submissions 2 Times in 2 Posts
Lola is just precious. Gotta love that little pink tongue in the first photo.
Joe Cool!
Join Date: Aug 2010
Location: Metrowest Massachusetts
Posts: 2,059
Submit Photo: 0
Photo Submissions 9 Times in 9 Posts
Senior Member
Join Date: May 2010
Location: Northeast Iowa
Posts: 907
Submit Photo: 0
Photo Submissions 4 Times in 4 Posts
Oh good golly, Miss Molly! 10 hours of driving in horrific conditions! Not me!!! I'm glad you did it for your daughters sake, tho! She sounds like me at her age! Congratulations! Your new little girl is beautiful! I'm glad you made it safely!
---
Stacey, Yogi (Gerty), and Baby Boo
OMG Yay! Lola has found her home. All meant to be. Congratulations!
---
Sylvia and Kipling
Henry 2006-2018/ Kordelia
Join Date: Jun 2007
Location: NJ/NYC metro.
Posts: 4,155
Submit Photo: 11
Photo Submissions 25 Times in 25 Posts
gorgeous, just gorgeous. Welcome Lola.
Glad you are happy with the breeder. You will have years of happiness with her.
Posting Rules

You may not post new threads

You may not post replies

You may not post attachments

You may not edit your posts

---

HTML code is Off

---