Member
Join Date: Mar 2011
Posts: 39
Submit Photo: 0
Photo Submissions 0 Times in 0 Posts
New puppy... new to the community, and questions!
---
Hello everyone! My name is Christina, and I'm glad to be a part of the community.
I have been looking for a Havanese to buy for a few years, ever since I got my Bichon Frise and wanted to get her a little friend. I adore my Bichon Frise and wanted another dog like her, but I really love colorful dogs and thought it would be boring to have two white dogs. I started searching for alternative breeds, and was ecstatic to find the Havanese—part of the Bichon family, yet in all the colors of the doggie rainbow! I was in heaven, lol.
So I kept an eye out for Havanese and was in touch with a few breeders for a couple of years, but I never really found anything that looked particularly promising. However, my other dog—a six year old Cockapoo named Bella—abruptly got incredibly sick and was diagnosed with an advanced case of Pancreatitis. My vet and I had no idea how she managed not to show symptoms for so long, but by the time we found out what was wrong, it was too late. I lost her last Thursday and was devastated--still am.
My Bichon, Evie, was very upset as well. She had been very close to Bella and suddenly found herself without a friend. She just would sit there looking into space and lost interest in playing unless I really coaxed her.
I sent a group of local breeders a mail on the day Bella died, asking if they had any litters of puppies planned for the Spring or Summer. I knew that I definitely wanted a second dog to fill the void as well as to give my Evie a friend again, but I wasn't expecting to get one
now
—I was hoping I could be waitlisted on an upcoming puppy.
So, imagine my surprise when I got a reply that a puppy of the gender and color I wanted was available *now*--as in, the litter had just turned 10 weeks old and become available on the day I sent my email! I was torn with indecision. Part of me didn't want to get a new dog just days after the loss of my other, but the fact it was too good of an opportunity to pass up won out in the end—especially since the breed is so hard to find where I live. I figured the timing was too good, and it was just meant to be.
Yesterday my little Havanese came home, and I adore her already. She is the tiniest, spunkiest, and happiest little puppy I've ever met. She attacks toys twice her size and growls at them like a little monster, but then when she gets sleepy, all she wants to do is snuggle up and sleep on you. Aww.
She's very quality too--I think she has 10 champions in her first 4 generations.
I have decided to name her Pepper, and I can't wait to watch her grow up and get more involved with the breed.
------------------------------------------
Now, for my questions…!
First: Getting an established dog to accept a new puppy. I am a bit flabbergasted, because my Bichon Frise is incredibly well socialized with other dogs and can go to a dog park and chill out with pooches she's never met with no problems—but she hates this puppy! I've never even seen Evie snarl and show her teeth until now, and she keeps trying to chase Pepper away from me if she comes over while I'm petting her. Yet, sometimes she seems genuinely interested and follows the pup around wagging her tail, and they even played a little—til Evie got angry and ran off. My question is… am I doing the right thing by keeping them in the same room (while supervised—puppy goes in safety crate when I can't watch) and waiting for Evie to come around, or should I be giving Evie her own space to pretend the new dog doesn't exist?
Second: Pepper is a biter and picks up *everything* in her mouth and carries it around. Unfortunately… this apparently extends to her own poo. I cringe just writing it, lol. I do not think she is actually trying to *eat* it. It's like she has no idea what it is, and just picks it up and runs around…
Is there anything I can do to stop this aside from picking it up the second she goes and moving her away? Will she more than likely outgrow it, or should I be concerned? I've never had a puppy touch its poo before, though I do know it's common.
And now… the prerequisite pictures!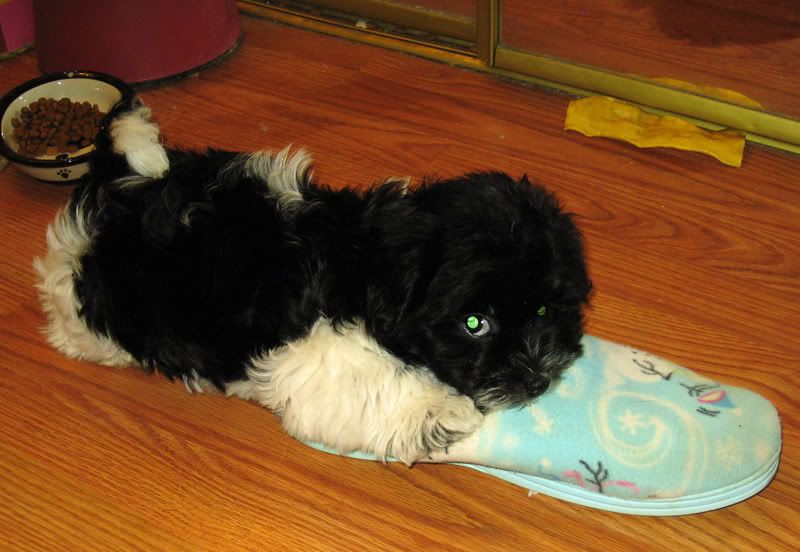 Now that that wall of text is over with…
I look forward to getting to know you all!
---
Last edited by Bellatrixed; 03-14-2011 at

05:21 PM

.
Senior Member
Join Date: Sep 2010
Posts: 5,278
Submit Photo: 0
Photo Submissions 36 Times in 36 Posts
Yay! Welcome and Congratulations on your new baby!!!
I'm sorry for your loss and hope that with time Evie will accept and love Pepper.
I'm sure some of the "experts" on the forum can help with your questions!

Looking forward to getting to know you and watching Pepper grow and change!!
---
Tammy and Tillie
Senior Member
Join Date: Jul 2008
Location: SE Georgia
Posts: 4,515
Submit Photo: 0
Photo Submissions 12 Times in 12 Posts
Christina, Pepper, & Evie - welcome to the forum! Getting a new puppy is always an adjustment and I'm sure Evie is just feeling a little jealous. Pepper sounds like she has a strong play drive and is just being a busy little puppy! The poop problem - when she starts to pick it up just say EH! and that usually stops them. I would try to dispose of it quickly to avoid that problem. I had a poop eater and boy is that a disgusting habit! She finally grew out of it but if I see her even sniffing it out in the yard I yell "EH!" and she walks away.
As far as Evie accepting Pepper you need to let them work it out themselves unless it gets too vicious or hurtful for one of them.
I'm getting adding a new puppy in a few weeks so I may be seeking advice soon myself! Good luck and try not to let the fighting bother you too much. I'm sure they will end up best of friends - it just takes time.
---
Kathie, Abby & McGee's Mom
Senior Member
Join Date: Oct 2010
Location: West Linn Oregon
Posts: 4,845
Submit Photo: 21
Photo Submissions 40 Times in 40 Posts
Welcome Christina,
I added a second puppy but only after we had had Maddie for about 3 mo It took about a week for us all to settle in. It would so nice to know how dog's feel you had said that Eve was upset about the loss of her friend and I am sorry your family had to have that happen. She is probably just trying to say I am the boss of the dog world in this house!. It might take time but they will be best friends before you know it.
For now I would just try to get the poop off the ground before Piper gets a hold of it the other suggestion is also good and works for many things. EH
Excited to here about your new adventures with Piper and Eve
---
Maddie at 5mo old
Linda
Join Date: Nov 2008
Location: Eastern North Carolina
Posts: 5,409
Submit Photo: 73
Photo Submissions 24 Times in 22 Posts
She is a cutie! I can relate to the second Hav very much! Let them work it out! No matter how scary it looks, the Biscon will quit when Pepper learns her lesson. I could hardly wait for my second Hav to gain weight so he could fuss back.

As for putting everything in their mouth...my first Hav put EVERYTHING in his mouth and I had to watch him like a hawk.

Welcome to the forum! Obviously you must of been lurking because you posted pictures! You passed! We are so glad to have another member to talk about our pups! Everyone else will think you are crazy!

One more thing....it looks like Pepper will have a white mustache when her hair starts to grow. Pretty!
---
Dexter & Jack
"One Hav is NOT enough to enjoy the RLH skills!"
Senior Member
Join Date: May 2007
Location: West Bloomfield, MI
Posts: 963
Submit Photo: 0
Photo Nominations 1 Time in 1 Post
Member
Join Date: Mar 2011
Posts: 39
Submit Photo: 0
Photo Submissions 0 Times in 0 Posts
Thank you all for the welcome and the comments!
And haha, yes, I had been lurking for a bit--pictures of new dogs are a must!
I am also glad that it looks like she'll have a white mustache once her hair grows out. I think she's adorable as is, but there's nothing prettier than long black and white mixed hair--well, at least in my opinion.
She has so much spunk! She met my brother's Cocker Spaniels tonight, and got so excited that she just raced around in circles and periodically jumped on one of the bigger dog's faces...
All carefully supervised of course. Fortunately the Cockers were very tolerant and interested, but wow--I've never seen such a tiny puppy have such an attitude, lol!
Dave T
Join Date: Dec 2007
Location: Ontario Canada
Posts: 10,815
Submit Photo: 3
Photo Submissions 115 Times in 113 Posts
Welcome aboard.
---
Dave and Molly
Ian Dunbar was awarded the Outstanding Achievement Award from I.P.D.T.A. Here's a picture of me accepting the award on his behalf.
Member of IAABC ,International Association of Animal Behavior Consultants , Member of Pet Professional Guild
Julie
Join Date: Jul 2009
Location: New Jersey
Posts: 1,441
Submit Photo: 1
Photo Submissions 7 Times in 7 Posts
Welcome Christina, Evie and Pepper.

I'm very sorry about Bella and hope Pepper helps you both heal a little bit. I think Evie probably needs some time to adjust to all the changes in your home and she will accept Pepper when she's ready.

Pepper is a cutie and sounds like she'll bring a lot of excitement to your family.
---
Julie, Piper and Riley
My little dog - a heartbeat at my feet. ~Edith Wharton
Senior Member
Join Date: Aug 2009
Location: North Carolina
Posts: 3,335
Submit Photo: 4
Photo Submissions 13 Times in 13 Posts
Welcome!!!! Your new pup is very cute. Often a older dog will not be that keen on a new puppy. Just watch them and give them time. When I brought Yogi home he was about 7 months my Shih Tzu did not like him so much and would growl if he got too near, but my Lhasa (who is very discriminating) loved him (weird). The Tzu did come around and even house trained him by insisting he go out the dog door many times a day. To the older siblings little puppies are kind of Pesky when they're so small, they can be way more fun when they are a little bit older. Your Bichon will warm up.
---
Robbie, Boo Boo, Yogi, and Misty's human.
Poohkey miss you, monkey.
Posting Rules

You may not post new threads

You may not post replies

You may not post attachments

You may not edit your posts

---

HTML code is Off

---