Member
Join Date: Mar 2011
Posts: 39
Submit Photo: 0
Photo Submissions 0 Times in 0 Posts
It's been a week...
---
So I thought it was time for a Pepper update!
She's been home for a week today--which coincidentally makes her exactly 11 weeks old. So far, she's been a dream puppy. The first few days she was *really* bad with crying when she was left alone for even a few minutes--just like having a new baby, lol. But I've been working on teaching her that people leaving isn't a scary thing (I'm used to separation anxiety training, due to having a Bichon...) and she seems to be improving a lot.
I bought an exercise pen, and it works amazingly. It's one of the fully adjustable ones, so that I can either put it into a square/circle, or put it in a straight line to "rope off" half the room--which lets her see everything without being in harm's way. At first she would cry and throw herself against the side, but she's gotten used to it and seems pretty happy to be in it now.
And fortunately, Evie has really warmed up to her. They play a lot, and Evie even has finally consented to sleeping on my bed again (yay!). She has only snapped at Pepper once in the last few days, but I can't blame her, since Pepper was walking over the sleeping Evie's side at the time.
And now... pictures! It's rained pretty much every day since I've gotten her, but it's supposed to be sunny for the next few days, so I hope to have better outdoors pictures soon.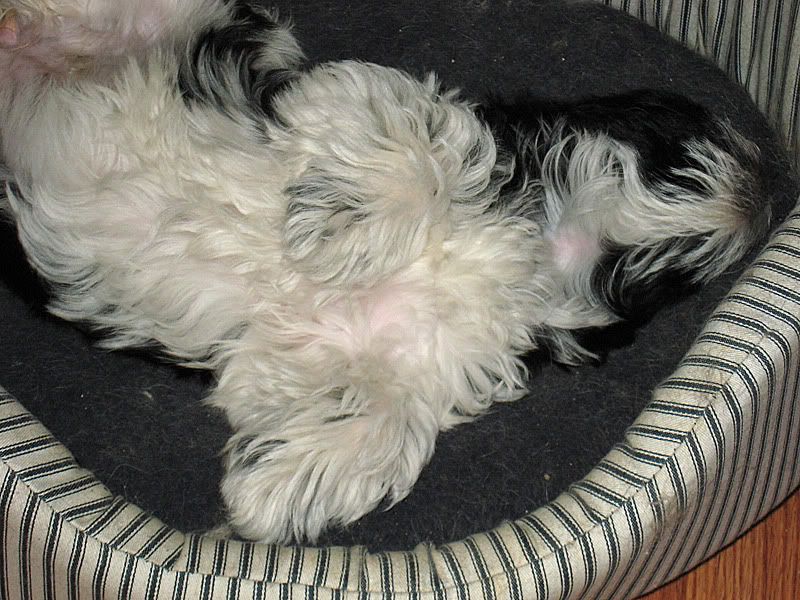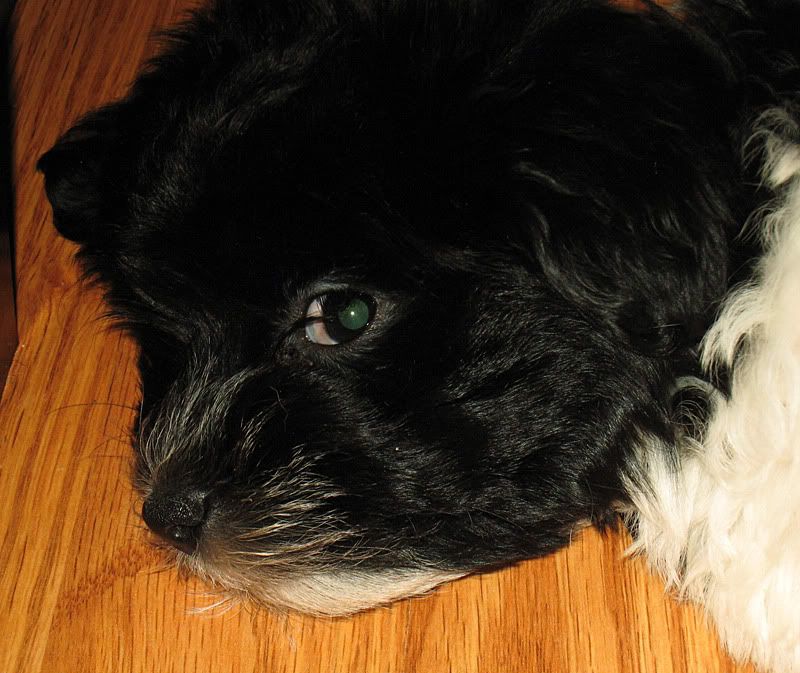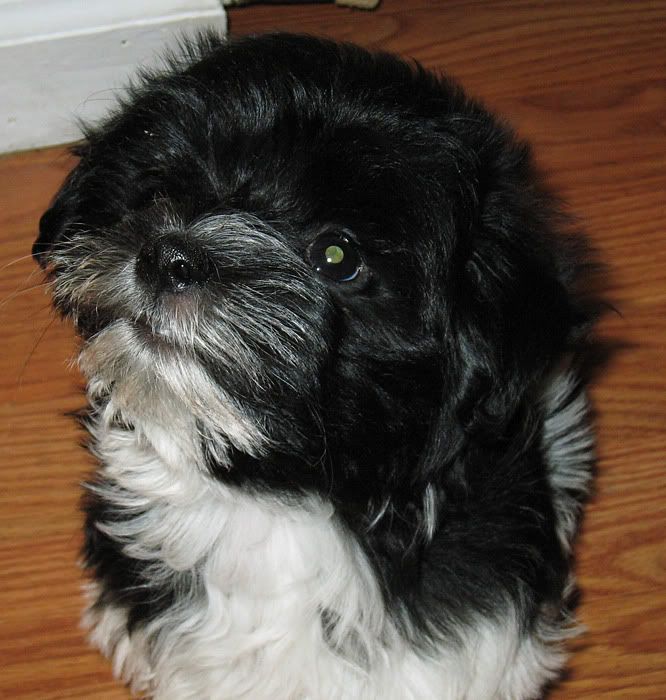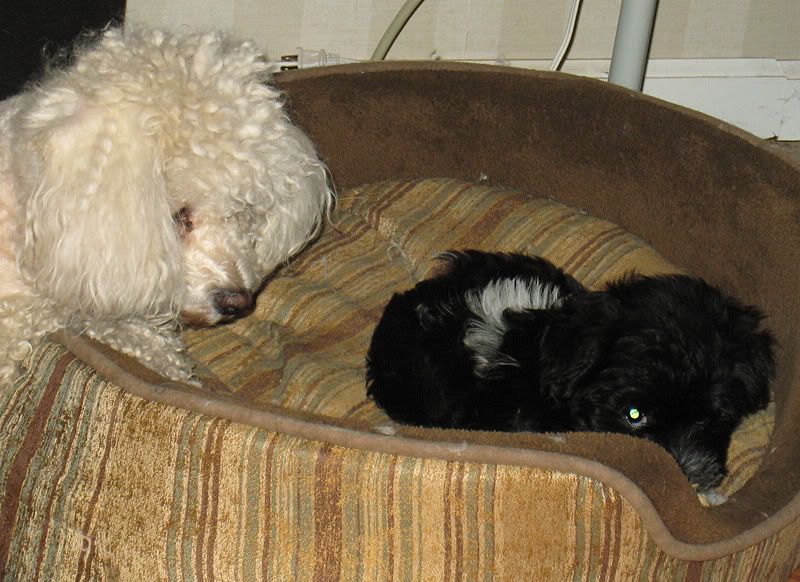 (I wish this last one didn't have ripped up kleenex, but she keeps finding things to rip up somehow... and I have to sweep 10 times a day. /lol)
---

Tina, Pepper, Evie, and Einstein
Dave T
Join Date: Dec 2007
Location: Ontario Canada
Posts: 10,818
Submit Photo: 3
Photo Submissions 115 Times in 113 Posts
great stuff. They look like they're adapting well. More pics.
---
Dave and Molly
Ian Dunbar was awarded the Outstanding Achievement Award from I.P.D.T.A. Here's a picture of me accepting the award on his behalf.
Member of IAABC ,International Association of Animal Behavior Consultants , Member of Pet Professional Guild
Bessie & Max's Parents
Join Date: Feb 2007
Location: Redmond, WA
Posts: 693
Submit Photo: 1
Photo Submissions 7 Times in 5 Posts
So cute. Have lots of fun.
Evelyn
Join Date: Apr 2010
Location: Chicago burbs
Posts: 4,652
Submit Photo: 4
Photo Submissions 30 Times in 28 Posts
sounds like things are starting to get into a good routine. What a sweet little thing!!
Bet you can hardly wait for some nice dry weather.
---
Senior Member
Join Date: Feb 2009
Location: POWELL, TN
Posts: 1,056
Submit Photo: 0
Photo Submissions 6 Times in 6 Posts
Such sweet little faces on your girls!!!!!
---
Becky C
Senior Member
Join Date: Apr 2007
Location: Long Island, New York
Posts: 8,941
Submit Photo: 3
Photo Submissions 41 Times in 25 Posts
Aw. I love those photos. It's such a joy when everything starts falling into place. They're both adorable.
---
<b>Just Milo and me, and . . . </b>Bailey makes three . . . until Ruby said, "hey, what about me?"
Geri, Milo, Bailey and HRH Princess Ruby Tuesday
If you're thinking of getting a puppy, click here
http://www.photoshow.com/watch/YK8AH4rw
Senior Member
Join Date: Jul 2008
Location: SE Georgia
Posts: 4,515
Submit Photo: 0
Photo Submissions 12 Times in 12 Posts
That's great that they're getting along well already. Love all the pics! What cuties!
---
Kathie, Abby & McGee's Mom
Linda
Join Date: Nov 2008
Location: Eastern North Carolina
Posts: 5,409
Submit Photo: 73
Photo Submissions 24 Times in 22 Posts
I am so glad Pepper is getting along and behaving.
---
Dexter & Jack
"One Hav is NOT enough to enjoy the RLH skills!"
Gucci's mom
Join Date: Feb 2007
Location: Virginia Beach, VA
Posts: 9,378
Submit Photo: 1
Photo Submissions 12 Times in 11 Posts
What a cutie!!! How can you get mad at a face like that
lol precious even when misbehavin'/
Kara
---
Super Moderator
click to join us: Havanese Forum on Facebook
I love that she looks like two completely different dogs depending how she's laying. Black on top and white on bottom So cute!!!!
Posting Rules

You may not post new threads

You may not post replies

You may not post attachments

You may not edit your posts

---

HTML code is Off

---