Join Date: Aug 2007
Posts: 30
Submit Photo: 0
Photo Submissions 0 Times in 0 Posts
Biting
---
I have read everything I could find on here about puppy biting. Our baby puppy bites us all the times.

We started trying to break this habit by holding his snout shut for a few seconds. Now, we can't catch his snout because he moves it so fast and holds his mouth open to keep us from grabbing it.

I also tried holding him on his back and he stops for a second but not for long.

We have also used a sound to get him to stop things along with "no bite".

We have also tried thumping him on the nose.

I do divert his attention with a toy and this works some of the time.

I have also tried putting him down or getting up from playing with him.

He also does a quick dive to bite us.

My son's friend went to pat him on the head yesterday and he snapped at him.

He will be 15 weeks old tomorrow.

Thanks for any additional advice you can give me.

Donna
Kubrick & Hitchcock's Mom
Join Date: Apr 2007
Location: New York, NY
Posts: 7,774
Submit Photo: 1
Photo Submissions 33 Times in 24 Posts
Donna, maybe you are confusing him by using so many different methods? If you stick to something and be consistent it might help you out more. I have mentioned this before, but I grab Kubrick by the scruff of the neck and gently shake him while saying no biting in a VERY stern voice. I make sure he is actually looking at me as well. If he doesn't stop, I get up and walk away. Make sure to be very consistent in this. If you let him get away with something even once, he will keep doing it.

Also, as far as he snapping at your son's friend, I have never had that happen and don't have any experience, but to me that would be a really big problem. Kubrick has never even growled at a person before (he does a low growl when he hears the door but as soon as he sees the person he stops) and if he did he would be on his back in a second with no exceptions.

I would talk to a behaviorist/trainer if you can't control his biting problem as it can lead to worse behaviors... I'm sure others here have better advice, and please keep us updated.
---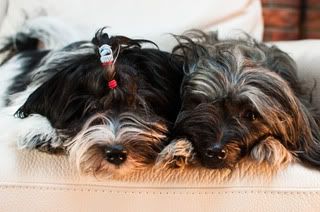 Visit
my blog

-----
Check out my
photos
-----
Photography (pets, people, weddings) -
TripleC Photography
Sissygirl's Mom (Marie)
Join Date: Aug 2007
Location: Oklahoma
Posts: 2,738
Submit Photo: 5
Photo Submissions 4 Times in 3 Posts
I just read this book - "The Loved Dog" - I know I have posted it on about every thread - but it is a good read. Don't agree with everything but good ideas!

Here is one for biting.

A dog named Honey kept biting and the owner wanted to teach it kisses.

So this trainer (Tamar Geller) says:

"I needed to teach Honey to kiss hands, not bite them, so I pulled out a jar of peanut butter. You can use any healthy food that can be smeared on your hand. Some dogs like peanut butter, and other like honey or liver spread. I smeared a think layer of peanut butter on the back of my hand and put it out for Honey to lick. As soon as she started licking the good-tasting treat, I repeatedly said, "Kisses, kisses, kisses," with a soft and appreciative voice. "Good kisses," I reinforced as Honey savored the peanut butter. I was teaching her that licking my hand, or kisses, was something I wanted her to do, without correcting her nipping behavior. "

Anyways, just a little of what she says about that.

Marie
---
Santa, Sissygirl
& Marie
Shannon
Join Date: Apr 2007
Location: Virginia
Posts: 1,316
Submit Photo: 0
Photo Submissions 0 Times in 0 Posts
Now are we talking about aggressive biting or 'puppy' biting? I have a puppy and he wants to 'bite' everything & everyone but he is getting better. He is not doing this out of aggression just playfulness, but it does hurt. I hear it gets better after the teething stage.
---
Tripp, Jax, & Dreamer
Mom of Brutus and Roxie
Join Date: Mar 2007
Location: Danville, CA
Posts: 2,152
Submit Photo: 0
Photo Submissions 0 Times in 0 Posts
Brutus was a puppy biter. We kept small stuff toys all over the house and when we played, we pushed the stuff toy into his mouth to show him a way to use his mouth when he gets excited. He still grabs a toy when i come home from work, while he bounces around me.

I also used the "time out method" when he got over excited and would bite. I would put him in the small bathroom for 60-90 seconds. When I let him out, I said "I know you will be a good dog now."
Shannon
Join Date: Apr 2007
Location: Virginia
Posts: 1,316
Submit Photo: 0
Photo Submissions 0 Times in 0 Posts
I have to keep plenty of chew toys & bully sticks etc...around the house & he is pretty good about using them but he does play rough!
---
Tripp, Jax, & Dreamer
Join Date: Aug 2007
Posts: 30
Submit Photo: 0
Photo Submissions 0 Times in 0 Posts
snapping at boy
---
My 12 year-old son was holding Spyro and the other boy went to pet the dog on his head and Spyro definitely snapped at the boy. He did not growl, he did a quick snap where his teeth snapped.

I did try the peanut butter and repeated "kisses, kisses, good kisses" while he was licking my hand. I will try and do this a few times a day until he relaizes what kisses means.

I have tried different things for the hard puppy biting because each thing did not work.

If I am going to limit it to one punishment, I can't hold the snout because I can't always catch it. The noise only works for a second, until the next bite. Tapping him on the nose is hard because if I am holing him with one hand, I have to use the hand that he is biting to thump him.

I have to brag on him a little. We went to G'Burg and brought back a few bottles of wine. He has never seen us drink any wine or seen a wine bottle. While unpacking I pulled out one of the bottles and he started jumping for it and barked. I looked at his water dish and it was empty. He used that as a signal to me that he was thirsty. I think that is quite smart.

He is also the first dog I have had that is too smart to fall for the around and around trick to make them drunk. I hope this makes sense.

He loves to chew on leaves. Twice today I said "drop it" and he did.

On the other hand, he can't get the potty outside thing down pat. He is doing worse at that than he was when we first got him. He is hiding it.

My kids and I are wondering if we are doing something to ruin the dogs?

Thanks,
Donna
Join Date: Aug 2007
Posts: 30
Submit Photo: 0
Photo Submissions 0 Times in 0 Posts
Scolding
---
Yes, we are scolding him when he goes inside. We are not punishing, but we have been scolding. I will make sure the family knows not to do that anymore. I really didn't think that would make him just start to hide it.

I will start putting him on his back more often about the biting.

Thanks,
Donna
Join Date: May 2007
Posts: 1,494
Submit Photo: 0
Photo Submissions 0 Times in 0 Posts
When you have someone pet your Hav make sure they do it from below. Sometimes Hav's see the petting from above as a threat or an invitation to jump up and then they bite. When Radar would snap or try and bite he wouldn't really do it in an aggressive way but that changes when they get older and the non-aggressive biting still hurts and they can injure young children which is no good. I used to flip Radar right onto his back and looks at him right in the eye and emit a very deep growl and I mean really deep. I would give him a low bass voice with a No-Bite. He would try and struggle sometimes but I would step it up with more force to keep him down. He got the hint once I did it all the time. Consistency is the key to training any dog especially one that has a bundle of energy and can concentrate sometimes.

Derek
Join Date: Aug 2007
Posts: 30
Submit Photo: 0
Photo Submissions 0 Times in 0 Posts
Petting from above
---
He definitely tried to pet from above. He was reaching for the top of Spyro's head.

I will try and make sure the entire family uses the roll on back technique.

I really do appreciate all the help.

You guys are so great. You are quick to respond and obviously care about not only your Hav but everyone else's too.

Thanks,
Donna
Posting Rules

You may not post new threads

You may not post replies

You may not post attachments

You may not edit your posts

---

HTML code is Off

---