Join Date: Oct 2007
Posts: 82
Submit Photo: 0
Photo Submissions 0 Times in 0 Posts
When to "introduce" new rooms?
---
I am curious since I am just starting potty training with Roxie, what is the best time to introduce new rooms to her? I have been keeping her in the kitchen and the family room. Pee pad is by the back door in the family room and so is ex pen. She eats in the kitchen. I don't have the other rooms blocked off, but if she starts to wander into the other rooms, I call her back. Should I introduce the rooms before she is potty trained or start now? What has worked for you?
Gucci's mom
Join Date: Feb 2007
Location: Virginia Beach, VA
Posts: 9,378
Submit Photo: 1
Photo Submissions 12 Times in 11 Posts
Umm..I think I introduced rooms pretty slowly, she still doesn't have much access to the formal dining and living rooms..those stay gated off 95% of the time. She didn't get access to the upstairs (besided our bedroom/bath) until she could climb the stairs around 4 months. Now, at 10 months..she has full roam of the house when we are here and when we are out.

Typically, she's in whatever room *I* am in at the time...if she's gone more than a few minutes I get suspicious that she's into something! lol

I think you could take her into in other rooms supervised, of course..especially while she's potty training. It might be a good idea to to play with her in various rooms...so she knows that the house is her 'den'. I wish I would've done that. I think some Havs have issues in pottying in rooms they don't 'frequent', so it seems.

Kara
---
Super Moderator
click to join us: Havanese Forum on Facebook
Kubrick & Hitchcock's Mom
Join Date: Apr 2007
Location: New York, NY
Posts: 7,774
Submit Photo: 1
Photo Submissions 33 Times in 24 Posts
I would introduce her to new rooms but only under completely 100% supervision once she is around 3 or 3.5 months (depends on how the potty training is going). As for no supervision, my rule was that Kubrick wasn't allowed to roam an extra room (without my supervision) until there was no accidents for a full week. At that point, he gained one room. Then another week and another room. If he had an accident during one of the weeks (and he was now up to three rooms, let's say), I would take away the latest room he had been given freedom in. If there was yet another accident, he would be down to one room and so on and so forth. Basically, Kubrick had free roam of the house at around 5 months, though I still leave the bedroom and bathroom doors closed when I leave just because I don't want him getting into things that are in those rooms if I am not home.
---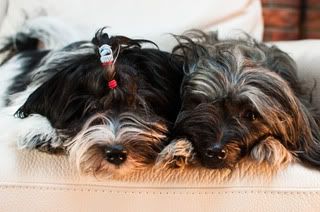 Visit
my blog

-----
Check out my
photos
-----
Photography (pets, people, weddings) -
TripleC Photography
Kimberly
Join Date: Aug 2006
Location: San Francisco Bay Area
Posts: 10,275
Submit Photo: 5
Photo Submissions 19 Times in 13 Posts
My method is just about the same as Lina's. 100% supervision at first and then they get more access slowly. Rooms are blocked off if there are accidents.

Work on potty training Roxie before you get too concerned about housebreaking. They are two different processes and work best if you do them in order.

If you do a search for posts by Tom King on housebreaking and potty training, you'll find some very helpful tips. He's the king of housebreaking. Potty training comes first though.
Senior Member
Join Date: Nov 2006
Location: Massachusetts
Posts: 11,746
Submit Photo: 27
Photo Submissions 48 Times in 35 Posts
We would let them in other rooms with us if we were watching 100%. The beauty of that is you can lead them through the house to their potty place so that they become used to traveling to one place to go. I also found witnessed mistakes to be our best training tool. If you don't catch them in the act though it doesn't help-- but if they are in a room with you and they start an "Ack" or "No" and picking them up and taking them to the pad seemed to help more than
no mistakes.




---
Missy, Jasper & Cash
Posting Rules

You may not post new threads

You may not post replies

You may not post attachments

You may not edit your posts

---

HTML code is Off

---