Join Date: Nov 2007
Posts: 16
Submit Photo: 0
Photo Submissions 0 Times in 0 Posts
Roxie and Gracie's Brother
---
This is Kody, who is Gracie and Roxie's brother, the middle child. He is a bundle of energy and loves to run in huge circles around the tree in the back yard. He is doing very well walking on the leash and is coming along nicely with his "sit". However, he ignores you when you call him, as if to say he'll come in when he's good and ready. He loves to be outside. He's 10 1/2 weeks old now and is settling into his routine. He goes into his kennel around 9:30-10 at night and sleeps all night until about 6:00 a.m. When he goes outside and does his business, he thinks that it is then time to play, and he won't be ignored. Even if he hogs the toy of the day, he wants you on the rug beside him so you can see him play. What fun!
Sissygirl's Mom (Marie)
Join Date: Aug 2007
Location: Oklahoma
Posts: 2,738
Submit Photo: 5
Photo Submissions 4 Times in 3 Posts
Oh my,

Kodi is gorgeous! Welcome to the forum!
---
Santa, Sissygirl
& Marie
Tori's mom
Join Date: Feb 2007
Location: Sunny SoCal
Posts: 4,988
Submit Photo: 19
Photo Submissions 10 Times in 6 Posts
Pablo&Chuy's momma
Join Date: Jul 2007
Location: Eden, NC
Posts: 4,286
Submit Photo: 11
Photo Submissions 9 Times in 8 Posts
havalicious and Kody!
Kody has the same gorgeous face like his sisters! What a doll. More pics please!!!
---
Susan
Join Date: Feb 2007
Location: Near San Francisco Bay Area
Posts: 4,063
Submit Photo: 2
Photo Submissions 2 Times in 2 Posts
He's a beautiful puppy! Welcome!

Susan
---
Susan
Senior Member
Join Date: Nov 2006
Location: New Jersey
Posts: 9,794
Submit Photo: 2
Photo Submissions 28 Times in 20 Posts
Welcome, welcome - what a beautiful pup !!! Kodi you are a cutie!!
---
Lily, Lexi ,Logan, Laila & Lizzie's Mom
www.HillsboroughHavanese.com
(Gigi, Lucas, Dugan, Madeline,Reo,Alvin, Lucky, Lukey, Punch, Colby & Ben-(we will always Love you!!)
Kubrick & Hitchcock's Mom
Join Date: Apr 2007
Location: New York, NY
Posts: 7,774
Submit Photo: 1
Photo Submissions 33 Times in 24 Posts
Kodi is very handsome! It sounds like he has a fun personality to match too! Congrats on the new puppy!
---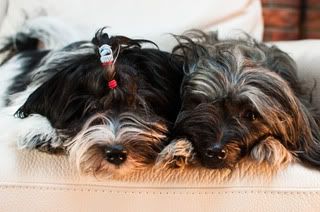 Visit
my blog

-----
Check out my
photos
-----
Photography (pets, people, weddings) -
TripleC Photography
Gucci's mom
Join Date: Feb 2007
Location: Virginia Beach, VA
Posts: 9,378
Submit Photo: 1
Photo Submissions 12 Times in 11 Posts
Hellooo! And
He is absolutely ADORABLE! What a sinfully cute litter!
Kara
---
Super Moderator
click to join us: Havanese Forum on Facebook
Karen
Join Date: Sep 2007
Location: Colorado
Posts: 645
Submit Photo: 0
Photo Nominations 2 Times in 1 Post
Welcome!! I'm so glad Kody has joined Gracie and Roxie in the forum. As you know, I just LOVE Kody!!! He is absolutely adorable. It still tugs at my heart that he didn't come home with me. (Though, yes, we adore our little Gracie) I know he has a great home.
I know you will find so much information on the forum. Welcome! See you tomorrow - for their first playdate!! Gracie & I can't wait!! Yippee!!
Karen
Amanda
Join Date: Nov 2006
Location: South Carolina
Posts: 9,576
Submit Photo: 2
Photo Submissions 31 Times in 22 Posts
Welcome and how great that the pups get to grow up together via the forum! So is the entire litter on the forum?

Amanda
Posting Rules

You may not post new threads

You may not post replies

You may not post attachments

You may not edit your posts

---

HTML code is Off

---